'This Is Us': This Randall and Kevin Moment Will Destroy You Once You Realize What's Coming
Ask any This Is Us fan and they will agree: Randall (Sterling K. Brown) and Kevin (Justin Hartley) have a complicated relationship. The Pearson brothers are often seen with plenty of tension between them. But at the end of the day, Randall and Kevin understand they're there for one another, no matter the circumstances. In the Jan. 21 episode, titled "A Hell of a Week: Part One," Randall and Kevin share a moment that exemplifies the best aspects of their relationship. However, it'll break your heart once you remember what happens in a few months' time.
What happened to Kevin and Randall in 'This Is Us' Season 4?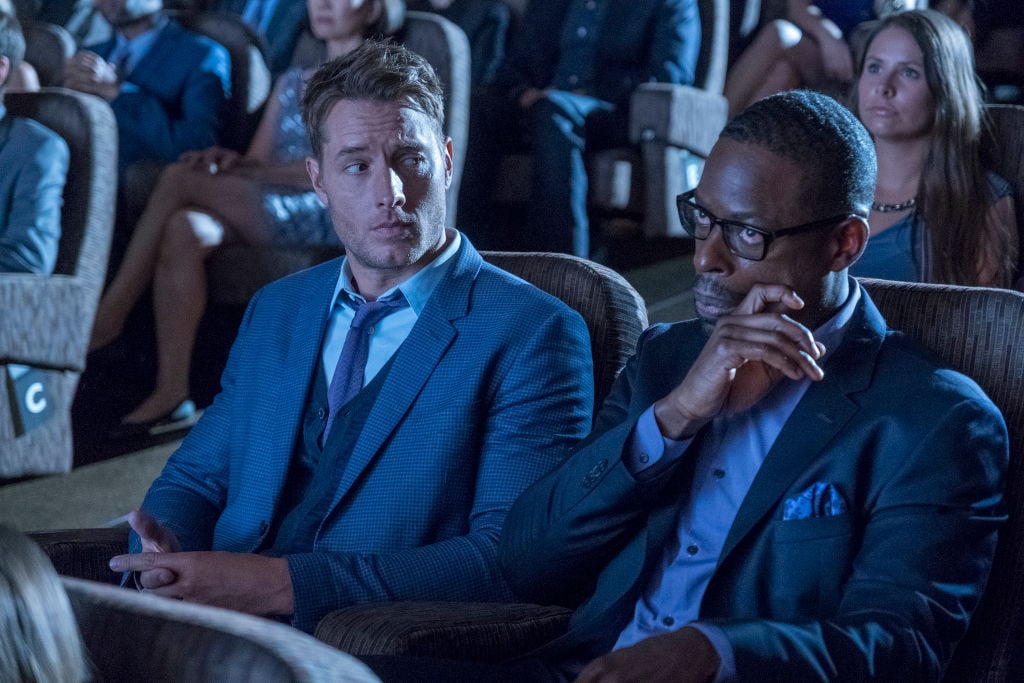 In This Is Us Season 4 Episode 11, Randall struggles with his mental health. After returning home from receiving Rebecca's (Mandy Moore) mild cognitive impairment diagnosis, he finds an intruder in his home. In the end, no one is physically hurt and the intruder leaves. But the emotional toll on Randall remains.
At one point, Randall texts Kevin to talk. And when Kevin responds with a phone call, Randall tells him what happened. Kevin — who is in Pittsburgh for Sophie's (Alexandra Breckenridge) mom's funeral — also asks where Randall was before the intruder came. Randall can't explain because he is keeping his mother's illness a secret. He then shuts down and once Kevin offers to chat more, Randall declines.
Throughout the episode, This Is Us fans see Randall — in the past and present-day — resist the idea of therapy and reaching out to others for help. But by the end, Randall falls apart, eventually locking himself in a bathroom in tears. Then he calls Kevin.
"I lied, man, I need a catch. I'm not OK," Randall tells his brother on the phone. "He had a knife, he was in my bedroom. He could've done something to Beth, he could've done something to my girls."
And Kevin jumps in. "Listen, I'm here," Kevin says. "Just breathe, Randall, OK? We can just sit here on the phone together. Whatever you want."
Randall says he just needs Kevin to talk. "I can talk, I'm good at that," Kevin says. "I'm gonna be that guy, Randall. I'm the guy that's gonna get you through this."
Now, the already heartwrenching scene hits harder once fans realize what happens to Kevin and Randall in a few short months. In the This Is Us Season 4 winter finale, viewers discover the brothers are no longer on speaking terms nine months after Thanksgiving.
The Pearson family is gathering for the Big Three's birthday. But only Kevin and Kate (Chrissy Metz) are present. And at one point, Rebecca asks Kevin about Randall's whereabouts. "No, mom. Randall's not coming," Kevin replied. "We're not speaking, remember?"
Sterling K. Brown explains why Randall calls Kevin when he's in crisis on 'This Is Us'
Despite facing off from time-to-time on This Is Us, Randall and Kevin always seem to lean on one another when things get tough. And when speaking with TVLine, Brown shared why Randall always seems to call upon Kevin for help.
"You know, it's interesting. Kevin is a natural-born caretaker," Brown said. "We've seen instances in the past where he takes care of his sister, where he gives a guy Halloween candy so that you know he'll hold her hand or whatnot. He'll come to the school when Randall's having a bit of a panic attack and just sign the note or whatever."
Brown also noted that Kevin is also "a bit of a dick," referencing Kevin egging Randall on to rap when they were kids. "[Kevin] has both of those things in him, because he's just sweet and salty," Brown said. "That's just the nature of who Kev is… But there's no question of when things are hard, for some reason or another, I know that Kev is going to have my back."
That said, it seems there will be a time when Randall's anxiety will require more attention than talking it out with Kevin or Beth (Susan Kelechi Watson).
"At a certain point, you're going to come up against something that none of those coping mechanisms are enough, and you're going to have to dig a little deeper," executive producer Elizabeth Berger told TVLine. "I think it's clear that we're reaching that point with Randall."
The team teases Kevin and Randall's rift in 'This Is Us' Season 4
As Randall's mental health struggles are coming to a head and we may reach a point where Kevin's talks are no longer enough, fans can't imagine Kevin abandoning his brother in his time of need. But of course, everyone knows they aren't speaking in the near future.
In the above interview, Berger hinted there is a huge reason for the rift. "Something big is coming in this next run before the end of our season that will tear these two apart," she said.
Then when speaking with The Hollywood Reporter, Brown revealed fans will learn what happened between Kevin and Randall in the This Is Us Season 4 finale.
"You'll see the root of that in the season finale," he said.
Nevertheless, it looks like fans can still look forward to a sweet moment between Kevin, Randall, and Kate before the big fight breaks out. Brown said:
We'll see Kev and Kate in the subsequent two episodes, and then there's a lovely [scene that's] I think the first time this season that we get a chance to see the three of them together talking through what's going on in their lives, and how they can be of service to one another. I think that's the beautiful thing about having siblings. Having four siblings myself, it's really nice to be able to connect, to share, to sort of download into each other's lives and see the way that these three people help each other live their best lives. So that you see that.
Read more: 'This Is Us': This Kate and Marc Theory Will Have You Re-Watching the NBC Series for Clues