'This Is Us' Fans Aren't Happy With Randall's Ultimatum to Rebecca
This Is Us Season 4 sent fans into a whirlwind of emotions in the episode entitled "After the Fire" on March 17. Most viewers prepared tissues for the "what if Jack lived" scenarios. However, it was Randall (Sterling K. Brown) who had everyone's jaw on the floor by the end of the episode. After a seemingly breakthrough therapy session, Randall gave Rebecca (Mandy Moore) an ultimatum about her care, which had This Is Us fans more frustrated than ever.
[Spoiler alert: This Is Us Season 4, Episode 17.]
What did Randall say to Rebecca in 'This Is Us' Season 4, Episode 17?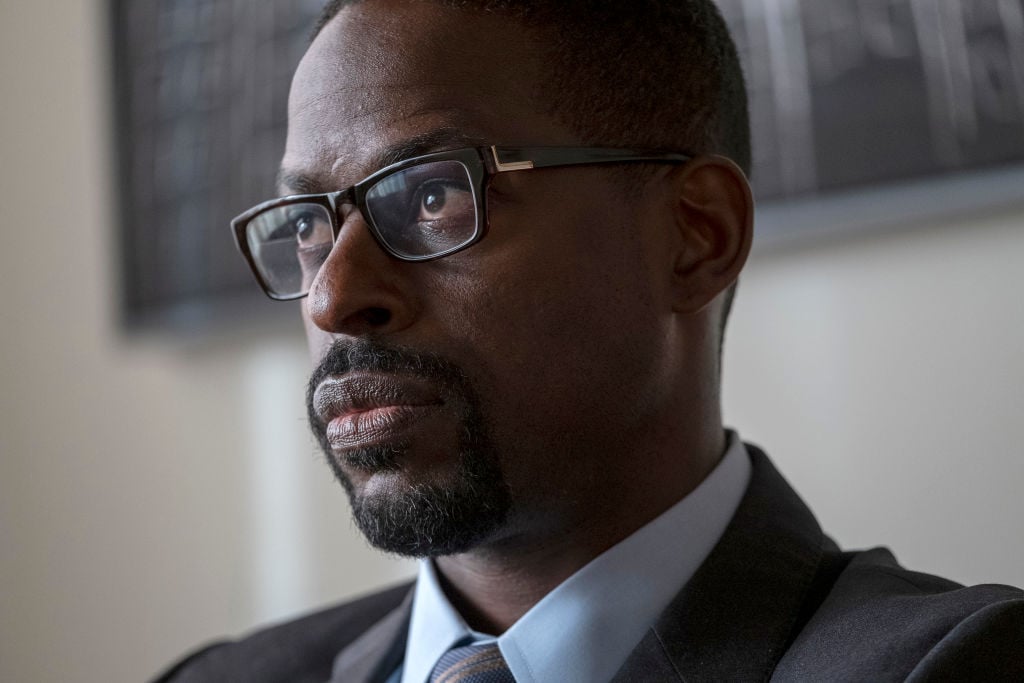 In the March 10 episode of This Is Us Season 4, Randall discovers a clinical trial for Alzheimer's in St. Louis, Missouri. He presents the idea to Rebecca during her trip to New York City with Kevin. But by the end of the episode, Rebecca decides she doesn't want to do the trial because she wishes to spend the rest of her days with her family. Randall isn't happy but accepts the decision — sort of.
Randall gets into an argument with Kevin, who disagreed with sending Rebecca to St. Louis for the trial. It becomes clear Randall wants to do everything to save his mom. He was unable to save Jack (Milo Ventimiglia) and continues to blame himself for not doing more to prevent his death.
Then in This Is Us Season 4, Episode 17 the following week, Randall attends a therapy session with Dr. Leigh (Pamela Adlon). He wonders what life would have been like if Jack didn't die and ventures into best-case and worst-case scenarios. In both cases, Randall finds out about his birth father, William (Ron Cephas Jones). His relationship with Rebecca is strained for keeping the secret. However, he forgives her in the end.
Once Randall wraps up his two hypothetical timelines, Dr. Leigh points out the City Councilman needs to have control over everything and probably wouldn't have been able to save Jack. It also seems Randall's issues may not stem from Jack's death, but rather his relationship with Rebecca. Dr. Leigh points out the exercise happened because Randall got into a fight with Kevin over their mother's care. She then notes both alternate scenarios after Jack's survival led to Randall discovering the truth about William.
Later, Dr. Leigh hypothesizes Randall chose her out of all the therapists in the area because she looks similar to Rebecca around the time Jack died. She wonders whether Randall wants someone like his mother to help him work through their relationship and her illness. Finally, Dr. Leigh asks Randall whether he has confronted Rebecca and suggests he should confront his mother if he wants to heal.
Randall thanks Dr. Leigh for the session. However, he does not wish to "relitigate" what Rebecca did to him with William. He doesn't want to reopen the wound for his mother, even if it'll bring him peace. "I've already lost three parents. I know losing my mother would break me," Randall says. "I can't lose her, I will do anything to keep that from happening."
Meanwhile, Randall calls Rebecca while she's having a gamenight with Kevin, Kate (Chrissy Metz), Miguel (Jon Huertas), and Toby (Chris Sullivan). Randall then begs his mother to do the trial, pulling out everything to convince her.
"I've been a good son, mom. I've never asked you for anything," Randall says. "But I'm asking you for this now. And I need you to say it. You are going to St. Louis. You are going to do this clinical trial." Both parties are crying. Rebecca agrees.
'This Is Us' fans react to Randall's ultimatum to Rebecca
Following "After the Fire," This Is Us fans erupted on social media, furious over Randall's ultimatum to Rebecca.
"I can't believe Randall manipulated Rebecca into agreeing to do a clinical trial that she does not want to do #ThisIsUs," a fan wrote on Twitter.
"Randall is still my favorite but I'm not liking him forcing this clinical trial on Rebecca #ThisIsUs," another fan tweeted.
Meanwhile, other fans were confused how Randall took the therapy session and decided to do the opposite of what was suggested. A Reddit user wrote:
I feel like the point of this therapy session was for Randall to accept that it's OKAY that he doesn't have to do everything in his power to try and control every single situation. And now the solution is to once again control a situation??? The therapy should have made him come to peace with Rebecca not wanting to do it.
Then another user reminded others "it's more realistic for Randall to not do a complete 180 is one hour. It'll take multiple therapy sessions for him to deal with his issues. But it's just frustrating to watch."
Regardless, most viewers seemed to experience a range of emotions about Randall throughout the episode.
"I know Randall's hurting, but he has a very dark and petty side," a fan wrote on Reddit.
"I've never had so much love and anger at the same time towards a single fictional character like I do with Randall," another fan wrote. "Just when I think I understand him, he [loses] me."
'This Is Us' executive producers share their thoughts on Randall's ultimatum
When speaking with Entertainment Weekly about the March 17 episode of This Is Us Season 4, executive producers Isaac Aptaker and Elizabeth Berger opened up about Randall's ultimatum to Rebecca. And basically, it seems the mixed bag of response brought by fans was the expected response.
"All is fair in love and elder care," Aptaker said. "We intend for it to be very divisive. On set it was, at least. Half the people who are there making the show were in favor of what Randall was doing and how he was playing every card in his deck to get his mom to do what he wanted because they think he's trying to save her life, he's trying to prolong her life."
He continued: "And then the other half of people were going, 'That is so manipulative. How could he use that against her like that? She's an adult who's made it very clear what she wants and now he's making her do a total of 180.' And they found what he was doing to be very unpleasant and manipulative. So our intention and our hope is that people will really be divided on it."
Meanwhile, Berger revealed how Randall would respond to the criticism. "I think a lot of people would argue that it is a wildly unfair thing to do — to really emotionally manipulate the person you love the most into doing what you want them to do," she said. "I think Randall would argue he does not care. He just wants her to get better and he will do whatever it takes."
Clearly, Randall's ultimatum is a pivotal moment in Rebecca's life and the City Councilman won't budge on his stance. So now what? Where does This Is Us go from here? It appears we won't get all the answers by the fourth season finale on March 24. And according to Aptaker, the consequences of Rebecca going to the trial unwillingly will "be a big question for season 5."
"[Rebecca's] going into something not totally because she wants to but … because she's been manipulated," Aptaker said. "So that makes it a much more fraught departure and entry into this new city and this new world than it normally would have been otherwise."
The executive producer then touched on Rebecca's new connections with Kevin and her grandson. "She's giving up a lot," Aptaker continued. "So it's going to make it not an easy departure for her as she as moves into this new city."
This Is Us Season 4 finale airs March 24 at 9 p.m. EST on NBC.
Read more: 'This Is Us' Fans React to Randall's Alternate Timelines and No One Is OK