'This Is Us': Who Is Randall's Therapist, Dr. Leigh, and Why Isn't Her Face Shown in 'Clouds'?
After a cathartic trip to the cabin, Randall (Sterling K. Brown) finally decided to seek therapy in This Is Us Season 4, Episode 15. The councilman's first session was one of the main focal points in the episode, titled "Clouds." However, the This Is Us team consciously chose not to show the face of Randall's therapist, Dr. Leigh (Pamela Adlon), as the scenes were shot almost entirely from her perspective. But why make this decision? The NBC drama properly got under the skin of fans watching from home — but maybe that was the point.
Randall begins therapy in 'This Is Us' Season 4, Episode 15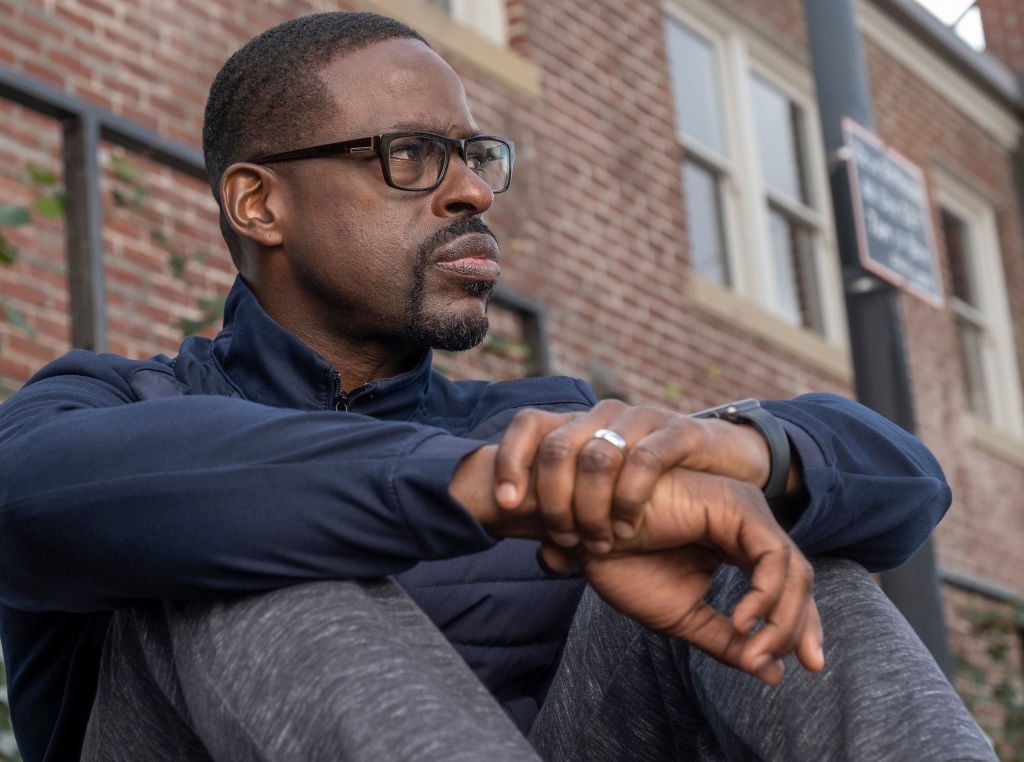 Before Randall heads to his therapy session in "Clouds" on Feb. 25, Beth (Susan Kelechi Watson) expresses how proud she is of her husband for taking the first step. He doesn't seem to share the same excitement. Meanwhile, Beth discusses the possibility of getting an iPhone for Annie (Faithe C. Herman). But Randall disagrees.
Later, Randall is seen examining every aspect of Dr. Leigh's waiting room — and he isn't impressed. Then at the start of the session, Randall proudly admits he is an "emotional man" and turns off his phone, opening up about Rebecca's (Mandy Moore) follow-up appointment to her mild cognitive impairment diagnosis. That said, Randall says Rebecca's health isn't why he is in therapy.
In response, Randall's therapist asks him why he is there. He admits he has anxiety and has been hospitalized for panic attacks. Randall also suggests he is in therapy because Beth thinks history will repeat itself after a man broke into their house. But ultimately, he wants "coping mechanisms."
Dr. Leigh jumps in and asks for more information about her patient. Randall then delves into the story from the beginning — his adoption story. However, Randall's therapist already knows this. She stops him and reveals she has heard the story from his campaign speeches. This doesn't sit well with the councilman.
As the therapy session moves forward, Randall talks about his family — namely Rebecca. Once again, he says he isn't there because of his mother, but rather, because he has control issues. Dr. Leigh brings up Randall is trying to control the conversation and steer it away from talking about Rebecca.
Then in the background, there is a consistent sizzling noise from coffee dripping to the bottom of a hot coffee maker. This annoys Randall, but he won't admit it. Meanwhile, Randall receives a text saying Kevin (Justin Hartley) will bring Rebecca to her follow-up appointment. "What could go wrong?" Randall says as the coffee sizzles once more.
Eventually, Randall goes on a rant. He criticizes Miguel (Jon Huertas) for missing the signs Rebecca displayed for months. He calls out Kevin and speculates his brother will lose track of time and forgot about the appointment. Randall says he understands and accepts his own faults and triggers. He also thinks his family would have fallen apart without him. Dr. Leigh questions this statement, and Randall walks out.
When Randall returns home, he tells Beth he doesn't want to continue therapy. But Beth confesses she needs him to do it. She bought pepper spray because she is afraid to leave the dance studio at night. She's also taking pills to help her sleep at night. Meanwhile, she got Annie the iPhone because she needs to know where her daughter is. Beth is scared and she can't share the burden with Randall because she is afraid he'll crack. She needs him to continue.
Randall's conversation with Beth is a wakeup call. He returns to therapy and apologizes. Finally, This Is Us fans see the face of Randall's therapist. Now, the work begins.
'This Is Us' executive producers explain why Randall's therapist isn't shown until the end
When speaking with Entertainment Weekly after This Is Us Season 4, Episode 15 aired on NBC, executive producers Elizabeth Berger and Isaac Aptaker delved into Randall's therapist and why Dr. Leigh wasn't shown until the very end.
"A lot of that had to do with what Sterling can do as a performer," Berger said. "As we were talking about this, we started realizing that it would just be absolutely incredible to stay in these long takes with Sterling where you're getting into his psychology."
She continued: "You're watching him turn her words over and over again in his mind. And because Sterling is the type of actor that can do that and to live in those minutes-long takes, we couldn't pass up the opportunity to do it that way."
Berger then shared Adlon was "totally on board" with the decision not to show Dr. Leigh until the final moments of the episode.
"She's hilariously funny. She was just like, 'You mean, I don't have to memorize my lines? That's great,'" Berger said. "But she was a great sport about it and totally, totally understood why it works for that episode."
Will Pamela Adlon return to 'This Is Us' as Randall's therapist, Dr. Leigh?
Still speaking with Entertainment Weekly, Berger confirmed Adlon will come back as Randall's therapist in a future episode of This Is Us.
"When she returns, you'll get to see what she can do," the executive producer said. "And this woman is incredible with Sterling. So it's really just a very exciting combination, the two of them."
Meanwhile, Aptaker teased the upcoming episode, revealing fans will properly see Dr. Leigh interact with Randall.
"We have a therapy episode coming up that really, really dives into Randall's psychology in an interesting way," Aptaker said. "We're bringing back Pam, who everybody just had such a great time with, and we were thrilled to be able to get her for a few of these — when you actually see her face!"
He then added the This Is Us episode will be unlike any other.
"I don't want to give too much away about it, but she starts probing into Randall's psychology and what makes him tick in a really, really interesting way," Aptaker said. "It launches one of our more out-there-conceptually episodes that we've ever done on the show."
Read more: 'This Is Us': Why Many Fans Believe 'The Cabin' Is the Best Episode From the Entire Series