How the New 'This Is Us' Season 4 Characters Tie Into the Cast's Past, Present, and Future Timelines
In the promotional trailer for This Is Us, fans saw new faces that got them talking about how they fit into everyone's storyline. Asante Blackk portrays teen father, Malik, Omar Epps and Marsha Stephanie Blake play the roles of Malik's parents, Tim Matheson starred as Rebecca Pearson's father, Jennifer Morrison portrays veteran soldier Cassie, and Blake Standik plays Jack Damon. How do all the new characters relate to the cast's storylines?
SPOILER ALERT: This article contains information revealed in This Is Us Season 4 Episode 1.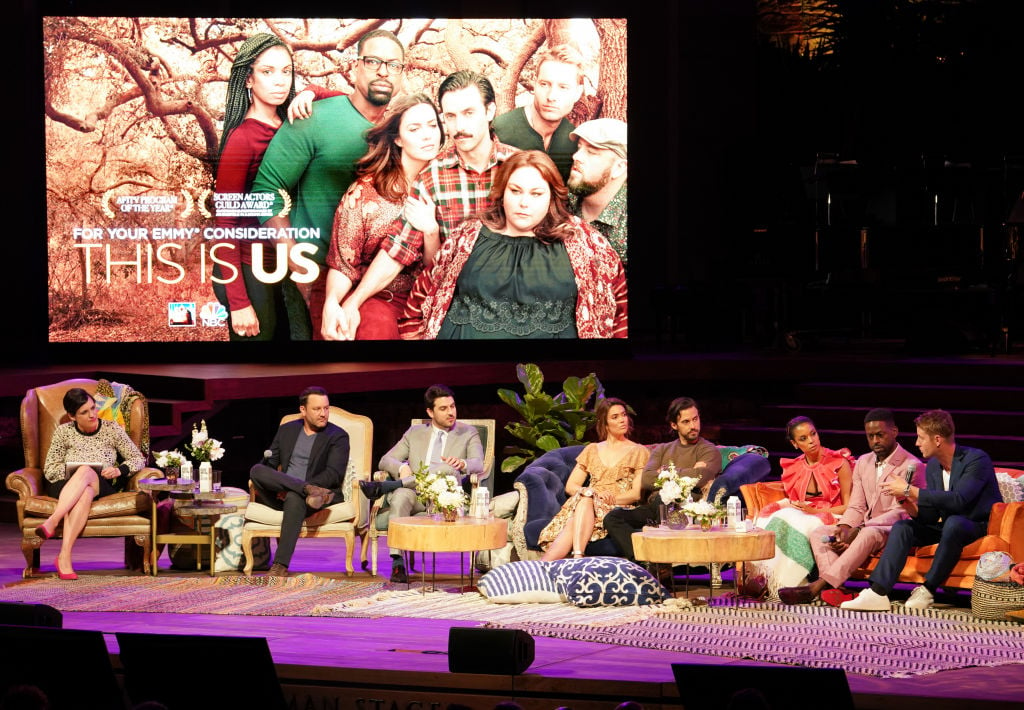 Jennifer Morrison as Cassie
Viewers are introduced to Cassie as she is serving in the U.S. Army in the Middle East. Married with a son, she seems to have a high ranking position and bargained with a woman to help her identify a local bomber.
Cassie then promised her a visa for her and her child and water for the whole village. However, the next day, she found out the town had been wiped out but fortunately the woman she talked to previously made it.
Then, viewers watched Cassie as the soldier returned home and clearly struggled with PTSD. She decided to seek help at a local Veteran's Support Group after she had a war flashback, resulting in her slapping her son in the face.
As she told her story to the other members of the group, Uncle Nicky Pearson threw a chair through the window and then immediately took a swing from a Jack Daniels' bottle. The episode ended with Nicky getting arrested and Cassie staring at him, so viewers don't know precisely how their paths will intertwine yet.
Asante Blackk as Malik
Malik, around 16-years-old, is an only child living with his parents and has a daughter of his own. He still has somewhat of a social life, but his parents are beginning to buckle down on him about handling his responsibilities.
The teen works at a mechanic shop with his father (Omar Epps) and tried to take up some illegal activities on the side to help pay for a good education for his daughter.
However, his father found out and advised him not "to even think about it," and babysat for him while he attended a cookout later that day. While grilling burgers, a girl introduced him to Deja, Randall's foster daughter.
They instantly seem to like each other as Malik dropped a cute one-liner on her and she glowed all the way back home, so much that Randall noticed.
Blake Standik as Jack Damon
In a scene towards the beginning, Jack woke up by his adorable dog kissing him, with empty bottles all around him. He then made himself breakfast and attempted to give his dog a piece of bacon, but she accidentally knocked the plate over, breaking it.
As Jack picked up the pieces, it's clear the man is blind because he stared forward while feeling around for the broken parts. He decided to have breakfast at a local cafe and instantly hit it off with the waitress.
They ended up falling in love and getting married, and then shortly after she told him they're six weeks pregnant, although she wanted to get her career started first.
Towards the end of the episode, viewers saw a flashback to Katie and Toby sitting in an office with baby Jack in their arms, as the doctor explained to them that their child would be blind and only able to see light and shapes; exactly how Jack described his condition to his wife.
Adult Jack ended the episode by singing an original song in front of a sizable audience, carrying on the Pearson women musical legacy. How will these characters continue to impact the Big Three's lives? Keep watching This Is Us Tuesdays at 9 p.m. EST on NBC to find out.