'This Is Us' Season 5, Episode 12: These 2 Sneak Peeks Paint a Heartbreaking Story for Jack and Miguel
When This Is Us Season 5 returns with episode 12, "Both Things Can Be True," fans will see a heartbreaking story unfold between Jack (Milo Ventimiglia) and Miguel (Jon Huertas). On the surface, it is a tale of one man helping his best friend propose. However, in the present day, things are very different. In two brand new sneak peeks, fans see how the story begins to unfold.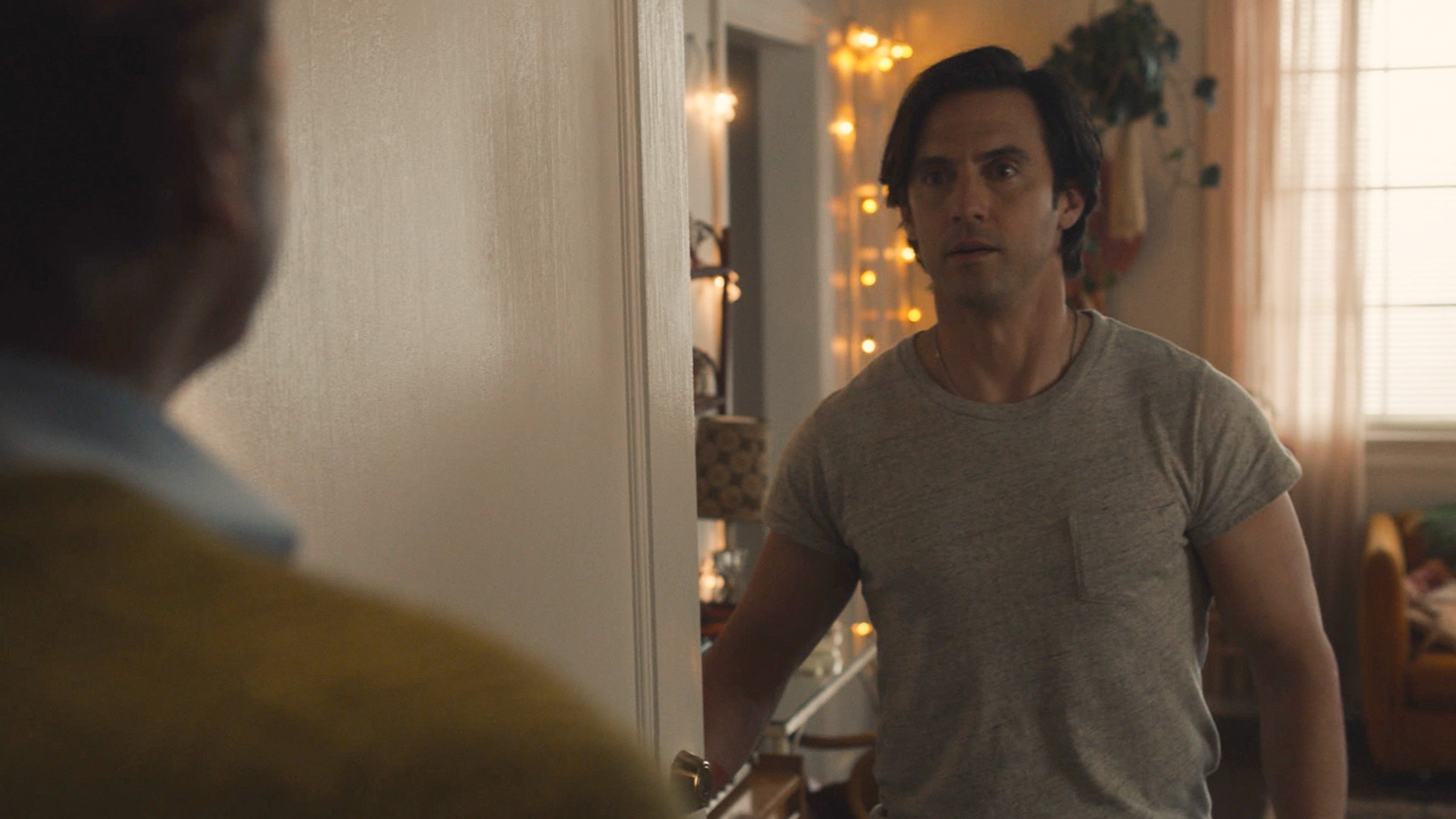 'This Is Us' Season 5, Episode 12 returns with wedding planning
When This Is Us Season 5, Episode 12 returns on April 6, 2021; Miguel and Uncle Nicky (Griffin Dunne) help Kevin (Justin Hartley) with some wedding preparations. However, things do not begin well. While Kevin attempts to draft an email to Randall (Sterling K. Brown), the two older men get into a bit of an argument.
Miguel suggests "small plates" for the rehearsal dinner menu. However, Nicky doesn't understand that Miguel means appetizers, not literal small plates. 
"So the plates they're not really small; it's basically a bunch of appetizers that add up to a full meal," Miguel explains. "That way, people can help themselves." 
However, Nicky responds with a snarky remark, and it's evident that he does not appreciate Miguel being a part of the family.
"You're no stranger to helping yourself to whatever you want," Nicky says under his breath.
Jack's brother implies that Miguel helped himself to his friend's wife after he died. Will the two men be able to work out their differences?
'This Is Us' Season 5, Episode 12: Miguel helps Jack propose to Rebecca
In another clip from This Is Us Season 5, Episode 12, Miguel returns from picking up supplies for Jack's grand proposal to Rebecca (Mandy Moore).
"So, I got the hot chocolate, the corn syrup, the candy apples, and I bought every string of lights they had at the hardware store," Miguel tells his friend.
Jack worries about his proposal being good enough, but Miguel reassures him that it will be amazing.
"Jack, You are recreating your first date with Rebecca in her apartment," he tells his friend. "It's exactly the kind of romantic gesture that makes other guys hate you."
"Other guys don't hate me," Jack responds. However, Miguel insists, "Yes, they do."
'This Is Us' fans wonder if Miguel was always in love with Rebecca
During This Is Us Season 1, young Miguel told Jack that he had "an amazing wife." Miguel also warned his friend not to mess up his marriage. Rebecca was already married to Miguel in the present-day period, so fans did not like his character.
"No one knew what had happened to Jack, and a lot of people interpreted the 'amazing wife' comment to mean that Miguel had always been in love with Rebecca," one fan wrote on Reddit. Fans wondered if Miguel "was somehow responsible for the end of Jack and Rebecca's marriage."
In This Is Us Season 5, Episode 12, fans see how much involvement Miguel had in Jack's proposal to Rebecca. Plus, Uncle Nicky revisits how Miguel swooped in and married Rebecca after Jack died. It makes fans wonder again how Miguel and Rebecca ended up together. Did Miguel secretly love Rebecca since the 80s? Hopefully, more viewer questions will resolve in This Is Us Season 5, Episode 12.