'This Is Us' Fans Are Split Over Tess's Punishment
Season 5 of This Is Us is well underway and fans have a lot to say about it. The Big Three are all figuring out how best to navigate parenthood whether in present times or in the future. One of the biggest conflicts throughout this episode came from Tess, who is Beth and Randall's second-oldest daughter. However, Beth and Randall's reaction to the conflict has This Is Us fans split or whether or not they did the right thing.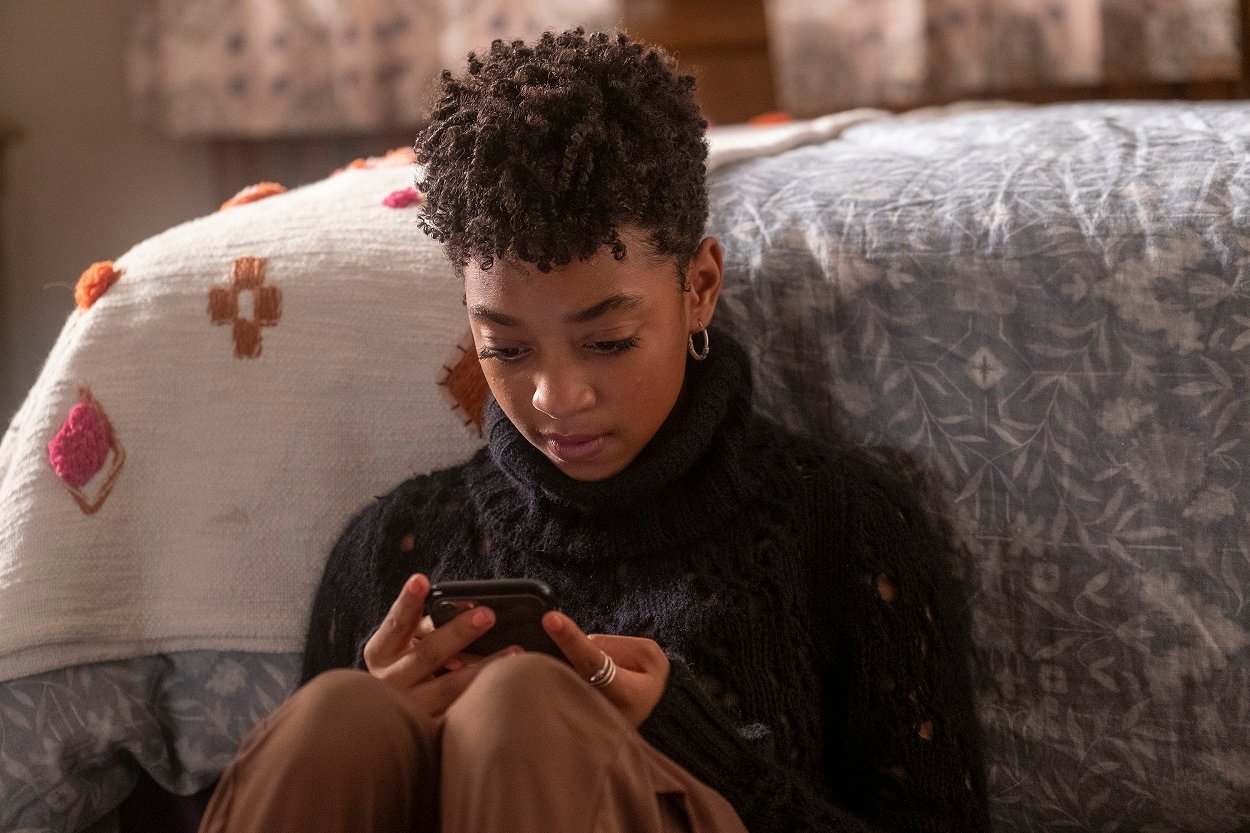 One of the best things about This Is Us is getting the opportunity to see the younger characters grow up right before our very eyes. Fans love watching the younger versions of The Big Three age year after year. The same can be said for Randall's children: Annie, Tess, and Deja. The start of Season 5 has chosen to highlight Tess and Episode 3, in particular, has fan split on the way Randall and Beth chose to parent the teen.
'This Is Us' fans have watched Tess grow up
Tess is well into her teen years now, has a better sense of her identity, and seemingly at odds with her parents at every turn. Like most teens, she's constantly on her phone and uninterested in what her parents have to say. Far from the shy and meek girl fans met in earlier seasons of This Is Us, Season 5 Tess is more than willing to speak her mind, despite the consequences. This is made evident when her school called Beth to inform them of a video she made last school year.
The video featured Tess and another student who had a gripe about the way a teacher was treating them. The teacher touched Tess' hair without consent and refused to stop using female pronouns for the other teen who expressed a preference for gender-neutral pronouns. The video featured the teens airing their grievances and ending with a hearty "screw you" to the teacher in question.
Tess lost phone privileges for 6 weeks because of her video
Though Randall confessed to Beth that he knew Tess was wrong, he also admitted to his wife that he was secretly proud of their daughter. While he didn't agree with her methods, he was happy that Tess learned to speak out against injustices. Unlike him, Tess was able to express herself and air out her grievances. But despite his pride, he knew the way Tess went about handling the situation was wrong. After explaining this to Tess he let her know that her phone was being taken away for 6 weeks and that decision has left This Is Us fans divided.
Some fans felt that Tess wholeheartedly deserved every piece of her punishment. "So glad they punished her," one fan commented on the official This Is Us Instagram page. "They were getting too soft accepting the attitude."
Fans on Instagram are split on Beth and Randall's punishment
Another This Is Us fan quickly chimed in that Beth and Randall made the right choice. "The only way the kids learn is if you take away something that they really desire," they penned. "I love that Randall and Beth support each other in their decisions."
Others felt that while Tess deserved to be punished, six weeks was going a bit overboard. "6 weeks was a bit extreme but she is getting on my nerves, 😂😂" one person wrote. Meanwhile, some fans of This Is Us, however, felt that Tess was right in her actions and she shouldn't be punished for expressing her opinion. "Very disappointed in Randall + Beth," one fan declared. "They're completely stifling her peaceful protest. 😡😡"
What will Tess's storyline be for the rest of 'This Is Us' Season 5?
Clearly, This Is Us fans have different views about whether Tess' punishment fit her crime. We're interested to see how her storyline may develop throughout the rest of Season 5. Will having her phone taken away be beneficial or spark more lashing out? Only time will tell.