'This Is Us' Season 5: Are Kevin and Madison Endgame Now? Some Fans Think So
This Is Us fans know Kevin (Justin Hartley) will get a love story for the ages — but is he destined to experience it with Madison (Caitlin Thompson)? Thus far, the fifth season has highlighted the couple's relationship as they navigate their future with the twins. That said, it's already far more complicated than they expected. So are Kevin and Madison endgame on This Is Us? Some fans think they will end up together after season 5 episode 7 — here's why.
What happened to Kevin and Madison in 'This Is Us' Season 5?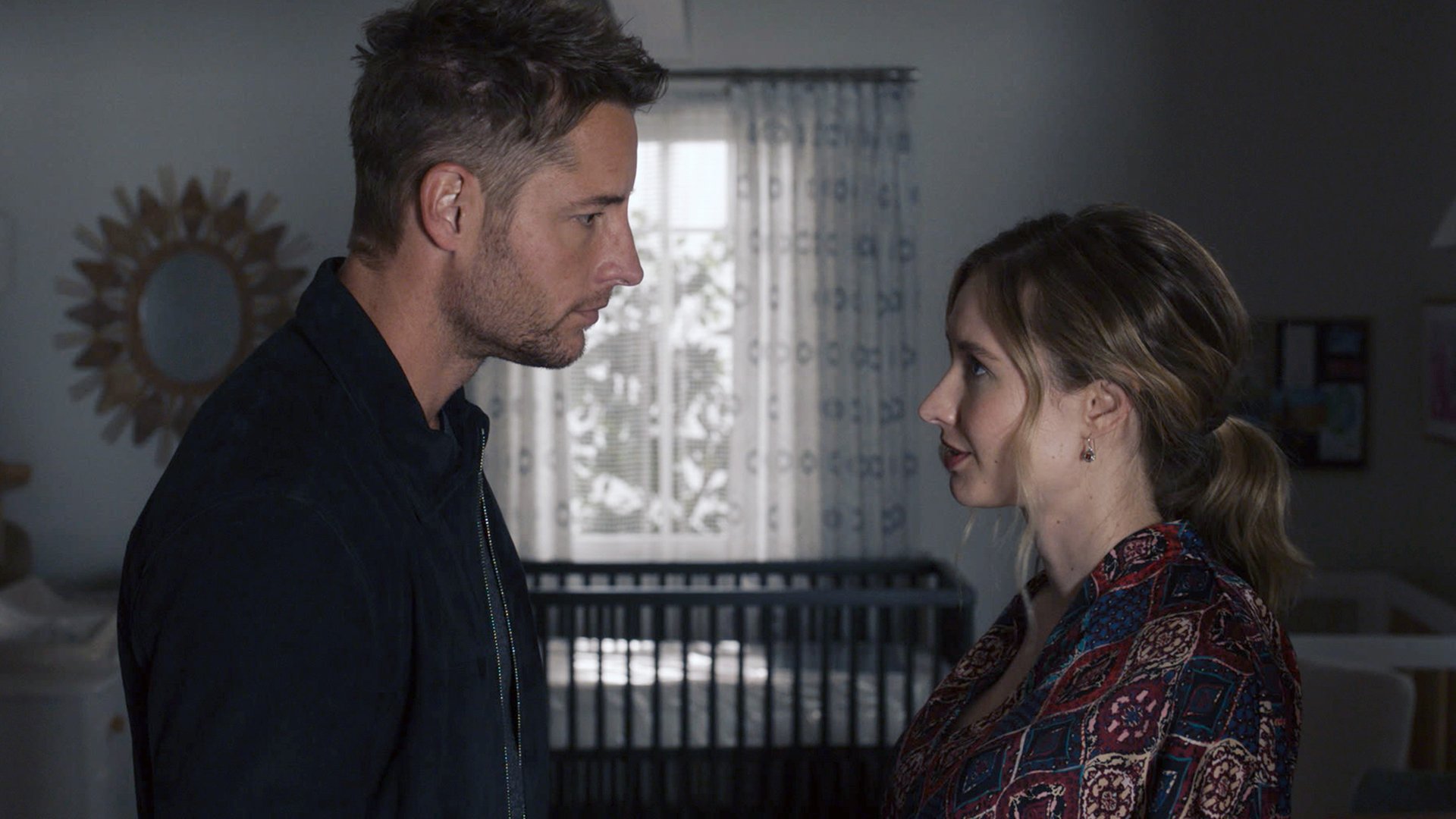 RELATED: 'This Is Us': Will Kevin or Madison Die in Season 5?
At the end of This Is Us Season 4, Madison told Kevin she was pregnant with his twins. Madison offered Kevin an out, as she was willing to raise the children on her own. But Kevin wanted to be all-in. Then in the fifth season premiere, the couple got engaged.
Later, Kevin was cast in a movie set to film in Vancouver. The actor took the role, leaving his fiancée behind in LA. Kevin also promised to be back for Madison's birth. Meanwhile, Madison told Kevin to think about their future relationship and family together.
"I think you should use this time away to be real with yourself, to figure out how this relationship and family is actually gonna work," Madison said. "You said you were all in, and I bought that. Take this moment to decide if you really are."
A few episodes later, Madison went into labor six weeks early. Kevin, who was stuck in Vancouver, desperately tried to get back for the delivery. Kate (Chrissy Metz) was also getting ready for Ellie's (Annie Funke) birth. Then Madison started to realize she might have to give birth alone.
RELATED: 'This Is Us' Season 5: Does Kevin Make It to Madison's Birth in Episode 8?
"I can't believe I'm maybe gonna do this alone," Madison said in This Is Us Season 5 Episode 7. "I'm not close to my mom or anyone in my family, really. To be honest, there's only two people in the world I am truly close to. One of them is having a baby of their own and the other is hopefully on a plane."
Nevertheless, the Pearson family stepped up and made sure that Madison wasn't all alone. Randall (Sterling K. Brown) recently drove down to New Orleans, where he discovered the story of his birth mother, Laurel (Jennifer C. Holmes). Ultimately, the trip showed Randall it was time to let go of all the bad stuff, including his fight with Kevin. So when Randall learned that Kevin was rushing back to LA, the city councilman called Madison.
"I spoke to Kevin. I know he's trying to get to you," Randall said. "We're still driving back from New Orleans. So if you want us to have some food sent over there or anything, we just want you to know that we're here. Or if you want, we can stay on the phone with you for a while."
Then when Madison hesitated, Randall reassured her. "We really can stay on with you," he said. "You're family."
Why 'This Is Us' fans think Madison and Kevin are endgame now
RELATED: 'This Is Us': Will Sophie Come Back in Season 5?
After This Is Us Season 5 Episode 7 — titled "There" — many fans shared their thoughts about Madison and Kevin's relationship. Some fans questioned whether they were a good match, often comparing the relationship to Kevin and Sophie's (Alexandra Breckenridge).
"Sorry, she has no chemistry with Kevin at all," a fan wrote on Instagram. "I'm just waiting for Sophie to come back."
That said, others speculated that Kevin and Madison were a better fit now.
"Sophie was an enabler who let Kevin get away with has crap over and over," a fan wrote on Instagram. "Madison expects more from him and I think that's good for him."
Meanwhile, some This Is Us fans wondered whether the show subtly revealed that Kevin will end up with Madison in season 5 episode 7.
"Madison is Kevin's end game so people need to get over it," a Reddit fan wrote on Feb. 10. "Last nights episode sealed it for me when Randall said 'Your family.' It's clear Madison doesn't have a family and she's been all alone probably since she was a teenager and soon she will be a Pearson and find where she belongs."
RELATED: 'This Is Us' Season 5: Sterling K. Brown Says Kevin and Randall Are 'Ready' To Repair What They Broke
The fan continued, "She's not going to die in childbirth and her and Kevin aren't going to co-parent. I bet sometime we will see her this season in the future scenes. Like a wedding picture of her and Kevin or she will show up with Kate."
Many This Is Us fans agreed with the theory about Kevin and Madison. Some also added to the discussion, questioning whether the writers already closed the chapter on Sophie so that Kevin could grow on his own. But others wondered whether there was still room for Sophie to return.
"I always liked the idea of them falling in love," a Redditor wrote about Kevin and Madison. "Kevin doesn't deserve another chance with Sophie, imo. but the way he made the comment about Sophie getting the big house and the way they like to misdirect, I don't think she's off the table for the future."
For now, This Is Us fans will just have to wait and see what happens to Kevin and Madison as the fifth season continues. But it seems there are more chapters to unfold.
"I think there's many more chapters in Kevin's romantic story," creator Dan Fogelman said in October 2020, per The Wrap. "Kevin has a journey ahead of him and I don't want to get too far ahead of it just yet."
This Is Us Season 5 airs Tuesday nights on NBC.