'This Is Us' Season 5: Does Kevin Make It to Madison's Birth in Episode 8?
It's delivery day for the Pearson family when This Is Us Season 5 returns on Tuesday, Feb. 16. But will Kevin (Justin Hartley) make it to the birth of his twins with Madison (Caitlin Thompson)? An unexpected car accident might have caused Kevin to miss his chance to be "there" for his kids. So here's what to expect next.
Why Kevin might miss Madison's birth on 'This Is Us' Season 5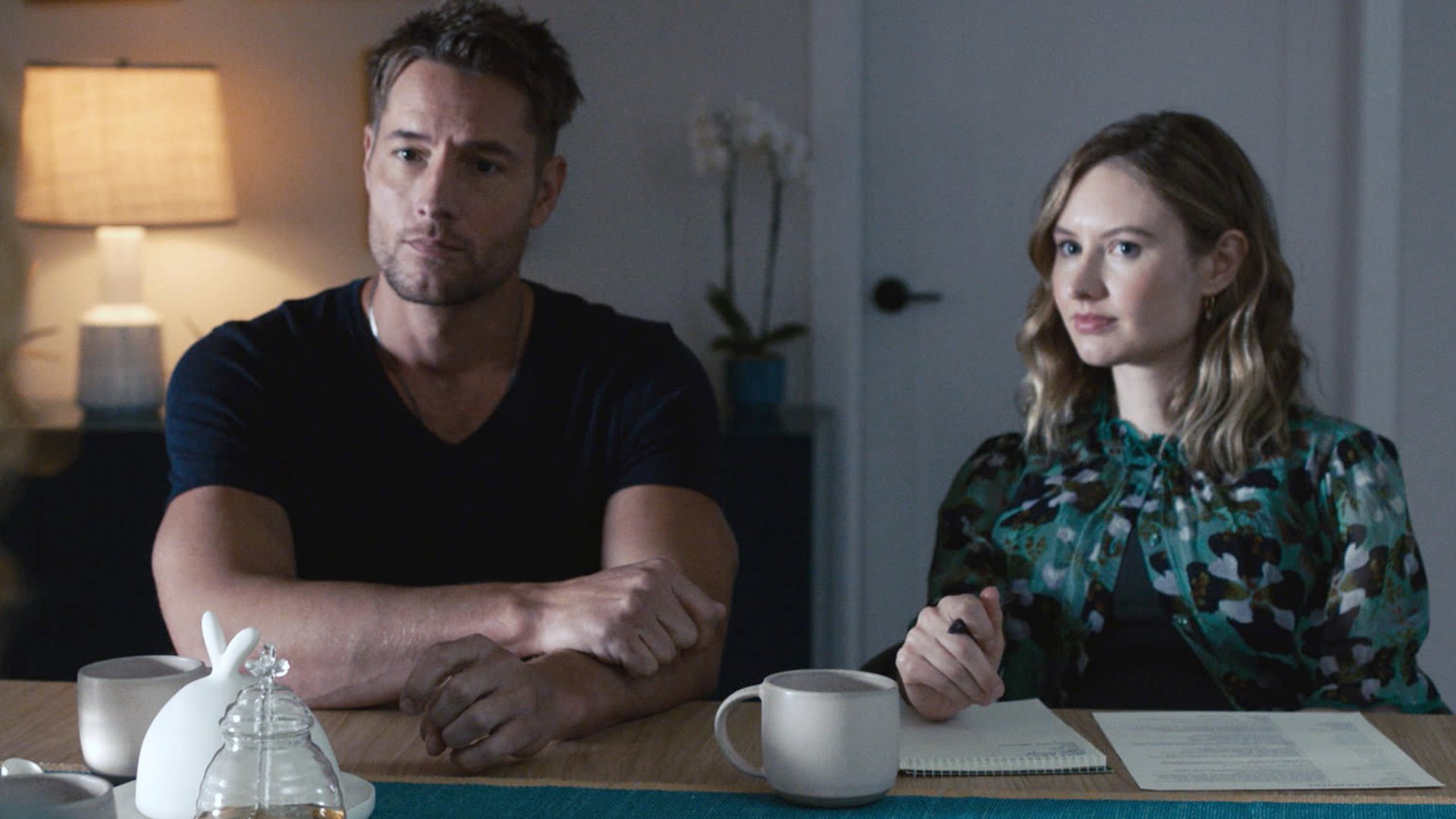 In This Is Us Season 5, Madison went into labor six weeks earlier than expected. So Kevin — who was in Vancouver to shoot a film — tried to rush back to LA so he could be there for the birth of his twins. 
Then in episode 7, viewers learned why Kevin thought of delivery as the "most important moment" of his children's lives. And of course, it had something to do with Jack (Milo Ventimiglia).
"I wanted delivery day to be perfect," Kevin told Rebecca (Mandy Moore) over the phone. "I wanted to be there for her, waiting on her hand and foot. I wanted to be like [Dad]."
That said, a car crash made it difficult for Kevin to go all-in. On his way to the airport, Kevin noticed a car in a ditch. He saved the driver and drove the man to the hospital. Despite the delay, Kevin made it to the airport in time for his flight. But, Kevin lost his ID. He left it at the crash site. 
Now, This Is Us fans must wait and see whether Kevin makes it to the birth. At the end of the episode, Kevin pleaded with TSA to get him on the flight. And at one point, he even used his celebrity. But, unless there's a miracle, it seems Kevin's best bet is to obtain a temporary ID. However, the process will take a day. So it seems likely Kevin will miss Madison's birth.
Justin Hartley teases whether Kevin will make it to the twin's birth
In an interview with The Wrap, Hartley teased whether Kevin will make it to Madison's birth in This Is Us Season 5 Episode 8. The actor suggested that Kevin tried "everything" by using his celebrity to get on the plane. But, whatever happens next, Hartley hinted that time is not on his character's side.
"There is a time crunch, right? There is a process by which he can get on the plane, but it takes time," Hartley said. "And they're certainly not going to hold the plane for him, I don't think."
He later added, "I guess they could look at him and say, 'Well that's him.' But how long does that take and does the plane already take off? [Madison's] already at the hospital, she's already in labor. It's a sticky situation."
Meanwhile, This Is Us producer Isaac Aptaker shared three possible scenarios for Kevin in episode 8.
"Our next episode will pick up with where this one left off and we'll see whether or not Kevin is able to appeal to the higher authorities of air travel, or if he finds another way to get there —or if he fails to make it in time," Aptaker told Entertainment Weekly.
Will Kevin and Madison's twins be OK after the delivery?
Whether Kevin misses or makes it to the birth, Madison is still delivering the twins six weeks early. So many This Is Us fans have been wondering whether the children will be born safely. But, when speaking with Deadline, Hartley hinted that the births will be challenging.
"In any circumstance, whether there's complications or not, they're going to challenge us," Hartley said. "There will definitely be drama, and also it impacts their relationship as well. These two are just trying to figure things out as adults, and then you bring two more family members in. … I think that it certainly lends itself to a lot of rich, real drama that happens in real life."
Meanwhile, in the above interview with Entertainment Weekly, Aptaker revealed that the new episode will reflect what it's like to give birth during the coronavirus (COVID-19) pandemic. 
"Any delivery is always fraught," the executive producer said. "What we're really interested in exploring … is what it's like giving birth during the pandemic. We've had a lot of birth on the show, [but] it's a very different and unique experience giving birth right now."
Aptaker added, "We're going to really explore what a unique time it is to be having to be a baby."
This Is Us Season 5 airs Tuesday nights on NBC.