'This Is Us': Will Rebecca and Miguel's Relationship Be Explored in Season 5?
Not going to lie, it's difficult to root for Rebecca (Mandy Moore) and Miguel (Jon Huertas) when their love story hasn't been explored four seasons deep into This Is Us. Thus far, Jack (Milo Ventimiglia) has been portrayed as the perfect husband to the Pearson matriarch. Meanwhile, Miguel still feels like a footnote after 72 episodes. So will This Is Us Season 5 finally dive deeper into Rebecca and Miguel's relationship? Fans are itching to see this backstory unfold onscreen.
What we know about Miguel on 'This Is Us'
Even after the This Is Us Season 4 finale, we don't know a whole lot about Miguel. In the past, he was close friends with Rebecca and Jack. He also had two children and divorced his wife. Then years after Jack's death, Miguel reconnected with Rebecca on Facebook. 
Eventually, the pair got married. But it became clear Miguel's kids did not approve of their father's relationship with Rebecca in the present day. They blamed Rebecca for their parents' split. Meanwhile, Miguel's relationship with Kate (Chrissy Metz), Kevin (Justin Hartley), and Randall (Sterling K. Brown) remained lukewarm.
Now This Is Us fans still don't understand the heart of Rebecca and Miguel's backstory, including their romance in the past and present day as well as how the children reacted when the pair started a relationship. 
Jon Huertas wants to see more from Miguel on 'This Is Us'
At the beginninng of This Is Us Season 4 in October 2019, Huertas opened up about Miguel and hinted viewers may see more from his character.
"I often think about what the legacy of this character will be and how he may educate others," the actor told NBC News. "It's been a gradual and slow transition to getting fans to embrace Miguel, but he'll have his moment."
Then by the midseason premiere in January 2020, fans were still itching for Miguel's backstory. And in an interview with The Huffington Post, Huertas said there weren't any major discussions about expanding the character's arc at the time. However, he hoped This Is Us would eventually give Miguel a little more backstory.
"I hope that the show definitely delves into Miguel's backstory, maybe how he became successful, how he became the husband of Rebecca. But we haven't had any huge discussions about it yet," Huertas said. "We know how they got together. We haven't talked about how we're going to see that." 
Creator Dan Fogelman says 'This Is Us' Season 5 will highlight Rebecca and Miguel's relationship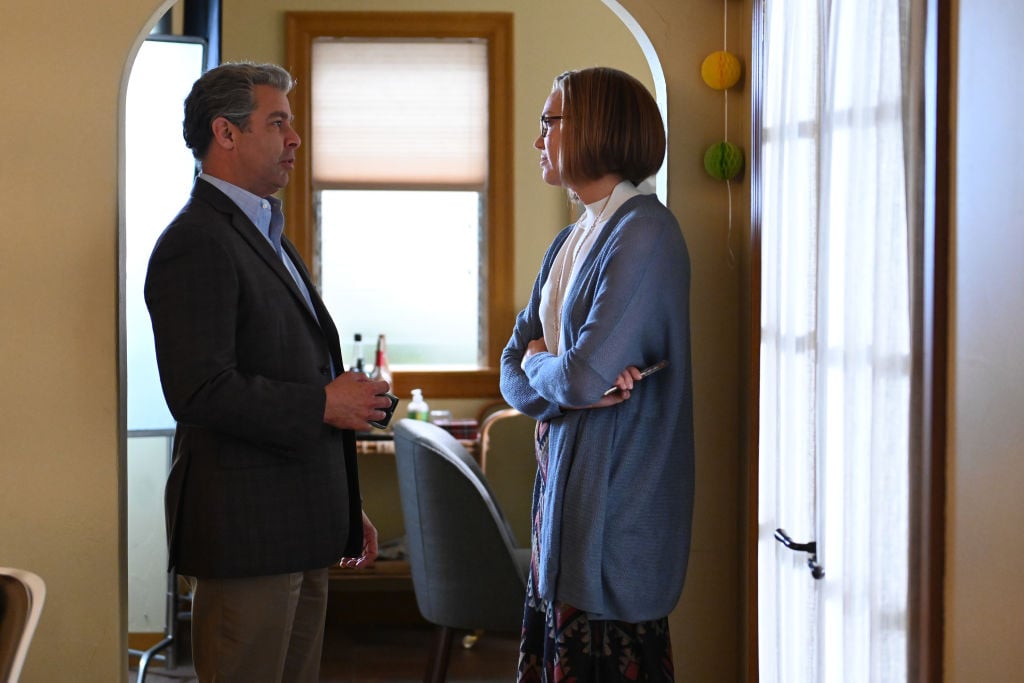 By the end of This Is Us Season 4, Rebecca decided to partake in a nine month Alzheimer's clinical trial in St. Louis, Missouri. She previously stated she didn't want to go and spend her final days with her family instead. However, Randall pushed her to change her mind.
Then according to The Hollywood Reporter, creator Dan Fogelman revealed the plans for the Pearson matriarch when the NBC drama returns. And now, we have confirmation This Is Us Season 5 will showcase Miguel and Rebecca's relationship. 
"It's obviously a challenging chapter for Rebecca moving forward," Fogelman said of Rebecca's move to St. Louis. "We have a big storyline planned for Mandy in the next upcoming season in present day as an older woman and also her past timelines. That will include a deeper look into Rebecca and Miguel's relationship throughout the decades."
Miguel's time to shine will finally be upon us when This Is Us returns for its fifth season. Now let's just hope the new episodes will answer all our burning questions about Rebecca and Miguel's  love story — and maybe even tell us where the couple ends up in the future. 
Read more: Wait, Did We Already See the 'This Is Us' Season 5 Premiere?