'This Is Us' Season 6: What's Next for Deja and Malik?
The This Is Us Season 5 finale dropped a few major bombshells, but the episode also subtly teased new storylines as the Pearson family heads toward the sixth and final season. One scene, in particular, stood out to many viewers because it suggested that something will happen between Deja (Lyric Ross) and Malik (Asante Blackk). So what's next for Malik and Deja in This Is Us Season 6? Here's what we know so far.
What happened to Deja and Malik in 'This Is Us' Season 5?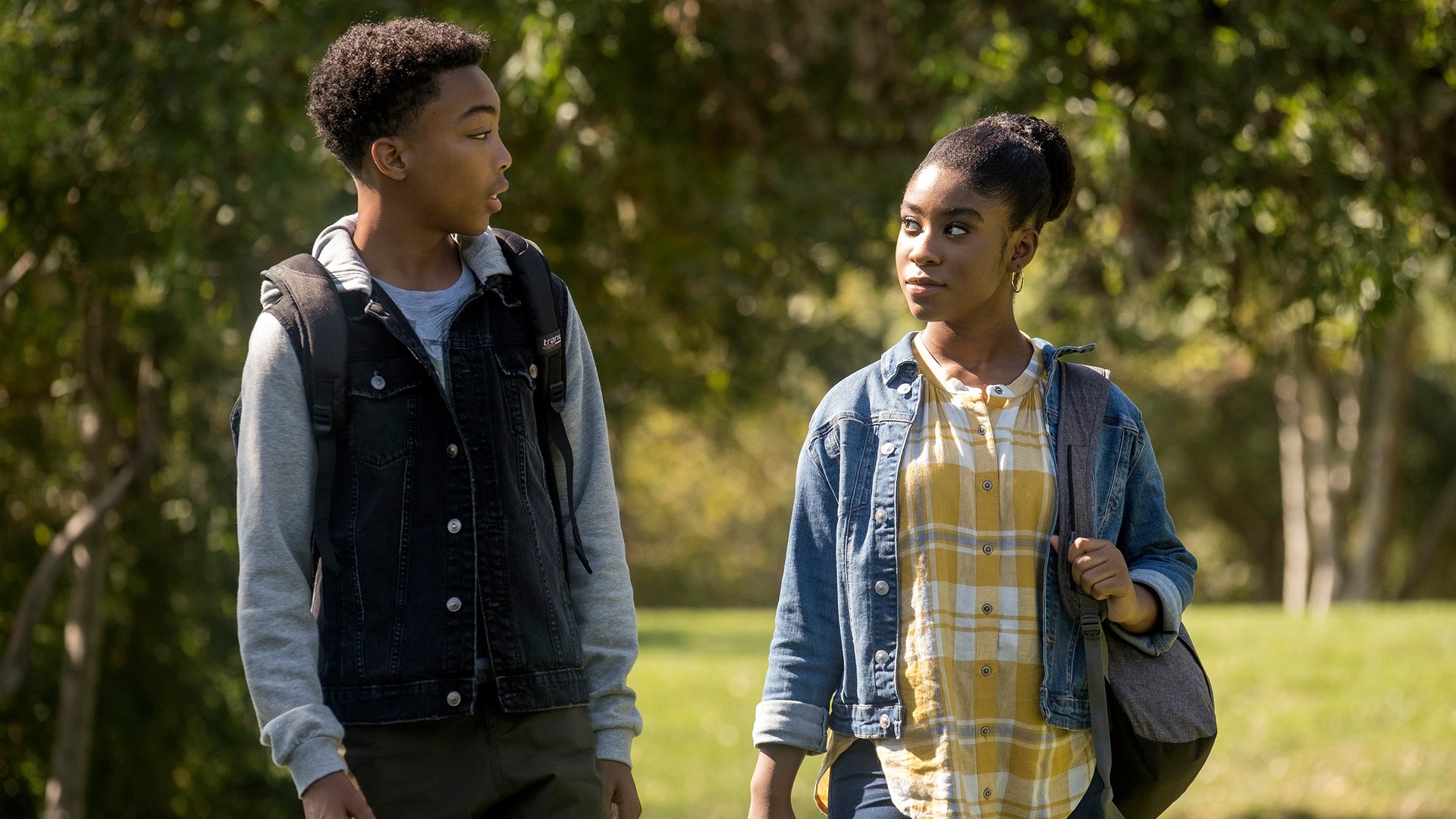 RELATED: 'This Is Us' Season 5 Finale Future Flash-Forward Scene Explained
Throughout This Is Us Season 5, the NBC drama briefly touched on Deja and Malik's relationship. In episode 10, "I've Got This," Malik revealed Janelle's birth mother, Jennifer, wanted to be back in her daughter's life. Then in episode 14, "The Music and the Mirror," Deja revealed there was something going on with her boyfriend.
"I've got some stuff on my plate with this whole Malik situation," Deja told Randall (Sterling K. Brown). She also confirmed it had something to with Jennifer's return.
Nevertheless, the Deja and Malik situation wasn't formally addressed, even by the This Is Us Season 5 finale. However, the episode unveiled one more obstacle in the couple's relationship.
As the Pearsons prepared for Kevin (Justin Hartley) and Madison's (Caitlin Thompson) wedding, Annie (Faithe Herman) asked Deja whether she'd ever get married to Malik. Then Deja suggested she's been thinking about her future with her boyfriend.
"Annie, are you crazy? I'm not even thinking about that nonsense. I'm not even thinking that, you know, we'll get married one day in his future Michelin star restaurant," Deja said and laughed.
But the This Is Us finale later revealed a long-distance relationship was more likely in the near future. Midway through the episode, Malik called Deja and shared that he got into every school he applied to.
"I went five for five," Malik said. "I didn't tell anybody this. But I applied to Harvard. I got into Harvard, too, Dej."
While it seemed Deja was excited for Malik, she quickly realized the obvious. She pointed out that Harvard was near Boston. Then Malik's smile faded.
Meanwhile, This Is Us Season 5 Episode 9, "The Ride," briefly updated fans on adult Deja's (La Trice Harper) life in the flash-forward at Kevin's house. In the future, Deja is a medical intern. She's also pregnant. However, the NBC drama has yet to reveal the father of her baby.
'This Is Us' creator teases what's next for Deja and Malik in season 6
RELATED: 'This Is Us' Season 6: Will Kate and Miguel Die by the End of the Series?
Now, will Deja and Malik learn to survive the distance and end up together in This Is Us Season 6? We'll have to wait and see what unfolds next season. But according to creator Dan Fogelman, the couple's storyline will give viewers a chance to "explore adolescent first love."
"We have this really mature, but still young, first love in our present day. And jumping into the future we have a grown-up version of that character," Fogelman said, per People. "Deja and Malik's journey is one that we owe and plan on telling in full in season 6."
He continued, "It's another area that I'm very excited about. Outside of Kevin and young Sophie, we haven't had a chance to explore adolescent first love and what becomes of that, and how it forms you. That story is one that we plan on telling in season 6, we've always planned on telling in season 6."
'This Is Us' Season 6 will spend more time in the future timeline
RELATED: 'This Is Us': Chrissy Metz's Spinoff Theory Is Simply Perfect
While it seems Deja and Malik's present-day storyline will be worth the watch, it appears This Is Us Season 6 will also include more flash-forward scenes. When speaking with Deadline, Fogelman revealed the new season will spend more time with The Big Three's children in the future timeline. Fogelman said:
We've got these three timelines in our present and future, which are basically our present-day timeline, which is them at 41; then, this wedding timeline of Kate [Chrissy Metz], which is four years in the future; and then we've got that deeper timeline in the house. So we're going to spend time in all of those, and in that house is where the grown-up versions of those kids — Randall's kids particularly — are. So we'll be living there more, and having more stories to tell there.
But whatever happens, it seems the This Is Us team plans to wrap up every storyline in season 6. So hopefully, we'll find out where Deja and Malik end up in the future soon.
"There will be no looming question when we get to the end of next season," Fogelman said, per People. "I don't think anything will be left on the table. So all those locations you've been to, all those future timelines we've been to, they will all get resolutions."
This Is Us will return to NBC with season 6 in 2022.