'This Is Us': Sterling K. Brown Teases More Future Flash-Forwards in Season 6
On Feb. 23, This Is Us Season 5 dropped a new flash-forward that gave viewers major clues about the Pearsons' future. Now, many fans are hoping to see another time jump in the next few episodes. Then recently, Sterling K. Brown (who plays Randall Pearson) hinted that the NBC drama will feature more future flash-forwards in This Is Us Season 6 — here's what the actor said.
'This Is Us' will return for season 6
In case you haven't heard, NBC renewed This Is Us through season 6 back in 2019. So the Pearsons will return for another chapter after the This Is Us Season 5 finale. The sixth season will also consist of 18 episodes.
Meanwhile, it's possible This Is Us Season 6 will be the last season. Creator Dan Fogelman previously suggested the Pearsons' story will end after the sixth season. Then in March 2020, he hinted that the plan has not changed. 
"We're obviously picked up through season six," Fogelman said, according to The Hollywood Reporter. "[It was] a gift to be picked up for two consecutive three-season pickups, which we asked for, which was really kind of to plan out and map out our storytelling in a big-picture way. Yeah, that's when the Pearson story will basically come to a close."
Which 'This Is Us' characters have appeared in a future flash-forward?
Now, This Is Us Season 5 is about halfway through, and many viewers are wondering where the Pearsons end up. Multiple flash-forwards highlighted a number of beloved characters in the future. But even so, a few key players are still missing.
In the flash-forward that takes place at Kevin's (Justin Hartley) future home, the Pearsons gather around Rebecca (Mandy Moore). The Pearson matriarch appears to be on her deathbed. However, she's surrounded by a full family. 
Randall, Kevin, Beth (Susan Kelechi Watson), Nicky (Griffin Dunne), and Toby (Chris Sullivan) show up in the timeline at some point. Then viewers meet Tess (Iantha Richardson), Annie (Iyana Halley), and Deja (La Trice Harper) as adults. Kevin's twins, Nicholas and Frances, also make an appearance. Meanwhile, Toby mentions his son, Jack, is coming to the house, and he's not alone. 
That said, Kate (Chrissy Metz), Madison (Caitlin Thompson), and Miguel (Jon Huertas) aren't in any future scenes. Kate and Toby's daughter, Hailey, is also missing. But many fans are hopeful the characters will appear after the This Is Us Season 5 flash-forward.
Sterling K. Brown teases more future flash-forwards in 'This Is Us' Season 6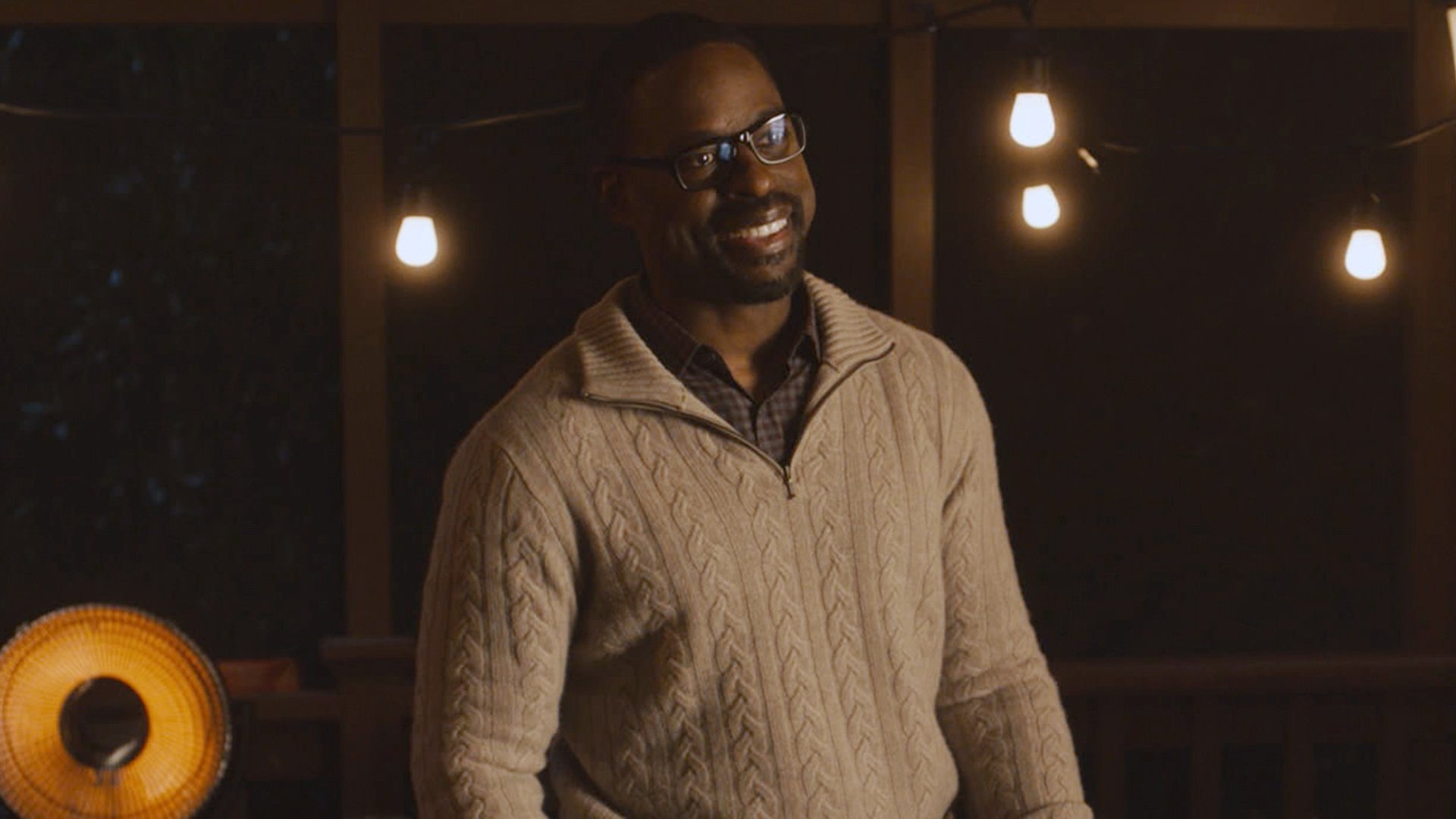 The flash-forward scene in This Is Us Season 5 Episode 9, titled "The Ride," hinted another arrival at Kevin's house. But fans don't know the identity of the character — or characters — inside the vehicle. 
In an interview with Hollywood Life in March 2021, Brown revealed he knows who is pulling up in the car. He also noted that the identity will be confirmed eventually. 
"There are a couple of people we haven't seen. I think in that last flash-forward, we see somebody pulling up, but we don't know exactly who that is pulling up," Brown said. "So who's left? There's my sister. Clearly, there's somebody else pulling up, and we will find out."
Brown wasn't able to confirm whether This Is Us Season 5 would revisit the future scene. However, the actor promised viewers will get more answers in season 6.
"Will we revisit the future in this season? I'm not sure," Brown said. "But in the sixth season, you'll see more of that timeline for sure. It's a time that we will continue to revisit throughout the course of the series. It's like a little puzzle. You get little pieces in time and put it all together."
This Is Us Season 5 airs Tuesday nights on NBC.