'This Is Us': Who Plays Sophie? Alexandra Breckenridge and Amanda Leighton Portray Kevin's Ex-Wife
No matter how many times they say goodbye, Kevin and Sophie can't stay away from each other on This Is Us. The two former flames got married in their college years. Then fans caught up with the couple after their divorce and Sophie moved on, engaged to another man. But now, in the midst of the NBC drama's fourth season, Kevin and Sophie will reunite once more. So who portrays Kevin's ex-wife? Alexandra Breckenridge and Amanda Leighton play present-day and teenage Sophie, respectively, on This Is Us.
Who is Alexandra Breckenridge, who plays the present-day Sophie in 'This Is Us'?
Given her involvement within the entertainment industry since the late '90s, it's likely you've seen Breckenridge in one of her many projects. According to her IMDb profile, Breckenridge is known for her role as the young Moira O'Hara on American Horror Story: Murder House.
Meanwhile, the 37-year-old actress appeared in projects like The Walking Dead, She's the Man, and True Blood. It's also possible you've heard Breckenridge in Family Guy, as she lent her voice on multiple occasions for different roles.
Now, Breckenridge stars as Melinda Monroe in Netflix's Virgin River, alongside Grey's Anatomy star Martin Henderson. She will also star in The Hallmark Channel's Love in Store, opposite Robert Buckley.
Who is Amanda Leighton, who plays teenage Sophie in 'This Is Us'?
In February 2017, The Hollywood Reporter revealed Leighton's casting as teenage Sophie on This Is Us after fans discovered young Sophie (Sophia Coto) grew up to marry Kevin in their college years. But aside from her work as teenage Sophie, fans have probably seen Leighton on Freeform's The Fosters as Emma Kurtzman. She has also appeared in projects like Make It or Break It, The Young and the Restless, and Rosewood.
That said, it's more likely you've heard Leighton's voice. According to the 26-year-old's IMDb page, Leighton voiced Poppy in Trolls: The Beat Goes On!, Polly Plantar in Amphibia, and Blossom in The Powerpuff Girls.
What 'This Is Us' Season 4 has in store for Kevin and Sophie
In This Is Us Season 4 Episode 12, Kevin — played by Justin Hartley — will reunite with his ex-wife, Sophie. During the previous episode, Kevin returned to Pittsburgh to attend the funeral of Sophie's mom. He was also seen in bed with a mystery blonde.
Then in the promo trailer for the Kevin-centric episode, This Is Us previewed Kevin and Sophie's "lifelong love" that will reach "a turning point." And at the end of the teaser, Sophie asked Kevin to "get me out of here."
When speaking with TVLine, executive producer Elizabeth Berger confirmed the new episode will feature "a really beautiful deep dive into Kevin's past with Sophie."
Meanwhile, showrunner Isaac Aptaker teased fans will find out the identity of the woman in Kevin's bed — as in whether or not it's Sophie.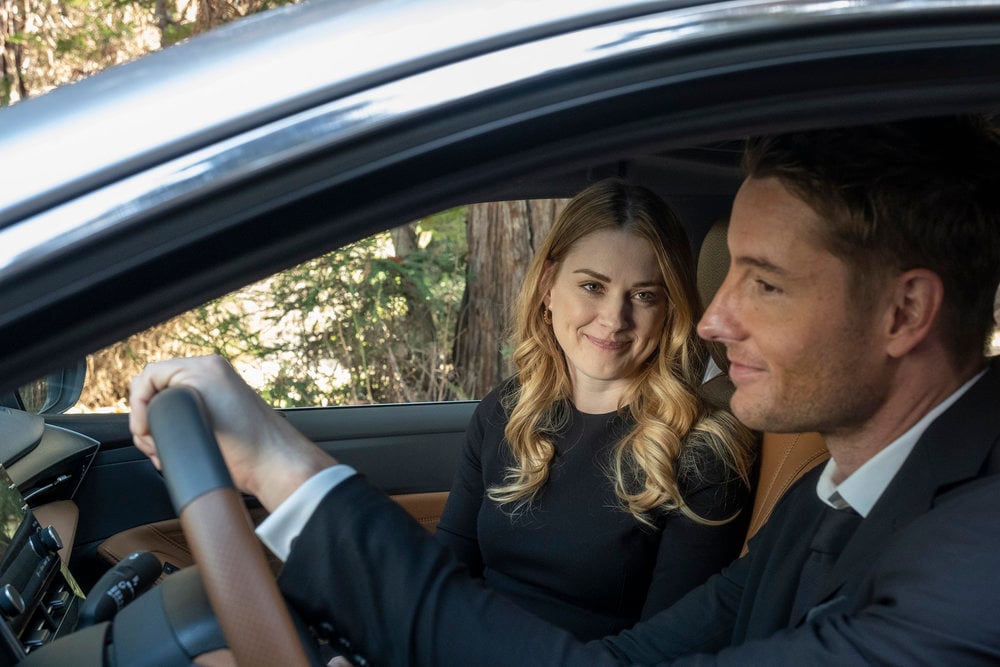 "The next episode in the trilogy is Kevin's story, so all will be revealed there," Aptaker said. "We're going to follow him to Pittsburgh and see why he decided to go to Sophie's [mom's] funeral, if he has any interaction with Sophie, what it's like for Kevin to be back home again on his old stomping grounds."
Of course, this means This Is Us fans will have to wait and see what happens next for Kevin and Sophie. But back in 2017, Breckenridge had hope for the couple's endgame status, according to Today.
"They've been off and on since they were children," Breckenridge said. "I think that eventually, it's gonna work out for them, or at least I hope it does. I think they have a bond that's kind of unbreakable."
Read more: 'This Is Us': This Randall and Kevin Moment Will Destroy You Once You Realize What's Coming