'This Is Us' Star Ron Cephas Jones Wins Emmy, Makes History Despite Major Snafu
Season 1 of This Is Us introduced the complex relationship between Randall Pearson (Sterling K. Brown) and the biological father that left him at a fire station when he was an infant.
That role, played by Ron Cephas Jones, took viewers on a heartbreaking journey through Randall's path to forgiveness following William's devastating cancer diagnosis and passing. Jones made history, winning an Emmy, but his thunder was taken thanks to an announcement mistake.
Ron Cephas Jones gave a haunting performance in 'This Is Us'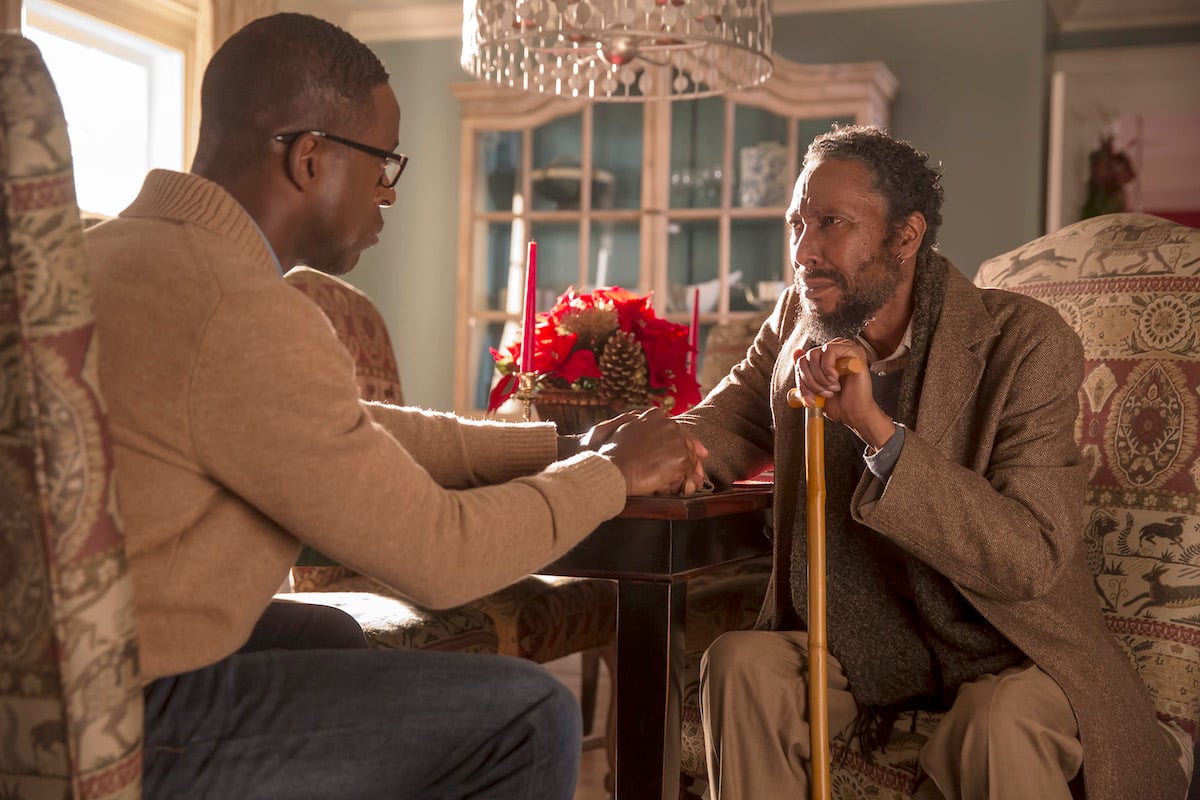 The pilot episode of This Is Us reveals that Brown's character Randall tracks down his long-lost biological father, Jones' William. Things get off to a rocky start between the two. With William's terminal cancer diagnosis comes a chance for healing and forgiveness.
For the entirety of the first season, William and Randall work toward some version of a father/son relationship. By the end of William's life, Randall understands why things happened the way they did, leaving fans with a giant hole in their hearts through William's final scenes.
That said, since the conclusion of This Is Us Season 1, many have wondered why Jones hasn't snagged an Emmy for his performance. Now, despite a strange and stressful 2020, he has.
Jones wins an Emmy but the announcement left viewers confused
Jones may have dreamed about hearing his name announced as the Emmy winner for "Outstanding Guest Actor in a Drama Series," but his time to shine came after a major Emmy snafu.
Much like the 2017 Oscars — when La La Land was announced instead of the real winner, Moonlight — the 2020 Emmy's had its own version. The voice-over announcement during the online portion of the event — which comes ahead of the main event on Sunday, Sept. 20 — named the wrong winner.
Ozark star Jason Bateman was declared the winner for a guest spot on HBO's The Outsider. However, it was Jones' name shown on the screen, leaving viewers confused.
After the commercial break, a message displayed that read, "Our apologies, an incorrect winner has been announced. We're fixing it now."
Finally, Jones' name appeared but without another voice announcement. The Television Academy tweeted confirmation that Jones is the winner, though they didn't elaborate on how the mistake happened.
Regardless, Jones' win made history for a pretty cool reason.
Jones and daughter make Emmy history with dual wins
After the win was clarified, Jones joined his daughter. Jasmine Cephas Jones also won an Emmy, making them the first father/daughter duo to win.
"As a parent, that's the most fulfilling thing I could ever feel," the This Is Us star said via Entertainment Weekly. Three days prior, his daughter claimed her Emmy for her part in the Quibi series #FreeRayshawn.
"I mean, winning another Emmy is icing on the cake, but to see my daughter progress and move into this place where she's earned an Emmy, it's beyond words," Jones continued. "My heart just explodes when I think about her and watch her and the success that she's had."
Jasmine commented earlier in the week before learning of her father's win saying, "The first time I'm nominated for an Emmy and I get to share it with my dad, who introduced me to theater at a very, very young age, it's a very full-circle type thing."
"This stuff happens once in a blue moon, once in a lifetime type thing and it's just really, really special. It's definitely a very, very special moment in time right now."