'This Is Us': The Midseason Premiere Ended with a Twist that Will Make You Want To Rewatch Every Flashforward for This One Thing
What's the one thing that fans are looking for after the terrifying plot twist during the mid-season premiere of 'This Is Us'?
The midseason premiere of This Is Us ended with a plot twist that no one expected. Sterling K. Brown knew what was going to happen, but when he was watching it, he screamed. Let's take a look at why the last ten seconds of the episode makes us want to go back and watch every flashforward so far.
[Warning: This Is Us Season 4 spoilers ahead]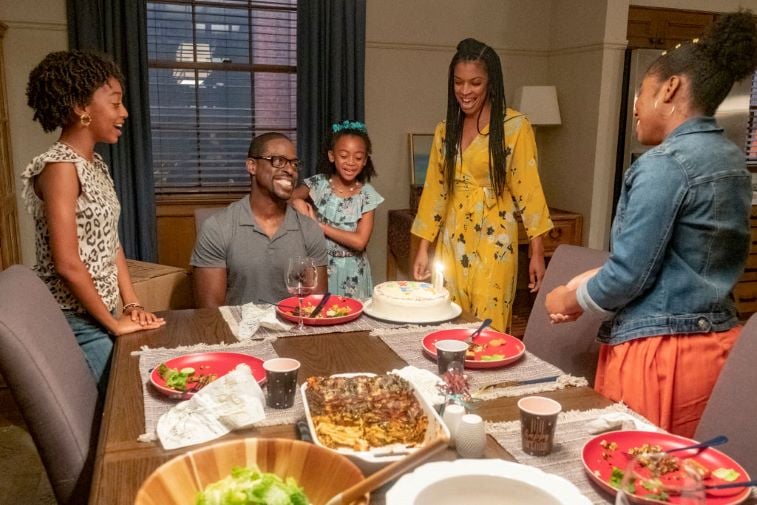 The last few moments of 'This Is Us' leave you on the edge of your seat
When Randall (Brown) arrives home from visiting his mother in Los Angeles, he goes upstairs to check on his family. He peeks into each of the kids' rooms to make sure they are safe and soundly sleeping. Then the councilman goes into his wife, Beth (Susan Kelechi Watson), to greet her. 
Randall tells her that he is going to head back downstairs for a glass of water and then will be back. When he gets downstairs, he is face-to-face with an intruder wielding a knife. 
The two stared at each other for a moment while fans at home scream. The show ends on that note, but luckily there are a few scenes from next week.
"You are not going to get past me," Randall tells the monster with a weapon. 
That's all we get, though. Viewers are left wondering what ensues next. Will Randall take on this person in a full out battle. Will Beth hear everything upstairs and dial 9-1-1? Even if she does call the police, they won't be there in time to help Randall fight off this man.
Fans want to know if this intruder seriously injures Randall in his home
"This makes me want to go back and see if Randall was walking with any sort of limp in the last season finally fast forward," writes one fan on Reddit. 
Some viewers think that Randall is about to get into a fight with the intruder that could cause him to have lasting injuries. Did he have a limp in the last flashforward?
"Was definitely not expecting the ending!" wrote another Redditor. "I wonder if this has something to do with why Randall isn't at the cottage that we saw the last episode. Do you think this guy severely injures him?"
Although Kevin (Justin Hartley) tells us that Randall is not at the cottage because they are not on speaking terms. It's possible we do not see him because the producers didn't want to show us how much he was injured before the reveal of the intruder.
Fans are positive that this intruder is looking for more than a simple robbery
"A night-time burglar? That ain't good," adds another concerned fan. "If it were just a common thief, he'd wait for everyone to go to work, and then bust in to grab what he could carry. That man is bad."
This viewer makes a solid point. If the intruder only wanted to steal from the Pearsons, wouldn't he have come during the day when no one is home? It seems like he must have been watching the house and saw Randall go in.
"I think he's real; maybe someone who doesn't like something the new councilman has done?" suggests another viewer.
Fans are anxious about Randall and if he ends up in the hospital due to this intruder in his home. We will have to wait and see what happens when the show returns on Jan. 21, 2020, at 9 p.m. ET to NBC.