'This Is Us': The Stars Give Their Opinions on What Their Yearbook Would Look Like and Fans are Here for it
With the mid-season premiere of This Is Us right around the corner, fans are getting antsy. Luckily, the show's social media accounts are in full swing. The latest post included a video of the stars voting on things such as who is "best dressed" and "the biggest prankster." Let's take a look at the hilarious list that followed from Chrissy Metz, Justin Hartley, Sterling K. Brown, Chris Sullivan, Susan Kelechi Watson, Mandy Moore, and Milo Ventimiglia.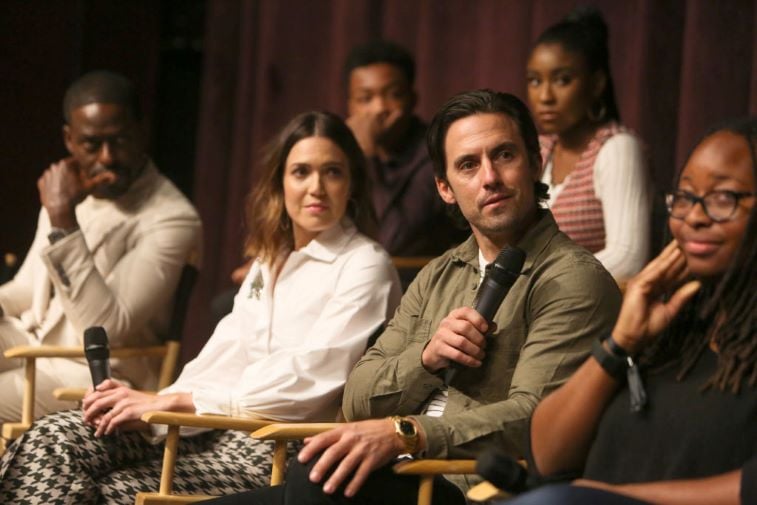 Who is the best dancer on 'This Is Us'?
"Best dancer, Susan, for sure," said Chrissy Metz. Then we see a clip of Watson dancing.
Season 4 of This is Us did feature an entire episode on Beth Pearson's backstory. Watson—who plays Beth—is a dancer in real life, so she was ecstatic to do the episode. This question seemed like a straightforward one for everyone to decide.
"Not me," adds Hartley. It's no secret that he can't dance.
Who has the best laugh on the show?
"Best laugh, S. K. Brown," votes Watson.
"Sterling," Metz believes. Then we see a quick clip of a silly laugh from Brown.
"I'm going to go with Chrissy," Moore adds. Then the producers flip to a clip of Metz cracking up. She does have a great laugh.
It looks like its a toss-up between Brown and Metz on best laugh.
Who is the biggest prankster?
"Biggest prankster, Justin Hartley," Ventimiglia confidently says.
"Justin, I will get you back," Sullivan points to Hartley as well. The producers flip to a clip of Hartley laughing.
The stars are all in agreement on who the biggest prankster is on the show. There must be some behind the scenes pranks that the cast needs to spill.
Who gives the best advice on 'This Is Us'?
"Best advice, Dan Fogelman," says Ventimiglia of the show's creator.
"I would say Milo," says Watson.
"Probably Chris or Sterling," adds Metz.
"I think we all give good advice," votes Hartley.
The cast is torn over who gives the best advice on the show. It sounds like they are all there for each other in this aspect. The whole group seems like such a tight-knit family off-screen.
Who is the best dressed out of the cast?
"Best dressed? Everyone," said Ventimiglia, "maybe do a worst dressed—me," he laughs.
"Susan Kelechi Watson cannot be stopped," adds Sullivan.
"Justin, he's a well-kept man," votes Brown.
Ventimiglia reminds fans of his character, Jack Pearson, so much with his answers. He often chooses everyone, just like any other dad can't pick between his children. He's like the on-set father-figure whether the cameras are rolling or not. 
Who is the most unique on 'This Is Us'? 
"That might be me," admits Metz while laughing.
"Chrissy Metz is one of a kind," votes Sullivan.
"Every member of our cast, every member of our crew, is unique," adds Ventimiglia.
Many of the stars choose Metz, but there is Ventimiglia again being the father-figure. He cannot pick and is content giving props to all of his costars. 
Who is the most athletic of the bunch?
"Most athletic? Me," Sullivan laughs. We are reasonably sure he is being sarcastic.
"Maybe Justin," Moore votes.
"I gotta give it to Justin, he's a freak of nature," Brown adds.
Hartley laughs at this question. In another video, he gives excellent advice about staying healthy, so the costars all seem to know he is the one to go to regarding health and wellness.
What do fans think of the 'This Is Us' yearbook votes?
Viewers left many comments of love on the video. They express how much they enjoy the entire This Is Us family. Fans also cannot wait for the return of the show. 
"Can't wait to see you guys on TV again next Tuesday!" commented one fan. "It's been a long wait!"
At least the stars gave viewers a little tease with this video. Tune in to NBC on Tuesday, Jan. 14, 2020, at 9 p.m. to see the return of all of your favorite This Is Us characters.