'This Is Us': Uncle Nicky Got Both Doses of the COVID-19 Vaccine to Visit the Twins
'This Is Us' Season 5 sees the return of Uncle Nicky (Griffin Dunne) when he visits Kevin and Madison. Viewers also find out that he had the COVID-19 vaccine.
When This Is Us returns on March 23, Uncle Nicky (Griffin Dunne) surprises Kevin (Justin Hartley) and Madison (Caitlin Thompson) with a visit. He secured both doses of the coronavirus (COVID-19) vaccine to visit the twins. In a recent interview, This Is Us writers Casey Johnson and David Windsor gave insight into Uncle Nicky's story.
[Minor spoilers for the This Is Us Season 5 below.]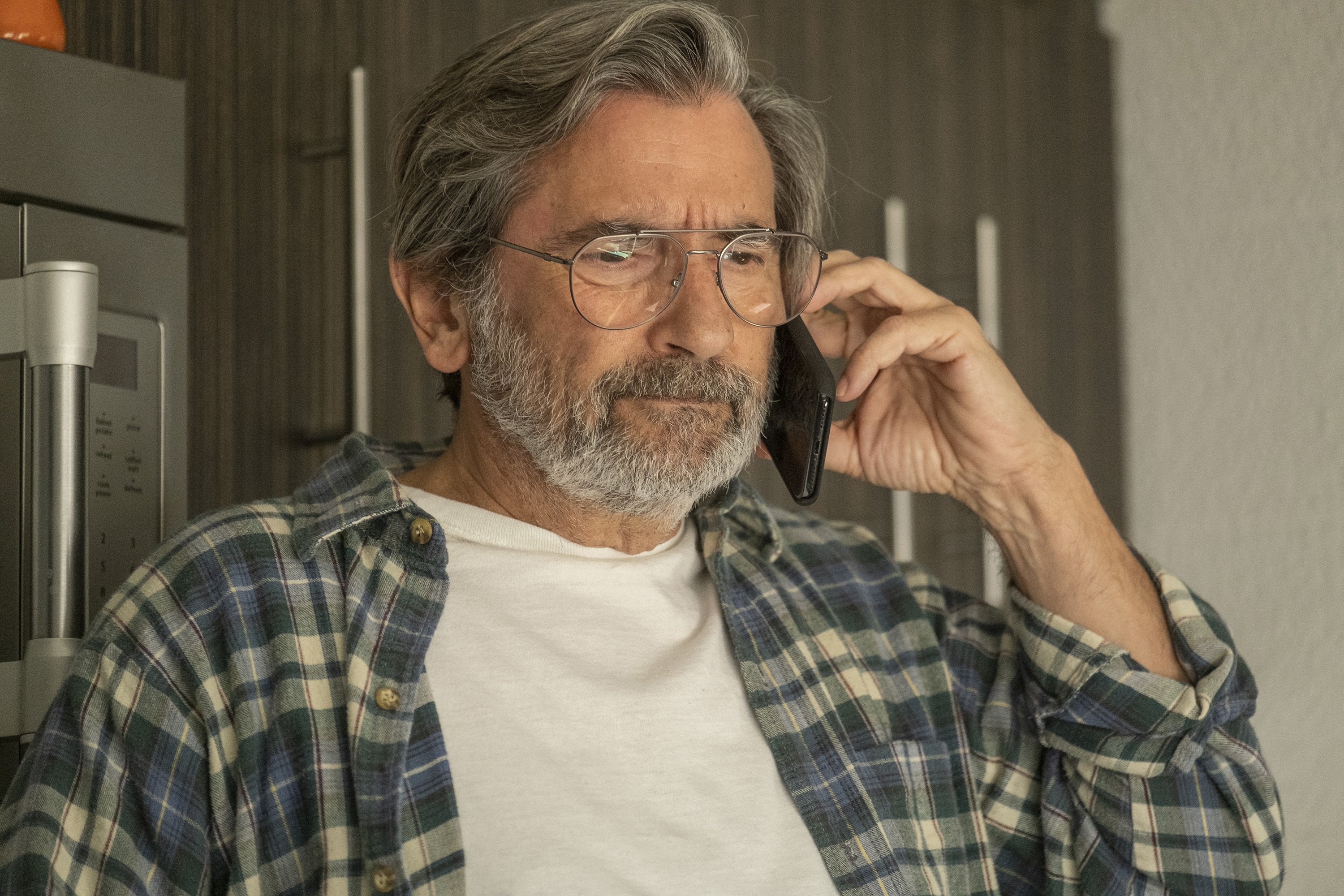 'This Is Us': Uncle Nicky — What happened last with the Pearson's Uncle?
Fans first met Uncle Nicky in This Is Us season 3; he became a main character in season 4. In season 3 of This Is Us, Kevin found out that his Uncle Nicky did not die in the Vietnam war like Jack (Milo Ventimiglia) told the family. When Kevin returned home from his trip to Vietnam, he and his siblings traveled to find their long-lost Uncle.
In season 4, fans found out more about Uncle Nicky. Kevin helped his Uncle with his sobriety and fear of leaving his trailer. When the long-lost relative joined Thanksgiving with the Pearsons, he realized that his brother kept his memory alive in touching ways. 
Uncle Nicky made a brief appearance in season 5 when Kevin called him to share the news of his twins' birth. His nephew told him that one of the babies was named after his Uncle. Fans were disappointed that Griffin Dunne did not appear in the This Is Us Season 5 premiere. So, they are very excited to see Uncle Nicky return to This Is Us on March 23.
'This Is Us' Season 5: Uncle Nicky visits Kevin and Madison
On March 16, This Is Us ended with a shocking knock at Kevin and Madison's door. The couple answered the door to find Kevin's Uncle Nicky standing in front of them. 
"I cannot believe that you flew across the country to meet our kids," Kevin tells Nicky in the previews.
This Is Us writers Casey Johnson and David Windsor spoke to People about Nicky's journey to visit the twins.
"You'll find out that he's gotten both doses of the vaccine so that he is safe to travel," Johnson told the outlet. "We really are trying to mirror the experience that everyone is going through."
Plus, the writers explained that fans would find out exactly how Nicky made it to Kevin and Madison's door.
"When we see him at the end of the episode, we will continue to find out more about what his journey was getting to see the babies, Kevin and Madison, and the rest of the family. But I don't think we should give that away just yet." Windsor added.
'This Is Us' COVID-19 still plays a role in season 5
The writers of This Is Us tried to work COVID-19 into the show as responsibly and naturally as possible. Not only does Uncle Nicky show up wearing a mask on This Is Us, but fans find out that he had the vaccine, too.
"As things have gradually loosened up, so has our outlook of what we want to do and how we want to incorporate all of it into the show," Windsor explained. "You sort of hit a point where it becomes a little fatigued. We're already living in this space; if we can get out of it as the world opens up, we want to. But at the same time, we're not out of this yet. It's one of those things that we're constantly trying to navigate and get right and be responsible with."
The writers do not want viewers to become tired of hearing about the pandemic. Instead, they tried to portray what is happening in the world realistically with the show. They thought it made sense to explain that Nicky obtained the vaccine on This Is Us to visit his family.