'This Is Us': Where Is Annie is Annie in the Flash-Forward? Fans Fear Another Tragedy Is on the Way
This Is Us has gotten good at open-ended episodes. Annie Pearson (Faithe Herman) is the youngest of the bunch (aside from new baby Jack), and easy to overlook. So far, viewers have seen a glimpse of most key characters as their future selves. However, Annie is noticeably absent from future scenes and fans think they know why.
Let's re-cap those disturbing flash-forward scenes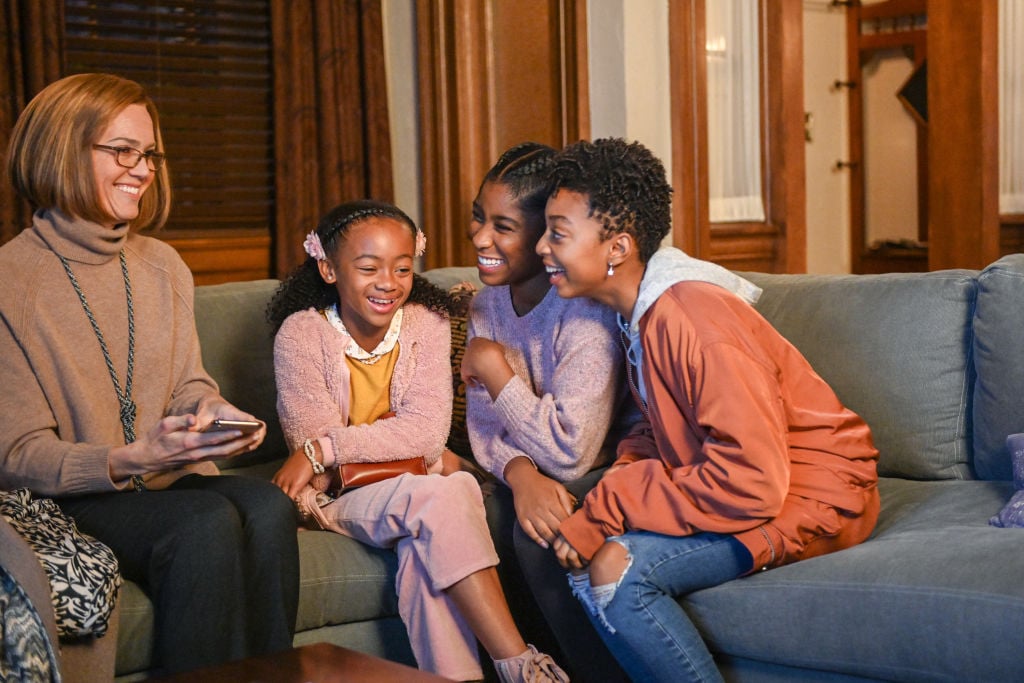 This Is Us's entire premise is based on multiple timelines, pushing forward from the present, or traveling back to the past. It takes a focused (patient!) eye to keep up with the time hops. Even then, fans are often left with more questions than answers.
The most recent example came at the end of the fall finale. Nine months after their Thanksgiving feast, Kevin (Justin Hartley) has a pregnant fiancé, he and Randall (Sterling K. Brown) aren't speaking, and Rebecca's (Mandy Moore) memory lapses have taken a major turn.
Some pointed out Kate (Chrissy Metz) signs the police papers "Kate Pearson," and others said she was still wearing her wedding ring. All of that is well and good, but the show's misdirects are thoughtfully crafted to avoid immediate answers about the latest flash-forward.
Season 3 connected mysterious pieces of one giant puzzle, revealing the apparent end of Rebecca's life. The scenes answered a few questions, but also sparked new ones such as why is Tess the only adult child of Randall's present?
Here's what happens to Annie, according to fans
Leave it to Reddit for fans to dive into all the possibilities of where writers may go from here.
One fan commented, " We don't see Annie in the future… oh no !! I hope there isn't a sad story, but then it's This Is Us and of course, there's going to be something."
Another weighed in with similar thoughts. "They don't even pay attention to Annie now! Maybe she resents them for it."
While a few comments are vague suggestions as to why Annie is absent from future shots, one viewer got right into the thick of it.
"I think Annie is going to have a severe asthma attack and pass away. I've been rewatching season 1 and they make a point of mentioning her asthma a few times. Annie states is her 'vice.'"
No one wants to think of little Annie disappearing from the family, but so far, she's already missing.
"Her "death" (if there is going to be one) is going to unexpected," another fan added.
Writers will never write a character arc or story viewers can see coming. That's what sets This Is Us apart from others like it. Still, the question of Annie's whereabouts lingers.
Here's what 'This Is Us' producers say about it
Susan Kelechi Watson spoke to Us Weekly after the season 3 flash-forward in April to share her thoughts on Annie's absence, but you won't get much from her.
"I'm not telling you! You're trying to make me lose my job, I can't tell you where Deja and Annie are," she said, adding another Pearson child to the mystery.
"Here's the thing and this is the truth. You see snippets of moments, and so, just in this moment, you see Tess walk in and she's been the one struggling with going. But it's not the end of the moment, so we kind of have to wait and see where the rest of the characters are."
If that's not enough to calm you until the show provides answers, executive producer, Isaac Aptaker, also weighed in following that flash-forward.
"You should be wondering where they are, but not fearing the worst," he told TV Line. "I hope that people know our show [well] enough to know that we're not going to just gratuitously kill off small girls."
He previously told the publication how they navigate the multiple threads.
"We're very careful in the future about what little pieces we [dole out]," he noted. "If you have all of the answers it's not quite as exciting to watch."
So, while answers about Annie's (or Deja's) whereabouts in the future haven't exactly been answered, we have "Faithe" thy will be.