'This Is Us': Who is Uncle Nicky Married to in the Future? —Fans Have 2 Strong Theories
Fans have two solid ideas regarding who Uncle Nicky is married to on the future of 'This Is Us.'
The season 4 finale of This Is Us on March 24, 2020, was intense as always. So many flash-forwards and flashbacks have viewers contemplating everything.
One thing fans did catch was that Uncle Nicky (Griffin Dunne) was wearing a wedding ring in the future when he is next to Rebecca's (Mandy Moore) bedside. Fans have two strong theories regarding who he marries in the next 10-12 years.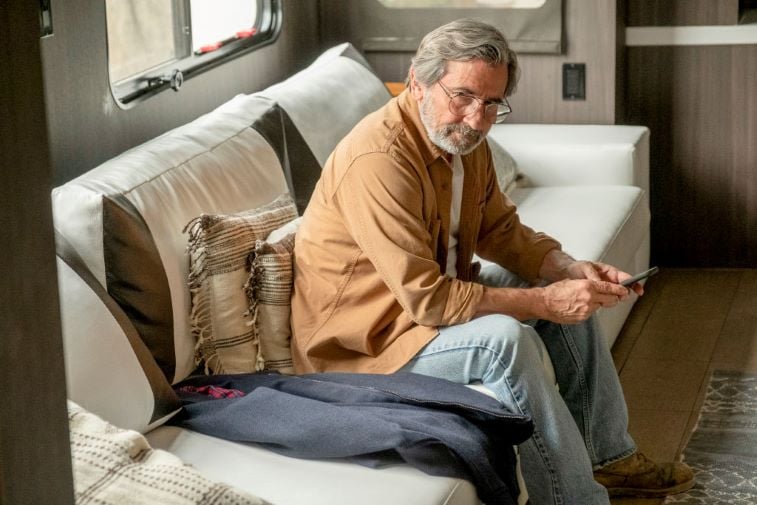 What happens to Rebecca on 'This Is Us' in the future?
During season 4 of This Is Us, Rebecca was diagnosed with a mild cognitive impairment. The doctor also indicated that she is displaying the early signs of dementia. Randall (Sterling K. Brown) did an enormous amount of research after her diagnosis to find a clinical drug trial for Rebecca to participate in. 
During the finale, Rebecca tells her family that she decided to do the nine-month-long trial to "invest in her future." Randall pushed her into doing it, and Kevin (Justin Hartley) is livid that his brother is forcing his mother to be away from her family for so long. 
In the 10-12 year flash-forward, Rebecca is on her death-bed surrounded by her family. Nicky is by her side, but Miguel (Jon Huertas) is nowhere to be found. It is during this moment that the camera zooms in on Nicky's ring finger. He is wearing a wedding band but was not married in any of the past seasons of the show.
Why is Uncle Nicky wearing a wedding ring in the 'This Is Us' Season 4 finale?
"Rebecca thinks Nicky is Jack, so he's wearing Jack's ring," wrote one fan on Reddit.
Numerous fans commented after past episodes that Nicky is by Rebecca's bedside because she thinks he is her late husband, Jack (Milo Ventimiglia). Nicky is Jack's brother, so it is possible that in Rebecca's condition, she might mistake one brother for the other.   
Fans are assuming that Rebecca's dementia progresses a lot in the next 10 to 12 years. She begins to mistake her brother-in-law for her late husband. Instead of upsetting Rebecca, Nicky might go along with it and wear his brother's wedding ring. 
"Part of me likes this, but also, part of me wants Nicky to find love," commented another viewer. "But also, he seems like he's OK with being alone."
Many viewers agree that the ring might be Jack's. However, they are not sure whether or not Rebecca falls in love with her brother-in-law or simply mistakes him for Jack.
Who does Uncle Nicky marry on 'This Is Us'?
"My theory is Nicky married Cassidy (Jennifer Morrison)," one Reddit user wrote.
Other fans agree with the original comment. Although the age difference is significant, it is not unheard of for two people far apart in age to fall in love. 
"That crossed my mind as soon as I saw the ring on his finger," added another fan.
Several fans commented that they believe Nicky may end up with Cassidy. No matter who he marries, fans hope he finds love.
"I believe that Nicky found happiness with someone else after all his years of solitude and pushing people away," another Redditor commented. 
Some fans believe that Uncle Nicky might end up pretending to marry Rebecca to keep her happy in her late stages of dementia. However, others want him to find happiness and love and think it might happen with Cassidy. 
We will have to wait until September 2020, when This Is Us returns for season 5 to find out.
Read more: 'This Is Us': [Spoiler] is the Mother of Kevin's Child — There are 3 Possible Fan Theories for His Fiance After That Reveal