'This Is Us': Who Plays Baby Jack? Get the Scoop on the Twins and the 'Jelly Baby'
If we didn't already swoon over This Is Us weekly, the producers have us hooked now with the addition of an adorable baby boy in season 4. Kate (Chrissy Metz) and Toby (Chris Sullivan) have a blind baby named Jack, who steals the show every time he is on screen. 
Little Jack has us wondering who the actor or actors are that play the baby? What do they do if the babies don't cooperate? Let's see if there is an explanation for all of our burning questions about baby Jack on This Is Us.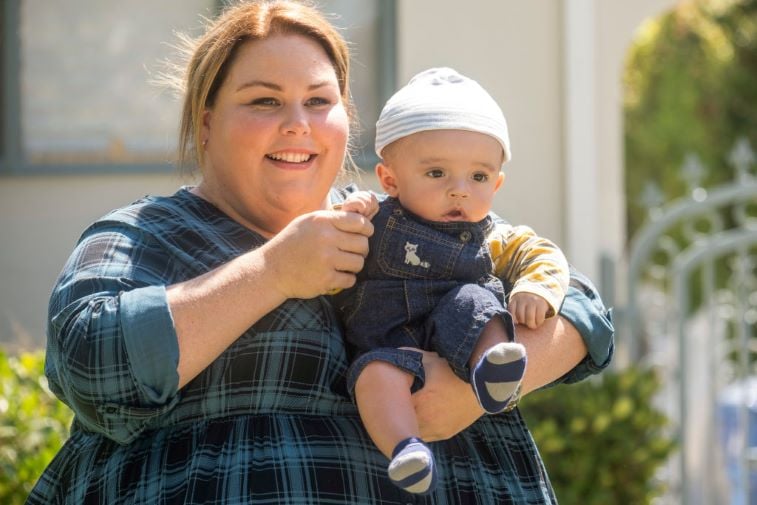 A set of twins—a boy and a girl—play baby Jack
Kate and Toby's baby, Jack, is played by two babies—Weldon "Wells" Barnes and Poppy Barnes. Wells was featured first as baby Jack. Poppy, his sister, was only featured recently.
The twin babies turned seven months old on October 19, 2019. They have two older siblings who are also twins, McCoy and Violet Barnes. The older set of twins are two. Violet and Poppy were both named after flowers, while Weldon's name came from his grandfather, according to the family's website.
The babies' parents, Matthew and Stacy Barnes, often post photos of the babies on their own personal Instagram account, "Those Barnes Twins." The behind the scenes shots from the set of This Is Us revealed that both babies are always in costume, ready to act. 
The filming starts with Wells since he is cast as the original baby Jack. His sister, Poppy, stands by as a back-up. If Wells gets cranky or tired, the producers can swap in Poppy and keep filming. There are also strict infant labor laws to adhere to when working with babies, so it is common to use twins to play one character on television or in movies.
Baby Jack is also sometimes played by a 'Jelly Baby'
The photo above displays a picture of Stacy Barnes holding both Wells and his look-alike "Jelly baby." The doll is used in scenes where Jack is not the focal point of the scene. For instance, if he is sleeping or just in the background of a shot, the doll is used.
Infant actors are well-protected; they can only work four hours per day; they can only shoot for 20 minutes of those hours. So, it is helpful to use the doll when they do not need the baby to be the center of attention in the scene.
Wells' father wrote a caption on Instagram regarding the doll look-alike of his twins, "Stacy holding the real Wells along with 'Jelly Baby,' which is just creepy." 
The doll looks so much like the real twins that it's uncanny. One fan wrote, "Wow, the jelly baby is pretty realistic, huh?" That is precisely why fans usually do not know when the baby is a doll, and when it is one of the baby actors on This Is Us. 
Are the twins that play baby Jack blind in real life?
The twins are not blind in real life, although baby Jack is portrayed as blind on This Is Us. It is difficult enough to have baby actors, so having the babies also be blind would have been even more of a challenge. 
Metz revealed in an interview with People, "The real baby is not seeing impaired," the actress explained. "So it's really about training your mind to narrate, or before something happens, to make sure that you're explaining what's going to happen as to not surprise the baby."
We can't wait to see more of baby Jack on This Is Us Tuesday nights at 9 p.m. on NBC.