'This Is Us': Who Plays Deja's Boyfriend, Malik's Parents?
Season 4 of This Is Us introduced us to many new characters and storylines. One of the romances that fans are loving this year is the young love between Deja (Lyric Ross) and Malik (Asante Blackk).
Randall (Sterling K. Brown) and Beth Pearson (Susan Kelechi Watson) are not as ecstatic as fans about this budding romance. They were so adamantly against the relationship that they invited Malik's parents over to discuss how to keep the teens apart. Let's take a look at who plays these two new characters and how the dinner plays out.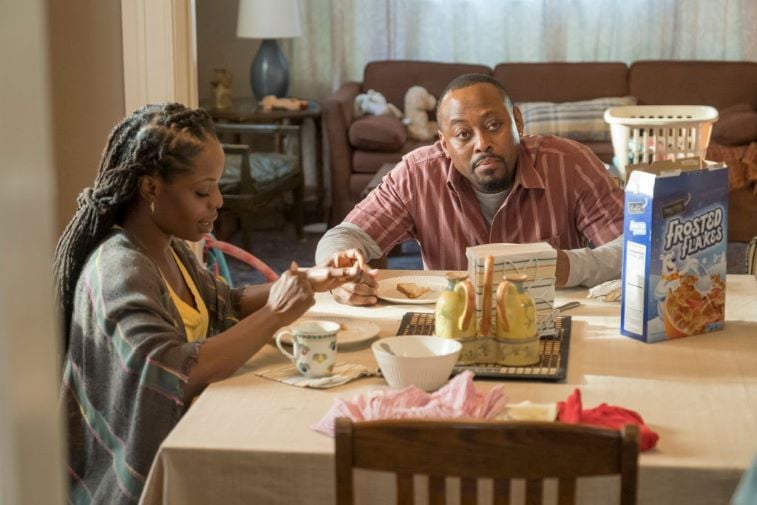 Omar Epps stars as Darnell Hodges, Malik's father
You may have suspected that Omar Epps plays Malik's father, Darnell Hodges. You may recognize him from House as Dr. Eric Foreman, who he played for all eight seasons of the show. The role earned him an NAACP Image Award in 2007, 2008 and 2013 for Outstanding Supporting Actor in a Drama Series.
The House star's earlier television work includes portraying Dr. Dennis Gant on the hit television drama ER for several episodes. More recently, Epps played the role of agent J. Martin Bellamy in the ABC television series, Resurrection.
On the big screen, Epps is most known for his role as Quincy in Love and Basketball. In 1999, he was featured in The Wood and In Too Deep with LL Cool J. Epps also held supporting roles in a series of films, including Dracula 2000, Big Trouble, and the Conviction.
On This Is Us, Epps plays a mechanic and father to a teenage son, Malik, who is also a father. His initial meeting with Randall Pearson goes reasonably well, but later, Darnell takes offense to Randall, implying the Hodge family is from the hood.
Marsha Stephanie Blake stars as Kelly Hodges, Malik's mother
Marsha Stephanie Blake plays Malik's mother, Kelly Hodges. She is most well known for her role as Linda McCray in the Netflix miniseries When They See Us. Blake earned a Primetime Emmy Award for Outstanding Supporting Actress in a Limited Series or Movie nomination for her work on the show. 
She also starred in the Netflix series, Orange is the New Black, as Birdie Rogers in 2015. Along with cast, she received Screen Actors Guild Award for Outstanding Performance by an Ensemble in a Comedy Series. She also had recurring roles on Happyish, Getting On, and The Blacklist.
More recently, Blake was cast as Vivian Maddox in the sixth and final season of How to Get Away with Murder. 
On This Is Us, Blake plays Malik's outspoken mother, Kelly. When Beth Pearson invites her over for dinner, Kelly makes it clear that she does not want any part of Deja's "baggage" to affect her son.
Malik's parents clash with Randall and Beth Pearson on the episode, 'A dinner and a date'
The 'meet the parents' dinner does not go well. Beth and Kelly both shoot digs at the other's child before dinner even begins. Then we find Beth chugging down wine in the pantry while informing Randall that they are not going to let Deja see Malik anymore.
Even the prayer before dinner contains a passive-aggressive dig on the Pearson family values from Kelly. Dinner has barely even begun when Beth sends the children upstairs to wait while the parents hash things out.
Next, Darnell calls out Randall for staring at his tattoos. Then, Randall implies that they do not want Deja hanging out with some boy from the "hood." 
Somehow, things turn out well for Deja and Malik, in the end. The Pearsons tell Deja that she is still allowed to see Malik, but only under adult supervision. 
It was an entirely awkward dinner, but at least we will see more of the budding romance. Catch new episodes of This Is Us, Tuesday nights at 9 p.m. on NBC.