'This Is Us': Who Plays Lucy Damon? Auden Thornton Returns in the Season 4 Finale
The This Is Us Season 4 premiere — titled "Strangers" — introduced fans to a variety of new characters who will return in the grand finale on March 24. The last episode of the fourth season is called "Strangers: Part Two," which is a major tip-off. But then the This Is Us Season 4, Episode 18 teaser trailer revealed Kate (Chrissy Metz) and Toby's (Chris Sullivan) adult son, Jack Damon (Blake Stadnik), will come back in the future alongside his pregnant wife, Lucy Damon (Auden Thornton).
Auden Thornton plays Lucy Damon in 'This Is Us'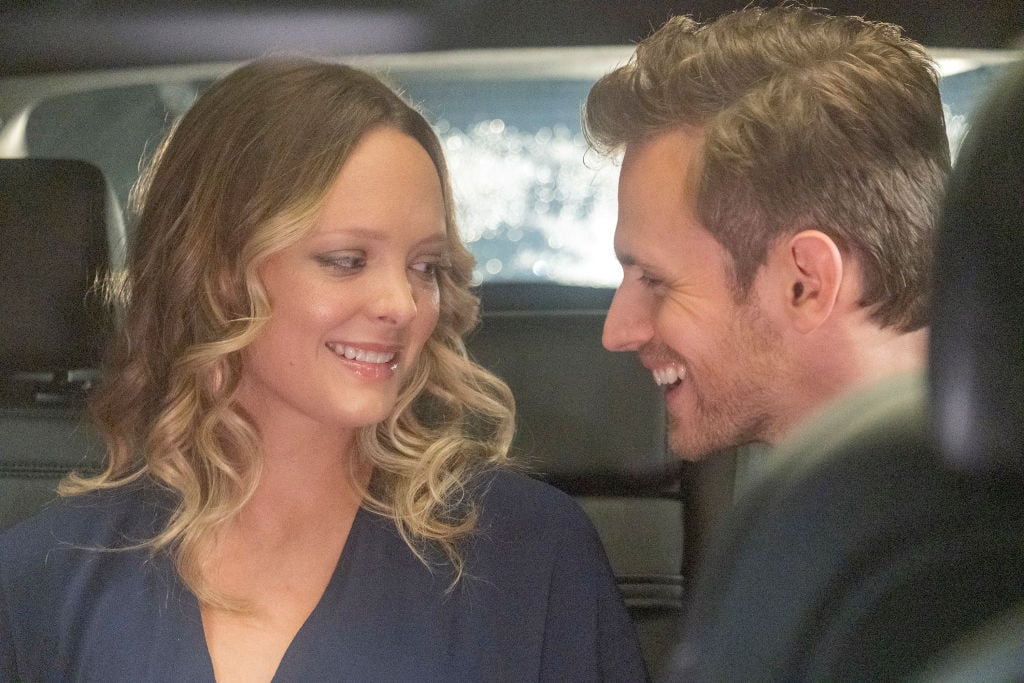 Now it's possible you recognize Lucy from This Is Us, as Thornton has briefly guest-starred on a few well-known projects. According to her IMDb profile, the actress has popped up in shows like Blue Bloods, The Good Wife, Elementary, Doubt, and Bull. She also appeared in True Story and Beauty Mark.
Nevertheless, it's possible you'll be seeing more from Thornton in the future, even past her role on This Is Us. In February 2020, Deadline reported Thornton was cast as the lead for thirtysomething(else), a pilot from ABC.
Blake Stadnik gushes over Auden Thornton on Instagram
In all honesty, we don't know much about Jack and Lucy on This Is Us. At the start of "Strangers," Jack met Lucy at the diner where she worked. Then as time went by, the couple fell in love, got married, and achieved their dreams. Lucy became the chef of her own restaurant while Jack became a singer. And by the end of the episode, Lucy revealed she was six-months pregnant.
Of course, all of this was shown in a matter of minutes, broken up throughout the This Is Us Season 4 finale. Even so, fans connected with Jack and Lucy's love story. But after a quick glimpse at Stadnik's Instagram posts about Thornton, we totally get it, as the actors have undeniable chemistry.
"I am so grateful for every moment I get to hang with this talented, caring, considerate, generous actor," Stanik wrote about Thornton on March 17. "Currently practicing physical distancing, but I got to see @audiethorn before everything went down. Btw, we came up with our characters' shipping name; JUCY!"
Then on March 22, Stadnik shared a sweet clip alongside Thornton after the pair wrapped their final scenes for Jack and Lucy on This Is Us Season 4. The costars seemed in high spirits. But what will happen to their characters in the final episode of the season? There's still a lot we don't know.
What will happen to Jack and Lucy in the 'This Is Us' Season 4 finale?
When speaking with Entertainment Weekly, Elizabeth Berger and Isaac Aptaker revealed the This Is Us Season 4 finale will focus on the Pearson family as they celebrate baby Jack's first birthday. The executive producers did not say what this means for adult Jack in the future. However, it seems likely the two timelines will parallel one another.
Meanwhile, Berger and Aptaker hinted the final episode will feature a "great" story for Jack's parents, Kate and Toby, in an interview with Glamour. "It's a really special one that gets to a really unexpected place," Aptaker said.
As of now, there's plenty of mystery behind Thornton and Stadnik's return in the This Is Us Season 4 finale. But at the very least, we hope we receive some answers about Jack and Lucy as the NBC drama comes to a close until the fall.
Read more: 'This Is Us' Season 4 Finale: Chrissy Metz Was a 'Mess' After Reading the Script for the Last Episode