'This Is Us': Who was Sophie's Mom and What Ever Happened To That Emerald Ring?
Tonight on This Is Us, we dove deep into Kevin's past as well as his present. We found out a lot of information about his ex-wife and high school sweetheart, Sophie (Alexandra Breckenridge). There was also a beautiful picture painted of Sophie's mother, Claire. Let's take a look at who plays her and the vital tidbits you need to know about her character on the show—and that emerald ring.
[Warning: This Is Us Season 4 spoilers ahead]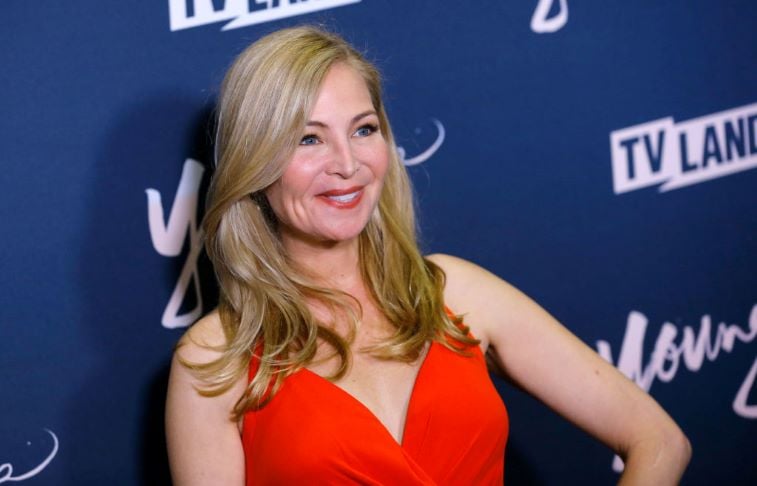 Who is the actress that plays Sophie's mom, Claire, on 'This Is Us'?
Jennifer Westfeldt is the actress that guest-starred as Sophie's mom in This Is Us Season 4, episode 12: A Hell of A Week: Part 2. 
She is an American actress and screenwriter who is most well-known for the 2001 independent film Kissing Jessica Stein. She also earned a 2004 Tony nomination for Wonderful Town, and is famous for her 2011 film Friends with Kids.
The actress made guest appearances on Private Practice, Grey's Anatomy, 24, and various other television shows. On both Grey's Anatomy and the spin-off Private Practice, she played Jen Harmon. Her storyline began when she accidentally ran over her husband, Rob, in her car. 
What was Sophie's mom's relationship with Kevin?
When Kevin and Sophie dated in high school and then married, Claire was always rooting for Kevin. She kept an autographed picture of him and wrote, "Never settle," on it.
After Kevin's football injury, he went into a dark place. The teenager was upset with the world, and nothing could please him. However, every time Claire saw him, she cheered him up.
"Cheer up, Kev," Claire told him. "Football isn't everything. There are better things ahead for you. I just know it."
When Kevin's mother, Rebecca (Mandy Moore), didn't remember to watch his tiny appearance in the soap opera, Days of Our Lives, Claire did. She told him he was "movie-star handsome."
She always knew that he would be a massive star, and Kevin felt a lot closer to Claire than he did his mother at many times in his life.
What happened to Sophie's grandmother's ring on 'This Is Us' after her mom died?
During the episode, fans found out that Sophie's mother was saving a very special ring to someday give to Kevin—for Sophie. However, now that Claire died, what will become of the ring?
"My mother's ring has a story," Claire told Kevin. "They fell in love when they were both going through divorces. Before they could get married, my father was drafted to Korea. He tried to give my mother that ring before he left, but she wouldn't take it. That ring gave him hope while he was there."
When Claire's grandfather came back from Korea, he gave her grandmother the ring. The couple was married for 50 years. However, Claire stressed the importance of earning that ring.
"You are going to have huge success," she continued. "It's going to take you lots of places. I love you, kiddo, but I can't give you that ring. Not yet, your marriage is too new and you're too young. Ya gotta earn it." 
So, Kevin noticed that Sophie is not wearing the ring, even in the present-day. He went to Claire's grave and told her how much he messed up with Sophie. He pleads for another chance with Sophie, and as the episode closes, we see that Sophie still has the ring in her jewelry box.
Although Sophie is engaged, many fans are still rooting for a rekindled relationship with Kevin to transpire. We know she still has the ring, so maybe it's still a possibility.
Read more: 'This Is Us': Producers Say the Mother of Kevin's Child is About to Be Revealed