'This Is Us': Why Kate's Weight Isn't the Real Issue With Marc, According to an Expert
Many can relate Chrissy Metz's portrayal of Kate Pearson on NBC's This Is Us. As one of "The Big Three" siblings, Kate's journey is a complex one. Her formative years are marred by tragedy, grief, and her potentially toxic boyfriend, Marc (Austin Abrams). Viewers know Kate's weight is a heavy burden in her marriage and life, but whatever number the scale reads, Kate's troubles go far beyond that, according to an expert.
[Warning: Spoilers from a recent episode of This Is Us ahead]
Chrissy Metz acknowledges double-standards in the industry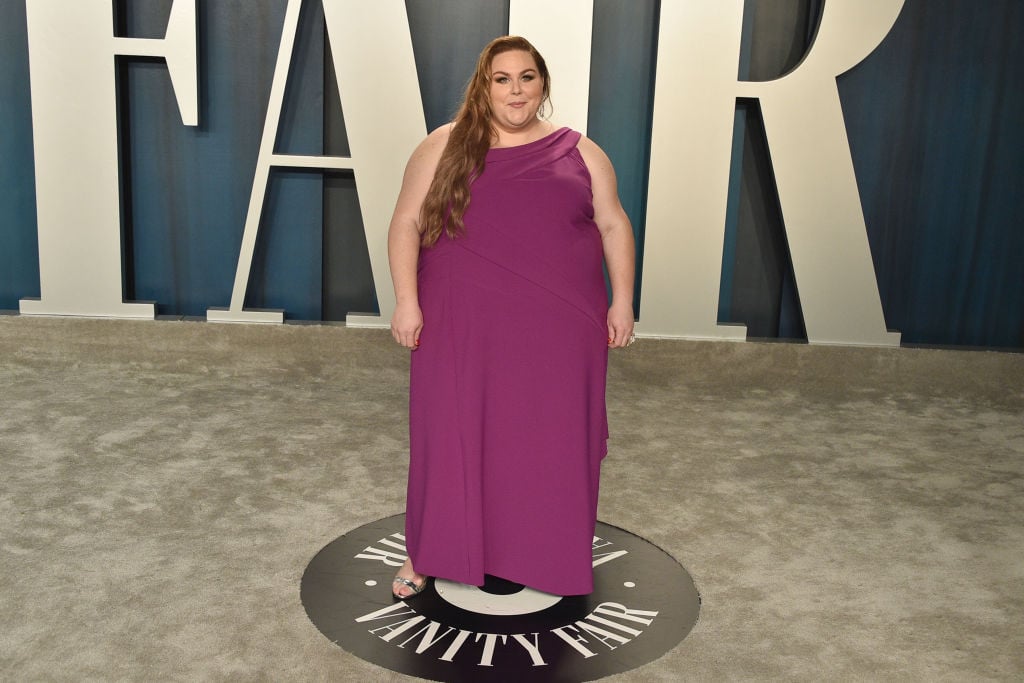 This Is Us star, Chrissy Metz, has been an open book in regards to her own weight and self-love journey. She even wrote extensively about the pressure to be a certain size to find success in the industry.
"I think, as we evolve as human beings or in our particular life, we realize, 'Oh, you know, this isn't serving me anymore,'" she previously told The Wrap.
"Or, if we, God forbid, come across medical issues or problems that, 'Oh, maybe I just wanna be a little more active.' And some people knock the girls that lose weight and say like, 'Why did you guys do that? You're selling out.' And that's not necessarily true."
Metz referenced her character, Kate, saying, 'Oh, no, she's finally contending with the things that she was eating over.' I think it's more about the behavior around what you're doing," Metz said.
"And it could be social media, gambling, sex, drinking, food — it could be anything, fill in the blank — how is my behavior around that and how do I want to change that behavior? Because it's the stinking thinking of obsessing about something."
The actress said for her, she often wonders if she's eating for health or if it's something bigger.
"And whether I lose weight or I don't, I don't really hold on to a number. I don't think that's important, 'cause who's to say what?" she said.
She continued: "People are like, 'Wait, what? You got your blood work done and you have like great, perfect cholesterol? Like, it doesn't make sense. I'm like, 'I want you to know it's real,'" she continued. "Like, contrary to popular belief or what we're told about what looks healthy or what doesn't look healthy."
Metz was asked to wear a 'fat suit' for a role
In an earlier interview with Yahoo, Metz revealed a panic attack put her in the hospital. It was her 30th birthday and she'd just lost 100 pounds. She landed a role in American Horror Story with one caveat: don a "fat suit."
"I was thrilled to find out that I wasn't big enough," she said. "It was a first in my life. It was liberating."
She went on to discuss the difficulties wearing the suit in her trailer saying she became stuck in the doorway.
"I had to suck it in, squish it, knead it, hold the dress, and slowly pull it through until I stumbled down the stairs. I almost wish someone had been there to see because they would have been laughing their butt off," she said.
She elaborated in another interview with People, comparing the experience to real life.
"I thought, What if I become that heavy and can't walk around or get stuck in the doorframe? I was like, 'I don't want this for me,'" she said.
Here's what an expert says about Kate Pearson's struggle with weight
Kari Anderson, a Certified Eating Disorders Specialist in Scottsdale, Arizona, wrote her thoughts about Kate Pearson's story via Psychology Today, suggesting the weight isn't the real issue at all.
She noted a fan group had a lot of questions and concerns about Kate's weight and decided to break down Kate's journey "through an eating disorder case conceptualization model," through a few categories: Vulnerabilities in Childhood, Trauma Triggers, and Current Stressors.
Anderson noted Kate's connection to food is through the bond she had with Jack (Milo Ventimiglia). Those times they got ice cream made Kate feel unconditional love which, according to Anderson, is "classic emotional eating."
Kate's relationship with Rebecca serves as a constant trigger
As far as Kate's relationship with Rebecca (Mandy Moore), it's more complicated. Rebecca served as a protector, hoping to keep Kate from weight bias and judgment from others. But, it manifested into a "thin is ideal" mantra.
Rebecca's food rules for Kate and not Kevin or Randall only drove Kate to "forbidden: foods, creating insecurity and body shame. This only escalated when those girls at the pool made Kate believe boys won't like "fat" girls. Marc will only reinforce those ideations.
On a deeper level, Anderson said Kate's first diet came just before Jacks' death. Subconsciously, Kate connects that loss to being thin and protects herself by keeping the weight on. Anderson calls it "post-weight-loss trauma," and explained in Kate's mind, bad things happened when she lost the weight. It was her survival instinct to binge eat. Add Marc, sex, and body image to this arc and the traumas will come up again.
Current stressors in Kate's life include having visually-impaired baby Jack after doctors warned of complications due to weight. That aside, her marital troubles with Toby are only escalating. Kate may return to stress eating to cope.
Will Metz lose weight for her character's journey?
There are conflicting reports as to whether Metz has a clause in her contract to lose weight on This Is Us. In one interview with TV Line, Metz said she did sign a contract with a weight-loss clause.
"That was a win-win for me because it's one thing to try to do it on your own. But as human beings, it's an ego thing: We're more likely to do something for someone else," she said.
However, in another interview with People, Metz insisted there isn't an explicit notation about weight-loss or surgery of any kind. She did add there's an understanding Kate will lose [at least some] weight.
The point is, Kate may have a long road ahead of her, but Metz is happy at any size — as she should be.
"There are some days where I'm like, 'Oh, I'm definitely eating my feelings.' And then some days I'm like, 'Yeah, when my heart is full, I'm not hungry.'"So I want to take care of my body and live a healthy life? Absolutely. But that doesn't mean you can't do it at an unconventional size."
She continued: "Whether or not I lose weight or stay the same, it's purely a choice of mine for health, Not because I think that plus size, curvy voluptuous, big bodies aren't attractive — because I think they're awesome and sexy," she said in 2016, adding that she's "not selling out the big girls."