'This Is Us': Will Lizzy Return? The Show's Executive Producer Teased Sophia Bush 'Might Be Back'
[Spoiler alert: This Is Us Season 4 Episode 10.] The instant Lizzy (Sophia Bush) and Kevin (Justin Hartley) locked eyes in the This Is Us Season 4 winter premiere, we knew it would be a great love story, maybe even one for the ages. And boy, were we wrong. By the end of the episode, the NBC drama proved we're all clowns — at least for now. But despite an awkward exit, some individuals still think Lizzy will come back to This Is Us sometime in the future. The NBC drama's executive producer recently touched on her potential return.
Who is Lizzy on 'This Is Us'?
The This Is Us Season 4 winter premiere on Tuesday, Jan. 14 illustrated Kevin's desperation to live out a love story like Jack (Milo Ventimiglia) and Rebecca's (Mandy Moore). After a slew of failed dates — and marriage candidates — found by a matchmaker, Kevin decides to let the universe take over. And in that instant, Kevin sees Lizzy and views it as a sign.
When Kevin approaches Lizzy, she drops her phone, revealing a photo of her dog — named after Rocky Balboa. The two sit down to chat about their interests and they're definitely vibing. But Lizzy eventually tells Kevin she's from Chicago and is spending her last day in Los Angeles before flying home.
Kevin then decides to make a wild grand gesture for a girl he just met. He takes Lizzy to the Hollywood Bowl for a private concert with John Legend, her favorite singer. Kevin also gets real about his parents' love story, hinting he believes their situation could be the same thing.
Later, Kevin kisses Lizzy. But it all goes downhill from there. Throughout their time together, Lizzy was continuously texting her mom. Then after the kiss, she confesses the person isn't her mom, but her husband. Yes, Lizzy is married and calls Kevin her "hall pass." They don't go any further. Lizzy apologizes and leaves, leaving Kevin heartbroken.
Will Sophia Bush return as Lizzy in 'This Is Us' Season 4?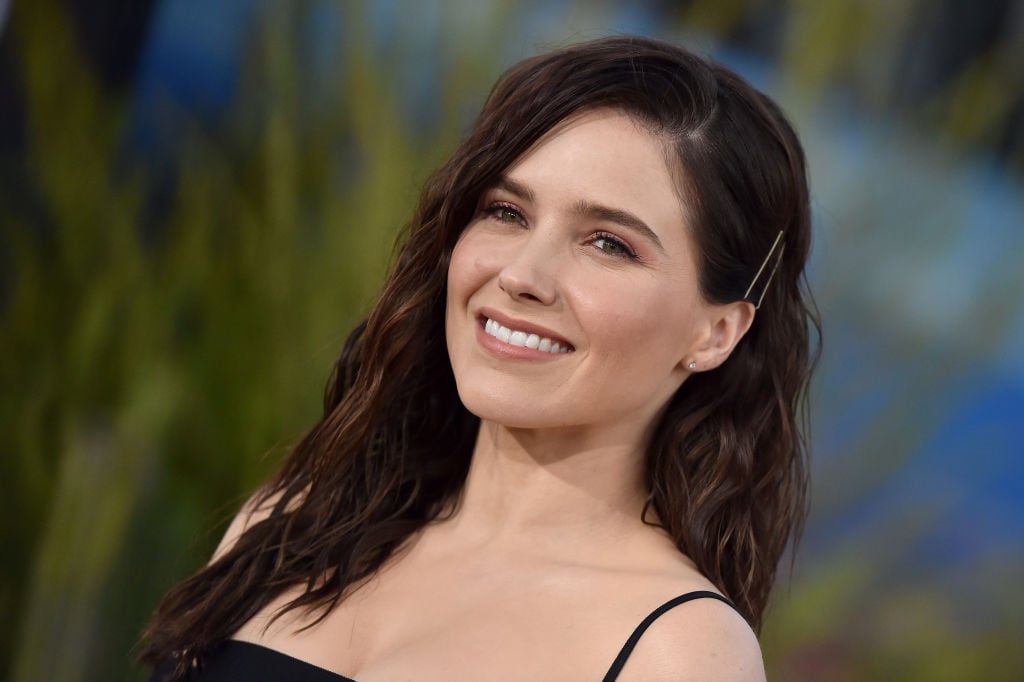 Following the This Is Us winter premiere, Isaac Aptaker opened up about Bush's role as Lizzy. And according to the executive producer, it was easy to cast Bush, as she has a recurring role on another one of Aptaker's projects on Disney+.
"We originally were going to have Sophia Bush do an arc on our other show based on our movie Love Simon. And she's just the coolest person," Aptaker told Entertainment Weekly. "She's really politically engaged, she's always traveling around, serving on panels and doing great stuff for the world, and she's an incredible actress to boot."
He continued: "So we had this really cool, little part come up and we were there with her and we were like, 'Hey Sophia, want to come do our other show, too?' And she was super-excited. I mean, it's pretty great: 'Hey, you want to go spend a day at the Hollywood Bowl watching John legend sing?' So she was pretty excited, and we were lucky to have her."
Then in an interview with Glamour, Aptaker was asked whether This Is Us fans can expect Bush to return as Lizzy.
"She might be back," Aptaker teased, once again gushing over Bush's performance in his other show. The executive producer also acknowledged Bush and Hartley's "great chemistry together." Nevertheless, a few things need to happen before Kevin and Lizzy start dating, given their ending.
"What a devastating end to a seemingly perfect love story where she reveals that she's married," Aptaker said. "So it seems like there's some immediate obstacles to them ever being together in a real way."
What will happen between Kevin and Sophie in 'This Is Us' Season 4?
Lizzy wasn't Kevin's only love interest presented in the This Is Us Season 4 winter premiere. At the end of the episode, Kevin receives a call from his ex-wife, Sophie (Alexandra Breckenridge). But we won't see what the call means until the Kevin-centric episode airs.
As noted by Aptaker in the interview with Entertainment Weekly, the midseason premiere "kicks off what's going to be another trilogy where we spend three episodes that cover the same week in time with our different Pearson siblings." Therefore, fans will see whether Sophie is re-introduced into Kevin's life in his episode.
Now, if Sophie does come back, Aptaker hinted how their reunion might play out, given Kevin's "all in" attitude when it comes to romance.
"It definitely feels like he would be very primed to let Sophie back into his life," Aptaker said. "He told his brother, 'I'm ready for a family. I'm ready to find the one. I'm ready for kids.' But if you remember the last time we saw Sophie, she is engaged to another man. So it's not quite so simple."
Read more: 'This Is Us': Will Rebecca Forget Jack? This Moment in the Season 4 Winter Premiere Is Truly Devastating