This Is When Chance the Rapper Knew He Was Going to Marry His Wife
Chance the Rapper (Chancelor Johnathan Bennett) was 9 years old when he saw Kirsten Corley dancing.
And he said to himself, "I am going to marry that girl." Talk about love at first sight.
Where did Chance the Rapper first meet his wife?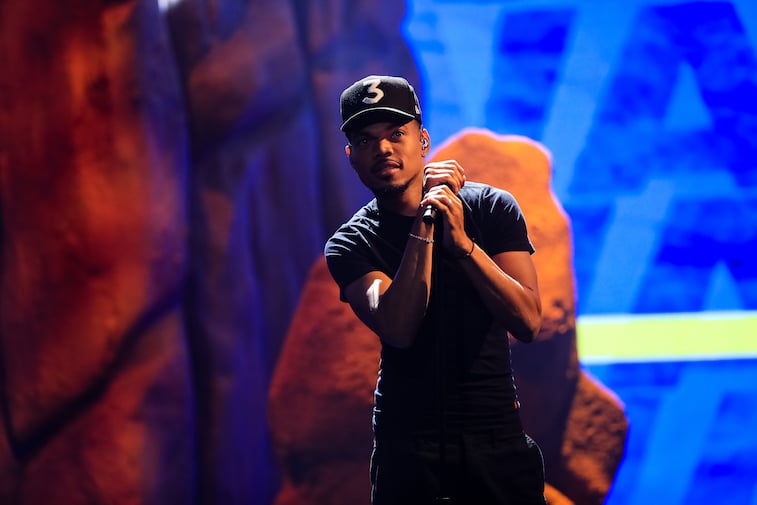 In an interview with People, Chance told the story of how they met.
"My mom worked at a real estate agency with Corley's mom," he said. "Her daughters loved to dance, so they did a choreographed dance at this real estate Christmas party. I was 9-years old and when I saw her dancing, I was like, 'Let's get married.'"
The girls were dancing to Destiny's Child, Independent Women Part One. Chance also said that Corley was "the prettiest girl he'd ever seen."
Even though Chance knew he was going to marry Corley, he didn't see her again until 10 years later.
When did Chance and Corley meet for the second time?
They met again in 2012 when Chance and Corley were both at the South by Southwest (SXSW) festival.
SXSW is billed as "an annual conglomerate of film, interactive media, and music festivals and conferences that take place in mid-March in Austin, Texas."
Chance had just released his first project, titled 10 Day which was met with positive reviews and has since been downloaded over 500,000 times.
Once they reconnected, it wasn't long before their friendship turned into romance. They started dating in 2013 and were seen as a couple at the release party for Chance's second mixed tape, Acid Rap.
When did Chance and Corley get married?
It has been a bit of a winding road to the altar for Chance and Corley. The couple dated for two years before their daughter, Kensli was born. Then in 2016 their relationship fell apart.
A year later they reconciled and on July 4, 2018, Chance asked Corley to marry him. She accepted, and they made their union official in a civil ceremony in December 2018.
They later hosted a star-studded wedding at the Resort at Pelican Hill in Newport Beach, California on March 9, 2019.
So, what is next for Chance and his new wife?
Excitement abounds in the household of Chance and Corley these days as they recently welcome into their life a new baby girl.
They announced the birth of their second daughter, Marli Grace, on September 6, 2019. Corley shared a darling post on Instagram of her holding Marli Grace and added this caption, "Mommy loves you my sweet Marli Grace."
It doesn't get more adorable than this.
What about Chance's upcoming concert tour?
Chance was scheduled to kick off a concert tour to promote his new album, The Big Day, on September 14. The tour would have taken him to San Francisco and then on to, "Los Angeles, Las Vegas, New York, Nashville, Austin, Toronto, with a stop in Chicago, and then was to end in Miami on November 10."
However, in an interview with Ellen DeGeneres, he said, "I thought it over for the past week and I've decided to push back my tour."
He continued with, "This year has been one of the greatest of my life; Marriage, new baby, first album, etc."
He also added that as special as it has been, it has been strenuous as well. He told Ellen that after the birth of Kensli, he left to go on tour two weeks later.
He regrets that decision because he said, "he missed some of the most important milestones in [Kensli's] life, but more importantly I was absent when her mother needed me the most."
Aw, we think Chance and his family are the cutest things we have seen in a long time. And good for you Chance for making decisions that put your young family first.