This Jim Carrey Movie Turned Steve Carell into a Star
Steve Carell has one of the most interesting careers in Hollywood. He has become a well-known name through his performances in various comedy movies and TV shows. More recently, Carell has received praise for his talents as a dramatic actor as well. However, while many would assume The Office is what made Carell a star, it was actually a movie he did with comedy legend, Jim Carrey. 
Steve Carell gained recognition for his work on 'The Daily Show'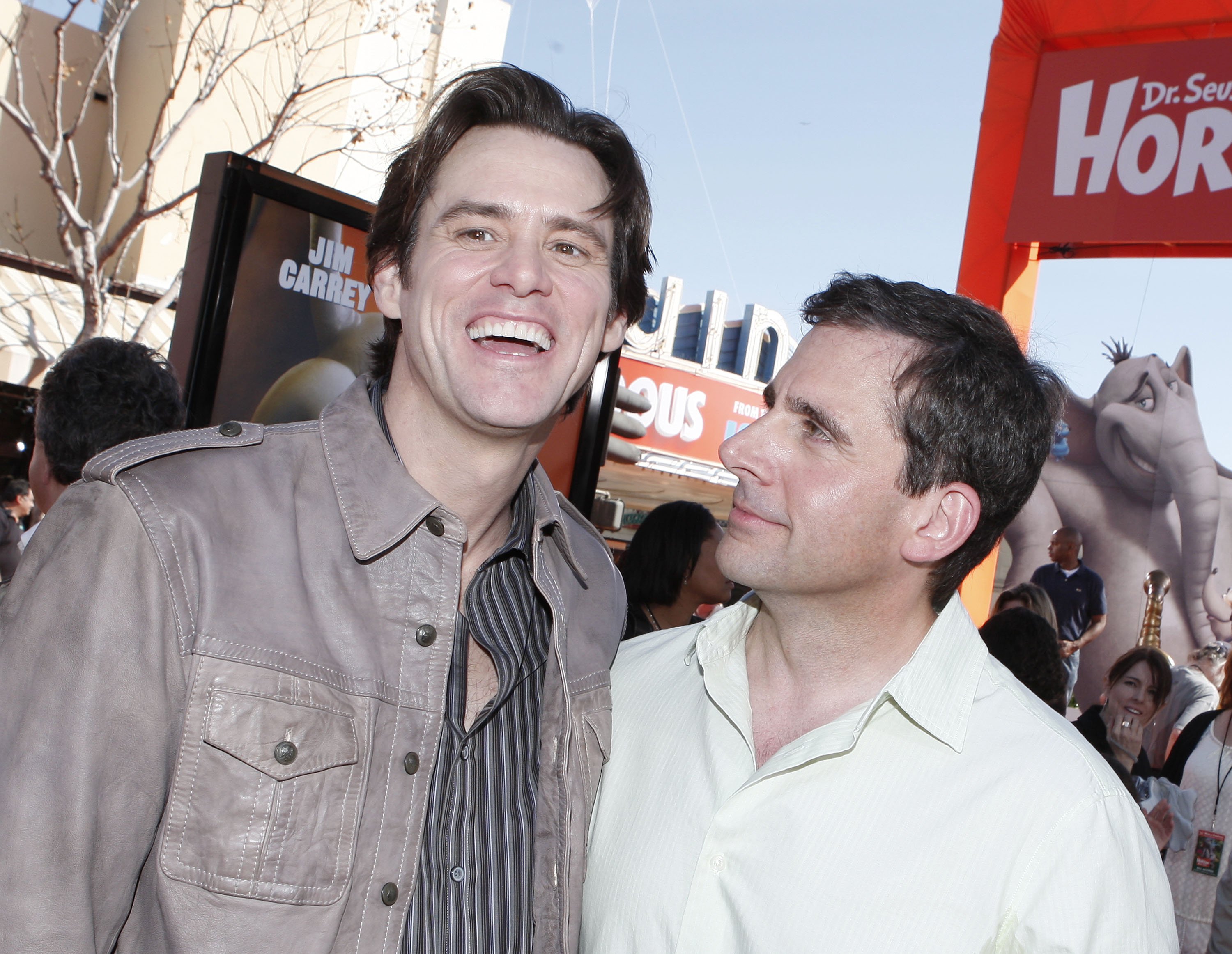 Early in his career, Carell had a writing gig and recurring character on The Dana Carvey Show. While he did get some attention through this role, people started learning his name once he became a correspondent on The Daily Show with Jon Stewart in 1999.
Carell was on The Daily Show until 2005 and appeared with other famous correspondents that included Rob Corddry, Stephen Colbert, and The Office co-star Ed Helms. He is currently married to fellow correspondent, Nancy Carell. Carell left in 2005 after landing the role of Michael Scott in The Office. However, Carell had a few roles before that that made him a star. 
'Bruce Almighty' with Jim Carrey made Steve Carell a comedy star
Bruce Almighty (2003) stars Jim Carrey as a television reporter whose life changes when he obtains the powers of God from God himself (Morgan Freeman). Carell plays Evan, a fellow reporter who is Bruce's rival at his job. While Carell has a smaller role, he has arguably the most memorable scene in the movie.
The scene where Carell became a star takes place after Bruce gains the powers of God and uses them for his advantage. When Evan becomes a co-anchor, Bruce sabotages him by changing the teleprompter, making him fart, and forcing him to spout gibberish. It's a hilarious scene that shows Carell's impressive ability to commit to a comedic bit. The way he keeps a straight face while uttering nonsense is brilliant and showed audiences what makes him so special.
Carell's performance became so popular that a spinoff movie was made called Evan Almighty. In this spinoff, Evan moved his family to DC for a new job but has his life upturned when God commands him to build an ark, similar to Noah. Unfortunately, this movie was a box office flop, but Bruce Almighty still impacted Carell's career in a very positive way.
Jim Carrey and Steve Carell have teamed up for two movies since 'Bruce Almighty'
Shortly after Bruce Almighty, Carell had another popular role in Anchorman: The Legend of Ron Burgundy and in The 40-Year-Old Virgin. He has also had leading roles in the Despicable Me franchise, Get Smart, and Crazy, Stupid Love. Recently, he began taking on more dramatic roles in films like The Big Short and Foxcatcher, for which he was nominated for an Academy Award. 
In 2005, The Office began and made Carell one of the most popular names in comedy. Carell played Scott for 7 seasons, leaving the series two seasons before it ended. He recently starred in The Morning Show on Apple TV+ and is currently starring in Space Force on Netflix.
Carrey recently appeared in Sonic the Hedgehog 2 as Dr. Robotnik. Carrey and Carell have teamed up twice since Bruce Almighty in Horton Hears a Who! and The Incredible Burt Wonderstone. 
Related: Jim Carrey Reveals Why He's 'Fairly Serious' He's Retiring from Movies