This Jonas Brother Appeared on 'The Celebrity Apprentice' With This 'BH90210' Star
This is definitely the time for the Jonas Brothers. With their Happiness Begins album still killing it on the charts and their concert tour selling out in arenas nationwide, the band of brothers knows how to make it to the top.
With the rapid success of their reunion, it's almost hard to remember a time when Nick, Joe, and Kevin were apart. During their hiatus from music, each had to pursue their own path. One brother chose to join the cast of one of the highest-rated reality show competitions on television, and he happened to become friends with a fellow teen idol.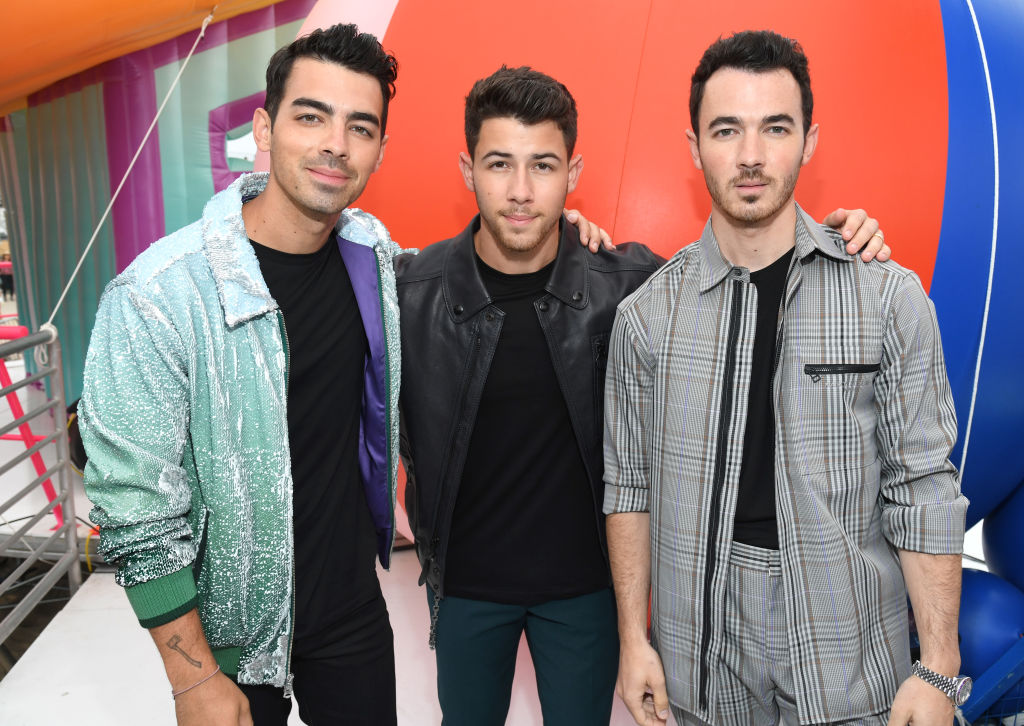 Music man to business man
In 2015, The Celebrity Apprentice 7 premiered on January 4. Kevin Jonas decided to throw his hat in the ring along with fellow competitors that included Kate Gosselin, Shawn Johnson, Vivica A. Fox, Geraldo Rivera, Keshia Knight Pulliam, Leeza Gibbons, Lorenzo Lamas, and Gilbert Gottfried.
"It's been quite an interesting process," Jonas told the Hollywood Reporter in 2014 as the show was filming. "They call it the Celebrity Apprentice diet. So when we start working on the show, instantly you start to lose weight because the amount of work is grueling. But it is so much fun and I'm just blown away that I've gotten the opportunity to be apart of it, a show I've been a fan of for a long time.
At the time, Jonas was determined to put his best business foot forward and show his competitors that he was there to work. "I learned a lot about myself. I think you'll see a different side of me than in the past, a little more abrupt with my words because I didn't want to put up with anything," he said. "Business is business and that's the way it is. I think you have to play every opportunity. I'm not just gonna coast. I'm a risk taker early on in my life; that's who I am as a person. I think people will able to see that I'll be working very diligently, that I am always doing the best I can."
A fellow teen heartthrob
Jonas soon became teammates, and friends, with Beverly Hills 90210 alum Ian Ziering. The current BH90210 star had called the competition "one of the most difficult things I have ever done in my entire life," according to People. "We worked six and a half weeks straight with six-day work weeks. We'd shoot three episodes a week, so there's really no time to slow down. And I used every resource I had available to me, made a lot of friends along the way and did the best I could."
Ziering was ousted from the boardroom after task 11, but extended his congratulations to winner Leeza Gibbons in a People blog post. "Leeza played the game with grace and a spirit that made this extremely difficult endeavor a little easier for all of us that got to compete with her this season. She is, pure and simple, a class act!" he wrote.
Buddies in the boardroom
Each contestant on the show played to win in order to earn money for a charity of their choice. Jonas had picked Convoy of Hope, a faith-based nonprofit that helped people in poverty. Ziering chose the EB (epidermolysis bullosa) Medical Research Foundation.
Jonas and Ziering bonded early on in the competition. "I really got along with Ian Ziering and Lorenzo Lamas as well," he reveals. "Those guys are incredible … We've been hanging out. We've gone to a couple cigar bars after work to hang out, to decompress from the long day, even though you're tired you still need to come down from it all."
When his team lost the second task of the season, Jonas had to choose two teammates to bring to the infamous boardroom, where someone would be fired. The singer chose Ziering and Geraldo Rivera, who he had been butting heads with on the task. Jonas was counting on his alliance with Ziering to help him out, where they could join forces to get Rivera fired, according to Heavy. Though the two teen idols were united on who they recommended to be ousted, Jonas was the one who got the boot.
After his exit, Jonas showed no ill will toward Rivera. "I have a lot of respect for Geraldo; his career is extraordinary," he said, as reported by TVLine. "We both went into this wanting to win. I think he saw me as a threat, so like any good competitor, he went after me."
Now with Jonas playing to sold out crowds and Ziering busy with the 90210 reboot, losing out on the title of The Celebrity Apprentice has apparently not slowed them down.