This Move By Angelina Jolie Reportedly Doomed Brad Pitt's Marriage To Jennifer Aniston
Brad Pitt's early relationship with Angelina Jolie has fascinated fans for well over a decade, and inside sources now claim that the actress did something that doomed Pitt's marriage to Jennifer Aniston. Pitt and Aniston tied the knot in 2000 and parted ways five years later amid reports that the actor was having an affair with his Mr. & Mrs. Smith co-star. Here's a look at the moment that changed Pitt's life forever.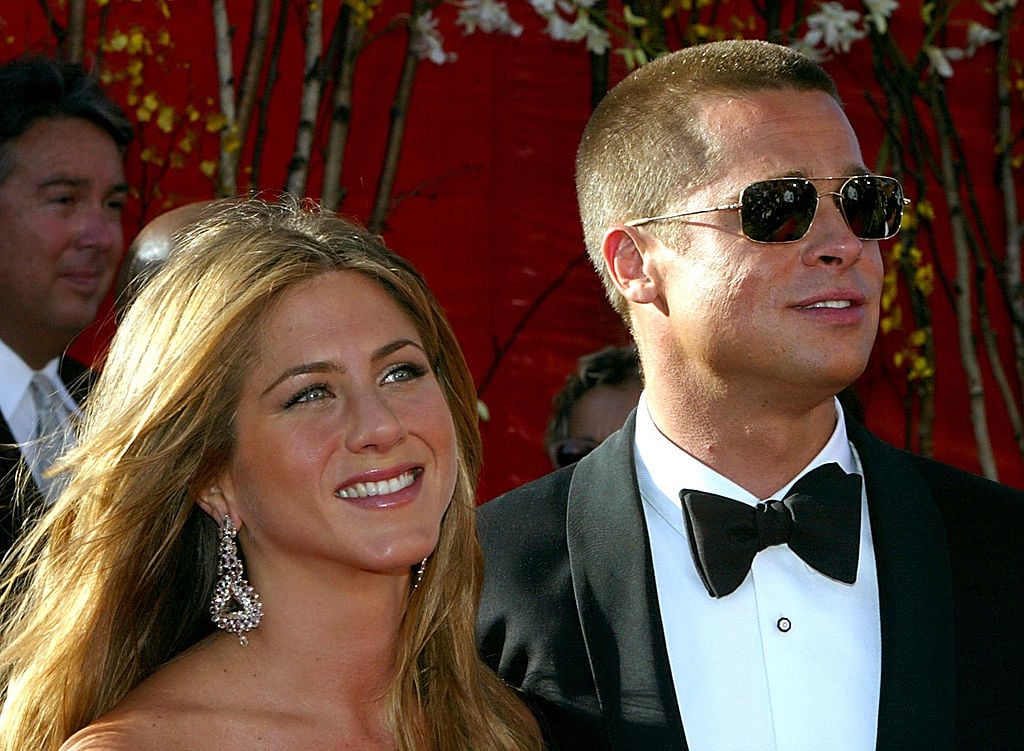 Jolie made a move that doomed Pitt and Aniston's marriage
On a recent episode of Styling Hollywood, Jason Bolden interviewed Irene Albright, who heads up a design library and fashion display. During the tour of the library, Albright showed Bolden a dress that Jolie wore during a photoshoot for W Magazine. The title of the project, which spanned some 60 pages, was Domestic Bliss: Angelina Jolie and Brad Pitt at Home.
According to The Sun, Albright claims that the dress is what doomed Pitt's marriage to Aniston and started his affair with Jolie.
"This is what caused the break-up of Jennifer Aniston and Brad Pitt … Angelina Jolie, the W Magazine," Albright shared. "Do you remember that spread? … That was the beginning of their affair."
The theme of the photoshoot was mid-century modern and showed Pitt and Jolie posing as a happily married couple from Palm Springs. The dress Albright showed Bolden was featured around the half-way mark of the shoot. Jolie rocked the silk gown while Pitt wore a shirt and tie for the shot.
There is no way to know for sure if the outfit was the real reason why Pitt and Aniston parted ways, but there is no denying that Jolie wore it around the same time his marriage was one the rocks.
Inside Angelina Jolie and Brad Pitt's alleged affair
Rumors of an affair circulated mainly because of the timing of Pitt's romance with Jolie. The pair worked together on the 2005 film, Mr. & Mrs. Smith, which was actually filmed at some point in 2004. Pitt and Aniston officially divorced in 2005, so Pitt was working alongside Jolie when his marriage was falling apart.
This naturally led to a lot of speculation that Pitt's affair with Jolie was what really ended his marriage. Filming for the movie continued throughout the spring of 2005, and Pitt and Jolie were already a thing by that time.
Jolie has always maintained that nothing romantic happened between her and Pitt on the set of Mr. & Mrs. Smith. The actress has, however, confessed that she fell in love with Pitt while working on the project, something that has only fueled the cheating rumors even more. Pitt and Aniston officially announced their split in the first month of 2005.
The pair filed divorce papers a few months later. Jolie and Pitt's romance, meanwhile, heated up in 2005. They had a child the following year and were together for well over a decade before calling it quits in 2016.
Was Brad Pitt happier with Jennifer Aniston?
Although Pitt and Angelina Jolie enjoyed a decade together — they tied the knot in 2016 — an inside source claims that the World War Z star was a lot happier with Aniston than Jolie. Pitt's former security guard, Kris Herzog, says that Pitt was way happier in his previous marriage, mostly because he and Aniston hardly ever fought.
In fact, Herzog says that the couple's relationship was about as perfect as it gets and that he never heard about any cheating rumors prior to Jolie's appearance.
After filing for divorce in 2016, Jolie and Pitt engaged in a bitter custody battle that lasted several years. Pitt's relationship with his children is reportedly strained to this day, despite his efforts to make things right.
The two only recently got a judge to grant them single status, though neither of them has gone official with a new romance. They have also kept a tight lid on their divorce proceedings and have yet to reveal the financial fallout of their split.
Brad Pitt and Jolie have not commented on the recent rumors surrounding their early romance. Following Pitt and Angelina Jolie's breakup, many fans hoped that Pitt would rekindle things with Jennifer Aniston. Although the two have remained good friends over the years, there is nothing romantic about their relationship — at least not yet.