This 'NCIS: New Orleans' Star Joined 'The Matrix 4' and Fans Are Flipping Out
The upcoming fourth movie in The Matrix franchise has been filming for some time in San Fransisco. Much of the cast has been firmly in place from the start but the production just added a familiar face from the NCIS: New Orleans world. Here's what we know and how fans are reacting to the breaking news.
Which 'NCIS: New Orleans' cast member just joined 'The Matrix 4'?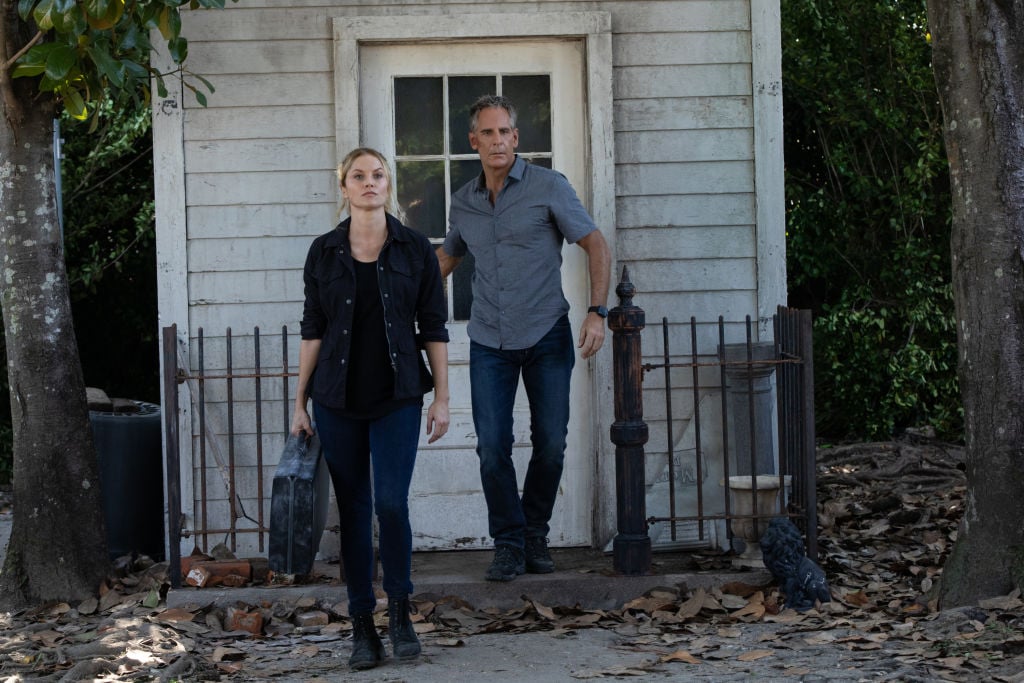 From 2018-2019, actress, Ellen Hollman, tortured NCIS: New Orleans Supervisory Agent, Dwayne Pride (Scott Bakula). Hollman played hitwoman, Amelia Parsons hired by Associate Attorney General Eric Barlow (Doug Savant) to target Pride.
Amelia was all in because she already believed Pride was responsible for killing her husband. By the season 4 finale, Amelia shot Pride three times in the chest, leaving him on the floor to bleed out.
Pride survived, of course, but by season 5 of the hit NCIS spin-off, the roles reversed. Pride needed Amelia's help tracking down secret files that belonged to an underground group of terrorists after their loved ones had been kidnapped.
Dwayne's father, Cassius (Stacy Keach) didn't survive. He took a bullet to protect his son by Amelia's hand. Out of rage, Pride shot and killed her. While Hollman only appeared in a total of five episodes (plus her stint on the original NCIS as Special Agent Tina Larsen) her role as Amelia Parsons remains one of the most memorable of the entire series.
What is Hollman's part in 'The Matrix 4'?
Unfortunately, Hollman's role is under wraps at the moment, according to The Wrap. It has been confirmed that she'll join saga originals, Keanu Reeves, Carrie-Ann Moss, as well as Jada Pinkett-Smith. Newcomers include Neil Patrick Harris and Priyanka Chopra-Jonas.
The currently untitled version of The Matrix 4 will be based on the idea that our current reality is "a computer simulation controlled by advanced machines harvesting energy from enslaved humans."
The fourth film's plot is also under wraps, and rightfully so. The first of the franchise, The Matrix, released in 1999 to more the $1.6 billion at the global box office, The Wrap noted. The same success is true of The Matrix Reloaded and The Matrix Revolutions. Now, 17 years after the previous two films, Reeves reprises his role as Neo to fight to free the human race.
Hollman took to Instagram when the news went public.
"Life…when you boil it down, is really just a series of moments isn't it? Some moments bring an echelon of elation, others a myriad of devastation. Like many of you, I am no stranger to either. Particularly in my chosen career path….yikes," she captioned the photo, in part.
She goes on to say how tough the industry operates, describing moments "you're not enough," how some "don't believe in your abilities," and others "fire you."
Hollman says 'never give up' to inspire others
The actress encourages fans with a dream to persevere and to choose yourself even when others don't. "Never. Give. Up," she added.
"Congrats, but most importantly, well done for working so hard and so smart," one fan commented. "Hell yea Ellie !!!! Love you and love your hustle. You are incredible," another said. "Your words are an inspiration to all, no matter our journey!!!! Your success is Well deserved," more echoed.
The praise goes on and on from the many that have watched Hollman work her way up in the industry.
Hollman is a trained Jiu-Jitsu martial artist
Adding Hollman to the roster for The Matrix 4 makes sense. The trained Jiu-Jitsu martial artist utilizes her physicality in nearly every role she takes on. Though many know her for playing Amelia Parsons on NCIS: New Orleans, others might remember her as Saxa on the Starz historical drama, Spartacus, or AMC's Zypher on Into the Badlands.
Some of Hollman's other credits include 9-1-1, Six, and the upcoming comedy, Monster Problems. She may never appear on NCIS: New Orleans again (unless Pride hallucinates her), but it's OK. Into the Matrix, she goes.