This 'Saturday Night Live' Star Says She Was 'Inundated' With Negative Tweets After Portraying This Person
This actress from "Saturday Night Live" decided to drop Twitter after being cyberbullied for playing this political figure.
NBC's legendary comedy sketch show Saturday Night Live has catapulted the careers of some of today's biggest celebrities, including Maya Rudolph, Bill Murray, Eddie Murphy, Leslie Jones, and Tina Fey.
An actress from the show has been making headlines with her recent Hulu series that aims to send a message regarding body image. She previously shared that she received an onslaught of negativity on Twitter after playing a certain person in the political spotlight.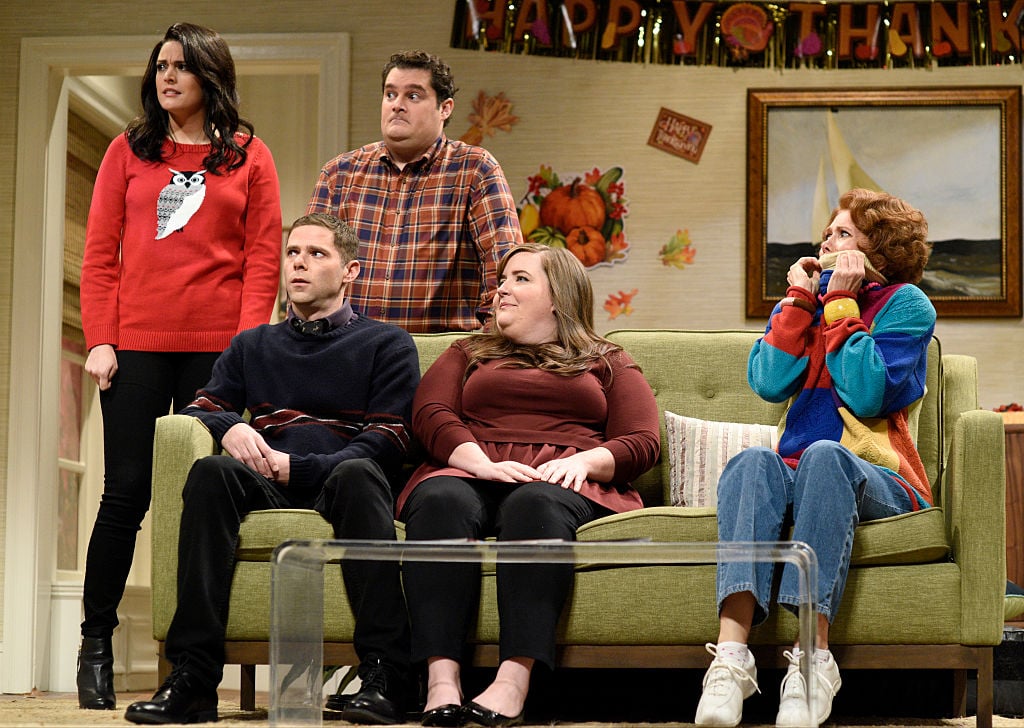 'Shrill'-ing new series
Aidy Bryant has been getting rave reviews not only for her comedic talent on SNL, but also for her Hulu series Shrill which recently ended its second season. The show spotlights plus-size Portland writer Annie (Bryant), a timid journalist who finally learns how to reject negativity from others about her weight. Created from Lindy West's 2012 book of personal essays of the same name, Bryant joined forces with West and Ali Rushfield to develop the empowering show.
"I know the character very well. It's very close to me!" Bryant told Vulture in March on writing for Shrill. "It wasn't like I was having to write a space captain or something; I know how it feels. I know how it feels to be singled out, and I know how it feels to be embarrassed, or to be trying hard and be dismissed. Those kinds of things kind of made it flow easy, if that makes sense."
The actress has truly poured her heart into her character on the Hulu series, saying that developing Shrill has even benefited her time on SNL. "Probably the thing I'm most proud of in my life is my work on Shrill, even just the team we've assembled and how hard we all work to make it," Bryant said, according to the Hollywood Reporter. "And I think it's actually, in a lot of ways, let me enjoy being on SNL more, because I feel like I got to do the thing that I always dreamed of doing."
Trolls on Twitter
Bryant decided to end her relationship with Twitter after being subjected to some serious cyberbullying when she portrayed a former White House press secretary.
"I experienced [cyberbullying] on Twitter before I got off there because I played Sarah Huckabee Sanders on Saturday Night Live," she said in an interview with Shondaland.com. "The thing that always blew me away was that when I would play her on the show, I would be inundated with tweets saying I was a fat, ugly pig who didn't have the right to play someone as 'brave and smart' as Sarah Huckabee Sanders. The other half were tweeting at me saying I was too 'beautiful and good' to play someone as 'vile and fat' as Sarah Huckabee Sanders."
The abuse on social media motivated Bryant to drop her Twitter profile, describing how hurtful some of the messages were worded. "It was brutal to me. It made me sad on both sides that she was being reduced to her looks, and so was I," Bryant revealed. "It wasn't good for any reason. I have the odd random person calling me a 'fat piece of s***' or a 'fat pig' or telling me that I 'eat hamburgers' on Instagram, but it feels less targeted. I certainly haven't had the targeted harassment that Lindy West or Leslie Jones had. These are people who I know and love. When you see stuff like that, it's pretty revolting."
Focusing on fun
Now Twitter-less and on a major trajectory of success, Bryant opts for simplicity during her down time. "I do have two complicated jobs that happen at the same time, Shrill and SNL," she said. "I try to get away from my phone, away from the screen. I usually go to the park, go for a walk, take my dog out or go for a walk with my husband. I find that getting away from the screen helps me a lot."
Now that she is firmly established in comedy history, Bryant is focusing on enjoying the ride. "For me right now, the key is just to have fun. I feel like the audience can always tell when you're having fun," she shared. "It always really translates. I think some of my early years on SNL, I was there, working really hard, but scared. Now, I'm having fun."