'Thor: Love and Thunder': Natalie Portman Says She Feels 'Strong for the First Time'
One reason why people are excited for Thor: Love and Thunder is that Natalie Portman is returning to the Marvel Cinematic Universe franchise. She didn't appear in Thor: Ragnarok, receiving little acknowledgement. Nevertheless, many fans are hopeful that her character is going to get a complex story arc.
Portman revealed how she spent plenty of time training before Thor: Love and Thunder shooting began. She wanted to become fit enough for the role. The star spoke about how strong she felt due to the training.
Jane Foster is Thor's MCU love interest
In 2011, Portman landed the role of Jane Foster in the Marvel film Thor. Jane is a scientist who has a run-in with Thor, and they become love interests. She helps him get back to Asgard to confront his brother Loki.
Portman would return to play Jane in Thor: The Dark World. In the movie, Jane teleports to another world after discovering some portals. Thor takes her to Asgard to save her from the Aether she had absorbed. The last viewers see of her, she and Thor reunite in a post-credit scene.
In Thor: Ragnarok, viewers do not see Portman at all during the story. The characters briefly mentioned a breakup that occurred off-screen sometime between the sequels. However, the actor is coming back for the fourth Thor film.
Some fans have had mixed feelings about the idea of Portman replacing Chris Hemsworth as Thor. However, she already plays an important character in the fictional universe. The comics gave Jane special powers, and the movie can follow a similar path.
Natalie Portman's 'Thor: Love and Thunder' training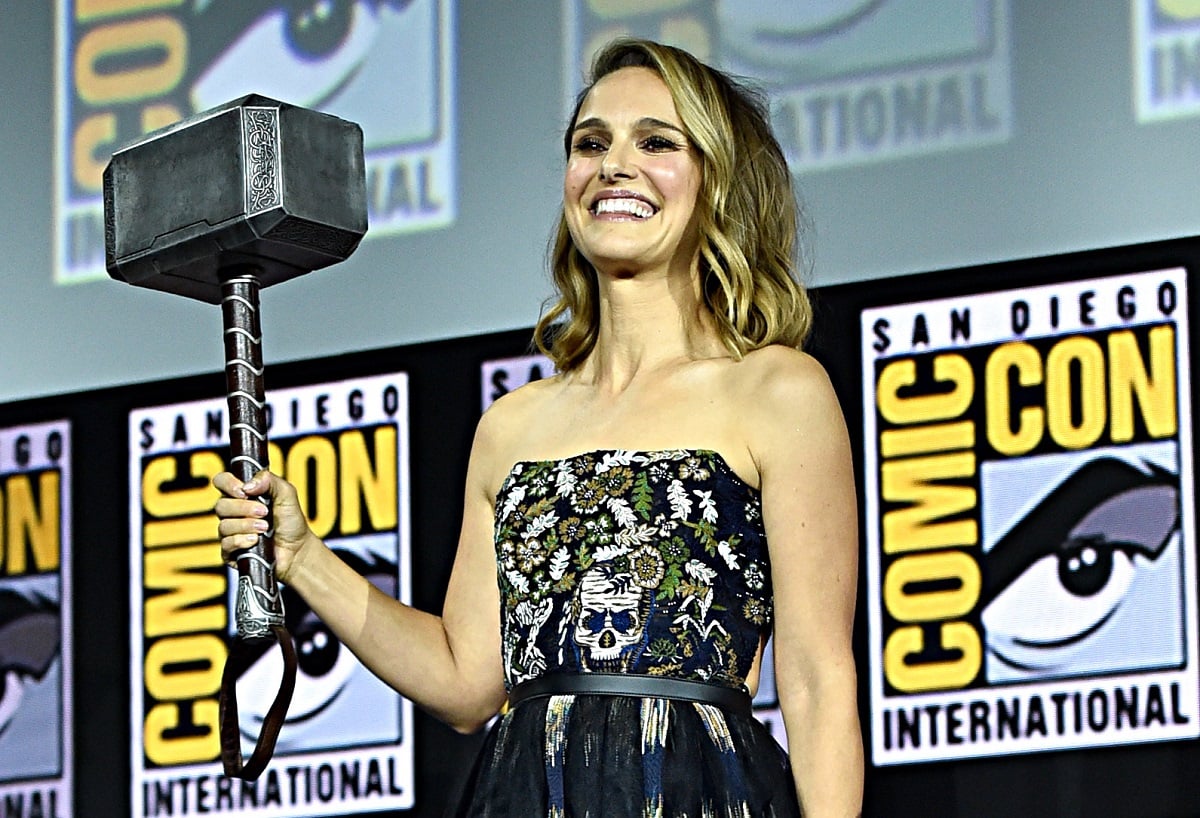 While Portman hesitated to come back for Thor: Love and Thunder, she ultimately agreed. She liked the idea of doing something different other than being a scientist from Earth. To prepare for the movie, she picked up a new training regime and diet.
Portman performed workouts with a trainer named Naomi Pendergast. She did plenty of weight training and had some protein shakes. Part of the actor's routine improved her agility as well. According to Vanity Fair, Portman enjoyed preparing for the physical role in the upcoming Thor movie.
"It definitely helps you get into character, and it's definitely changed the way I move. You walk differently; you feel different. I mean, it's so wild to feel strong for the first time in my life," Portman explained. The physical transformation helped her get into character more.
People have pointed out how her training regime differs from Hemsworth's routine. Still, she has enough strength to bring Jane Foster to life on the big screen.
Natalie Portman had another physically demanding role
Thor: Love and Thunder is not the only movie Portman had to train for in preparation. In Black Swan, the star portrayed an ambitious ballerina named Nina Sayers. Instead of weight training, Portman learned the art of ballet.
In fact, Portman's sessions would last for long hours, and she practiced multiple days a week. While she built up her dancing skills, she ended up losing 20 pounds. Filming the movie proved to be physically demanding as well. The actor would need to dance for hours for her scenes.
As a result, Portman suffered from multiple injuries. For example, Portman accidentally dislocated her rib. It did not help that the film's budget made it hard for her to get medical treatment.
Portman realized that many professional dancers go through the same experience. It is possible that she might take on other roles that require training in the future.
RELATED: 'Thor: Love and Thunder': Natalie Portman Confirms That Her Powers Will Be Different Than Chris Hemsworth's Character