'Thor: Love and Thunder': Taika Waititi Shares How He Persuaded Natalie Portman to Return to Marvel
Natalie Portman is returning as Jane Foster in 'Thor: Love and Thunder,' and Taika Waititi reveals how he got her to come back
Marvel fans are excited to see Chris Hemsworth return as Thor in Thor: Love and Thunder. However, the return of Natalie Portman as Jane Foster could be even more exciting. Natalie Portman hasn't starred in a Marvel project since Thor: The Dark World, but she will be wielding Mjolnir as the Mighty Thor this time. Director Taika Waititi details how he convinced Portman to return as Jane in Thor: Love and Thunder. 
Natalie Portman returns as Jane Foster in 'Thor: Love and Thunder'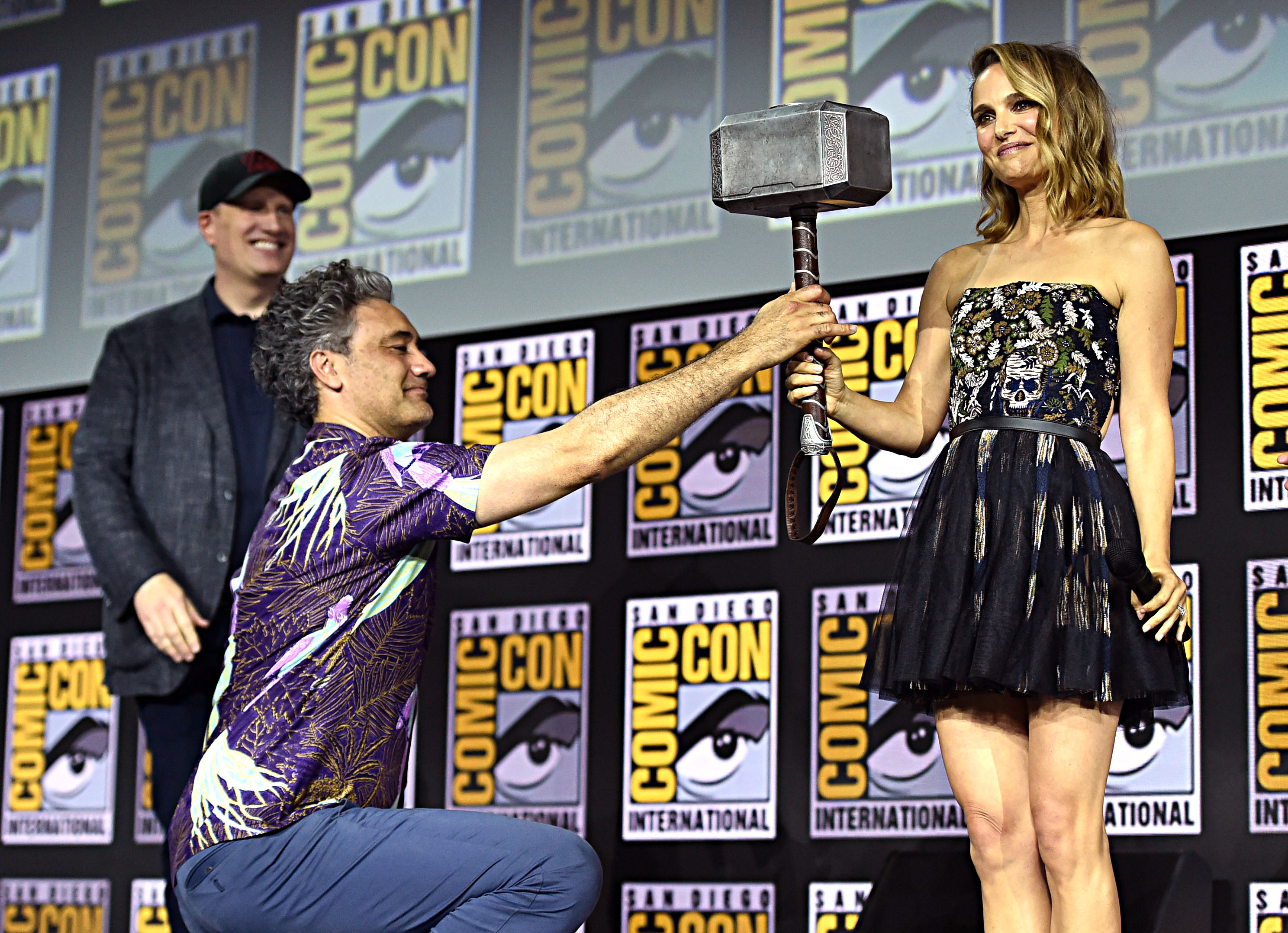 Natalie Portman first played Jane in Thor. Jane is an accomplished astrophysicist who eventually becomes the love interest of Hemsworth's Nordic character. In Thor: The Dark World, Jane travels to Asgard after she incidentally absorbs the reality stone. Portman did not return for Thor: Ragnarok, and it was confirmed that the two broke up. 
Portman did have a brief cameo role in Avengers: Endgame as well. Still, her role in the Marvel Cinematic Universe hasn't been very impactful. In Thor: Love and Thunder, that is about to change as Jane is now becoming the Mighty Thor and will fight alongside Thor, Valkyrie (Tessa Thompson), and other heroes. This is an adaptation of the Mighty Thor comics storyline by Jason Aaron. 
Taika Waititi shares how he persuaded Portman to return for 'Thor 4'
Waititi brought new life to the Thor franchise with Ragnarok. It turned Hemsworth's stoic and serious Thor into more of a loveable goofball. In an interview with Fandango all Access, Waititi explains that he told Natalie Portman that Jane would be given more to do in Thor: Love and Thunder and that it would be a more fun experience. He also shared his critiques of Jane's treatment in prior films. 
"I think that what we did with Ragnarok was, it made these movies appealing to other actors as well, like Christian [Bale] really he saw that and he was like, 'I want to do something fun,' and came here, wanted to be part of this thing," Waititi said. "And Natalie too and… I think that she was just wanting to make sure that… I don't even know how to say this, but… her character in those first few films, it's probably not the most exciting version of the female character that we want from these films… I had to just talk to her about the fact that I wanted to change that character, just like we'd changed Thor's character for Ragnarok and to give her a bit more license to be adventurous and fun because Natalie's a really funny person. And sometimes… those sorts of things cannot… I don't know, they're not the main focus when they come up with characters and you know in films."
Waititi mentions Bale, who is playing the villain known as Gorr the God Butcher. Bale hasn't been in a superhero movie since The Dark Knight Rises, but the prospect of working with Waititi brought him over to the Marvel universe.
Portman joins a cast of other returning Marvel stars
Thor: Love and Thunder has a stacked cast that includes many other returning Marvel stars and characters including Natalie Portman. Endgame ended with Thor leaving with the Guardians of the Galaxy and they will appear here. This includes Chris Pratt as Starlord, Dave Bautista as Drax, and Bradley Cooper as Rocket Raccoon. Waititi will also be reprising his voice role as Korg. 
Thor: Love and Thunder arrives in theaters on July 8.