When Is 'Thor: Ragnarok' Coming to Disney+?
There's plenty of Marvel content to watch on the new streaming service Disney+. Here's when 'Thor: Ragnarok' officially arrives on the site.
Now that Disney+ is here, get ready for more and more announcements about new content arriving on the streaming service. On Nov. 22, 2019, Disney+ announced the date in which Marvel Cinematic Universe fans will be able to watch a favorite entry: Thor: Ragnarok. Here's when it's coming.
These MCU movies are on Disney+ now
The launch of Disney+ has brought with it plenty of new content, from The Mandalorian to Lady and the Tramp. However, what most are really interested in when it comes to purchasing a subscription is access to old content. Specifically, previously released MCU films, now all in one place.
Right now, you can watch the following MCU entries (listed in order of release date): Iron Man, Iron Man 2, Thor, Captain America; The First Avenger, The Avengers, Iron Man 3, Thor: The Dark World, Captain America: The Winter Soldier, Guardians of the Galaxy, Avengers: Age of Ultron, Ant-Man, Captain America: Civil War, Doctor Strange, Guardians of the Galaxy Vol. 2, Avengers: Infinity War, Captain Marvel, and Avengers: Endgame.
'Thor: Ragnarok' is the next MCU film to come to Disney+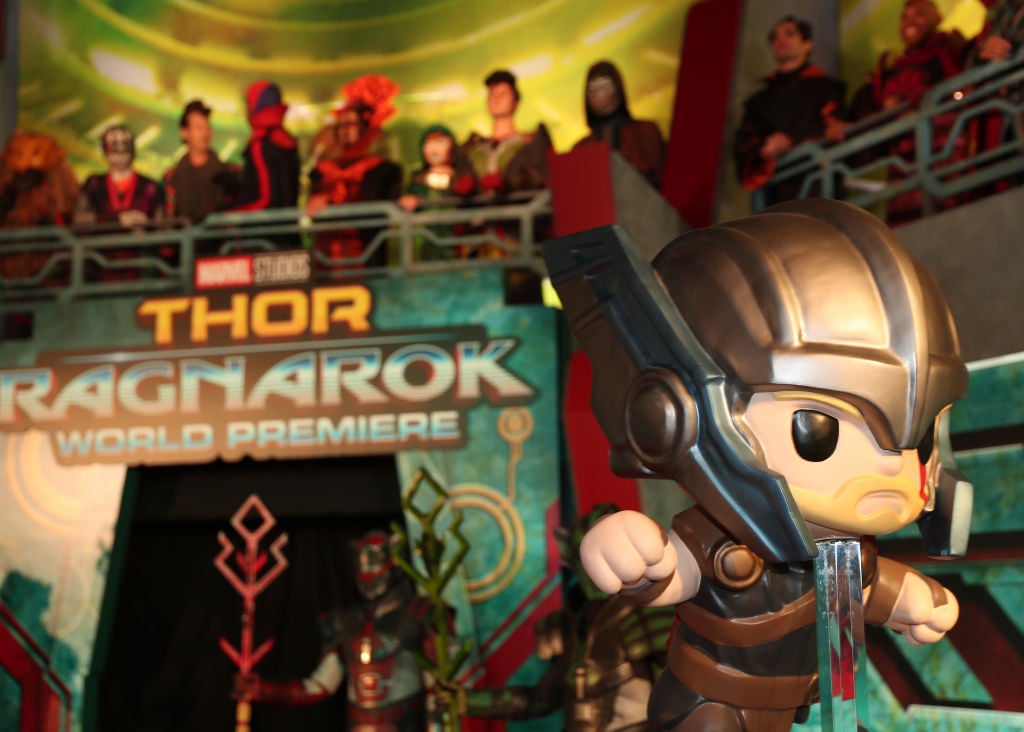 Since its Nov. 12, 2019, arrival, Disney+ has taken to releasing new content each Friday. Because they're still looking for new subscribers (especially as the holiday season arrives), the company wants to share with the public what exciting new content is about to arrive, in case you're on the fence about buying in.
As far as Marvel content goes, there's one exciting new announcement: Thor: Ragnarok will be available to stream on Disney+ as of Dec. 5, 2019. This comes as the film's current licensing with Netflix draws to a close. With anticipation high for its sequel, Thor: Love And Thunder, fans are definitely going to want to rewatch this as soon as it's available.
How long will it take for other MCU entries to arrive on Disney+?
After Thor: Ragnarok, the next anticipated arrival in the MCU catalog is Black Panther, which is due out to arrive on March 4, 2020, after Marvel's deal with Netflix expires. Similarly, Avengers: Infinity War will arrive on June 25, 2020, and Ant-Man and the Wasp will be available to stream on July 29, 2020.
Aside from The Incredible Hulk, which has no expected release date on Disney+ just yet, that will complete the collection of MCU films. We can expect that in the months that follow, we'll get dates about when the new MCU entries, such as Black Widow, will arrive. (But count on Disney waiting until after the Blu-ray release, which is usually a few months after it leaves the theater).
The other Marvel content on Disney+
Whether you're a casual fan of Marvel or you're read all of the comics, there's plenty of additional Marvel content on Disney+ that you might be interested in. Children and animation lovers alike will enjoy content like Ultimate Spider-Man, Rocket and Groot, and X-Men animated series.
Additionally, there are several live-action TV shows that you may not be familiar with. Season 1 of Runaways, which airs on Hulu, is available, as are both seasons of the prematurely canceled Agent Carter. And new episodes of fresh series like Marvel's Hero Project come out each week. So be sure to check them out.