'Three's Company': John Ritter's Widow Had a Unique Idea to Make His Funeral More of a 'Celebration'
Nearly 18 years ago, Three's Company star John Ritter unexpectedly passed away while shooting an episode of the sitcom 8 Simple Rules. Ritter's death was a shock to family, friends, fans, and colleagues.
At Ritter's memorial service, everyone was sad and devastated. But his widow had a unique idea that turned the funeral into a celebration.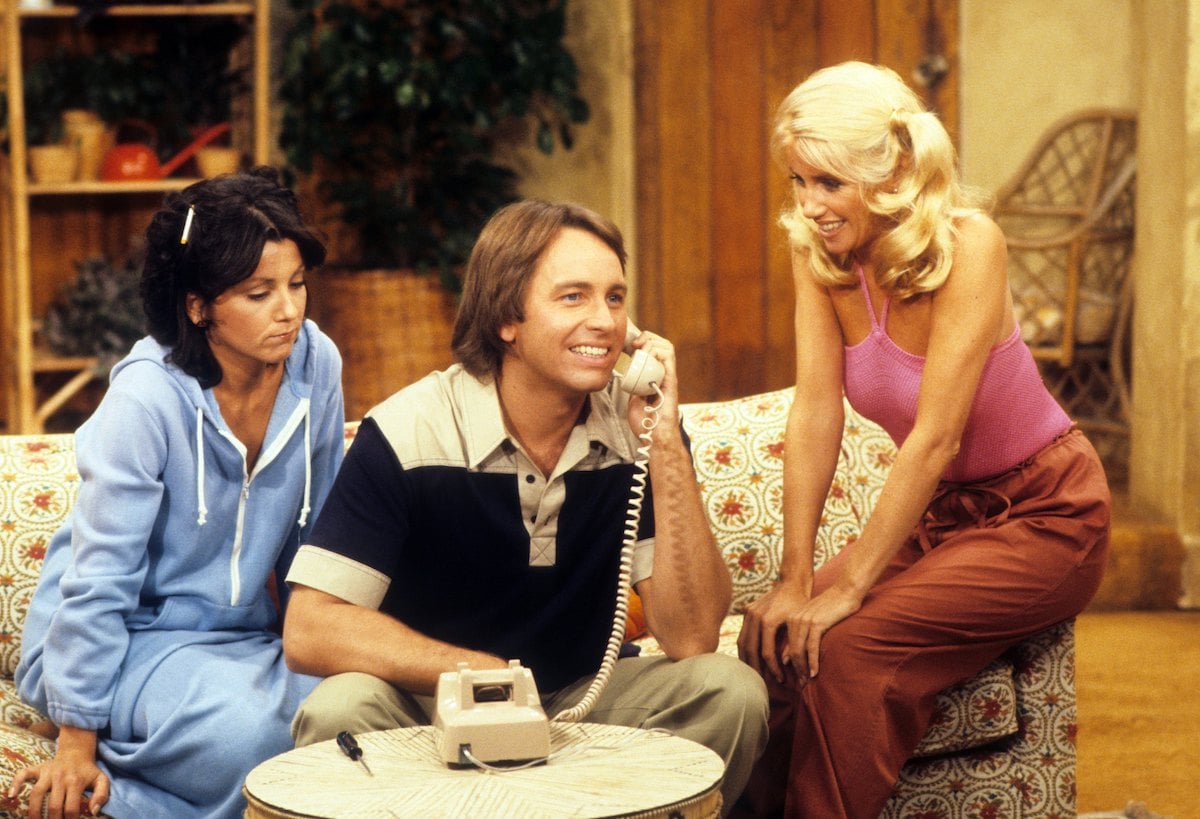 'Three's Company' made John Ritter a TV superstar
When Ritter attended the University of Southern California, he majored in psychology and had a career goal of entering politics. However, it didn't take long for Ritter to discover his love of acting. He changed majors to theater arts and transferred to USC's School of Dramatic Artists.
After graduating in 1971, Ritter landed small roles in both film and TV. He appeared in some of the biggest shows of the 70s, including The Bob Newhart Show, The Waltons, and M*A*S*H. But it was in 1977 when Ritter's career exploded.
This is when he landed the leading role of Jack Tripper on Three's Company, alongside Joyce DeWitt and Suzanne Somers. The premise of the series was that all three lived together platonically in an apartment. But to avoid the ire and judgement of their landlords, the Ropers, they pretended Jack was gay.
The slapstick comedy and sexual shenanigans made the show a massive hit, and Ritter was the star.
"It became and stayed a Top 10 hit because it was a hysterical farce that made people laugh out loud," Chris Mann, author of Come and Knock on Our Door: A Hers and Hers and His Guide to Three's Company, told Closer Weekly. "Once John Ritter's physical comedy took over, and the show became more of a comedy misunderstanding — sexual and otherwise — it gave people a chance to feel liberated through laughter."
John Ritter died at the age of 54
In the early 2000s, Ritter made a TV comeback in the ABC sitcom 8 Simple Rules for Dating My Teenage Daughter alongside Katey Sagal and Kaley Cuoco. But while rehearsing for an early season 2 episode on the Walt Disney Studio lot in Burbank, California, Ritter started suffering from chest pains.
The actor was also vomiting and sweating profusely, and at 6:00 pm he was rushed across the street to Providence Saint Joseph Medical Center. At first, doctors treated Ritter for a heart attack, but his condition continued to get worse.
RELATED: Henry Winkler Recalled the Last Time He Saw John Ritter Alive: 'He Was Rushed to the Hospital'
A few hours after he arrived at the hospital, doctors realized that Ritter had an aortic dissection. But it was too late. At 10:48 pm on September 11, 2003, doctors pronounced Ritter dead. Just six days before his 55th birthday.
"Utter devastation," Mann said when hearing the news of Ritter's death.
"I had seen him five months prior on the set of 8 Simple Rules. I got to see him in his element, feeling joyous. He had a baby girl, his children were entering college, [son] Jason [Ritter] was entering the acting arena. In a way, he was sort of on top again."
The 'Three's Company' star's widow turned his funeral into a celebration
A private funeral for Ritter took place on September 15, 2003, in Los Angeles. The actor was interred at Forest Lawn, Hollywood Hills Cemetery in the Hollywood Hills. But before he was laid to rest, Ritter's widow Amy Yasbeck and his children were part of a memorial service that turned into a celebration.
According to director Marty Davidson, the memorial took place on Hollywood Boulevard in "one of those grand movie palaces." He says he will always remember the evening because the "sadness was overwhelming."
Davidson also noted that he would "never forget the ending." He said that after everyone spoke about Ritter and they were all "spent," all of the sudden the back doors of the movie theater opened up.
"In came the start of what was a hundred-piece marching band from USC in full regalia. They got everybody — probably 200 people — on their feet and marching out on to Hollywood Boulevard with them holding up traffic and going across the street to a bowling alley," Davidson recalled.
He noted that it was an "amazing experience" because even after Ritter's sad death, everyone was still "overwhelmingly moved and laughing and having fun."