Tiffany Haddish Arrested For DUI After Posting Emotional Tribute to Bob Saget
Tiffany Haddish was arrested for DUI just days after posting an emotional tribute to Full House star Bob Saget. Here are all the details of Haddish's arrest and what she said about her fellow comedian, who died at age 65. 
Tiffany Haddish was arrested for DUI days after Bob Saget's death
On Friday, Jan. 14, Tiffany Haddish was arrested in Georgia for driving under the influence. CNN reported that police officers responded to a 911 call at around 2:30 a.m. about a driver who had fallen asleep at the wheel on the road. The comedian was taken to Fayette County Jail.
Ironically, Haddish had an interview that same day in which she mentioned falling asleep while partying. When asked who was the biggest partier in the cast of The Afterparty, an upcoming murder-mystery comedy series, Haddish replied it was Ike Barinholtz.
"Ike can go way longer than me," she revealed (via ET). "I thought I was a partier until I partied with Ike and I fell asleep at the party and when I woke up, he was still partying."
Tiffany Haddish posted a tribute to Bob Saget the day after he died
On Jan. 9, comedian and actor Bob Saget was found dead in his hotel room in Orlando, Florida. The 65-year-old performed a two-hour stand-up comedy set hours before he died.
The day after Saget's death, Haddish posted an emotional Instagram tribute to honor her friend and mentor. She posted a photo of herself with Saget, followed by a video clip in which he tells her, "You gotta follow your voice."
"@bobsaget I am going to miss you so much😭😭," Haddish captioned the photo. "You have brought so much joy to this planet. You were one of my 1st Great teachers. You always made me feel safe and worthy. You always made me laugh 😂. Now you make God and all the Angels laugh I Love you forever! 🙏🏾❤️🙏🏾❤️🙏🏾❤️."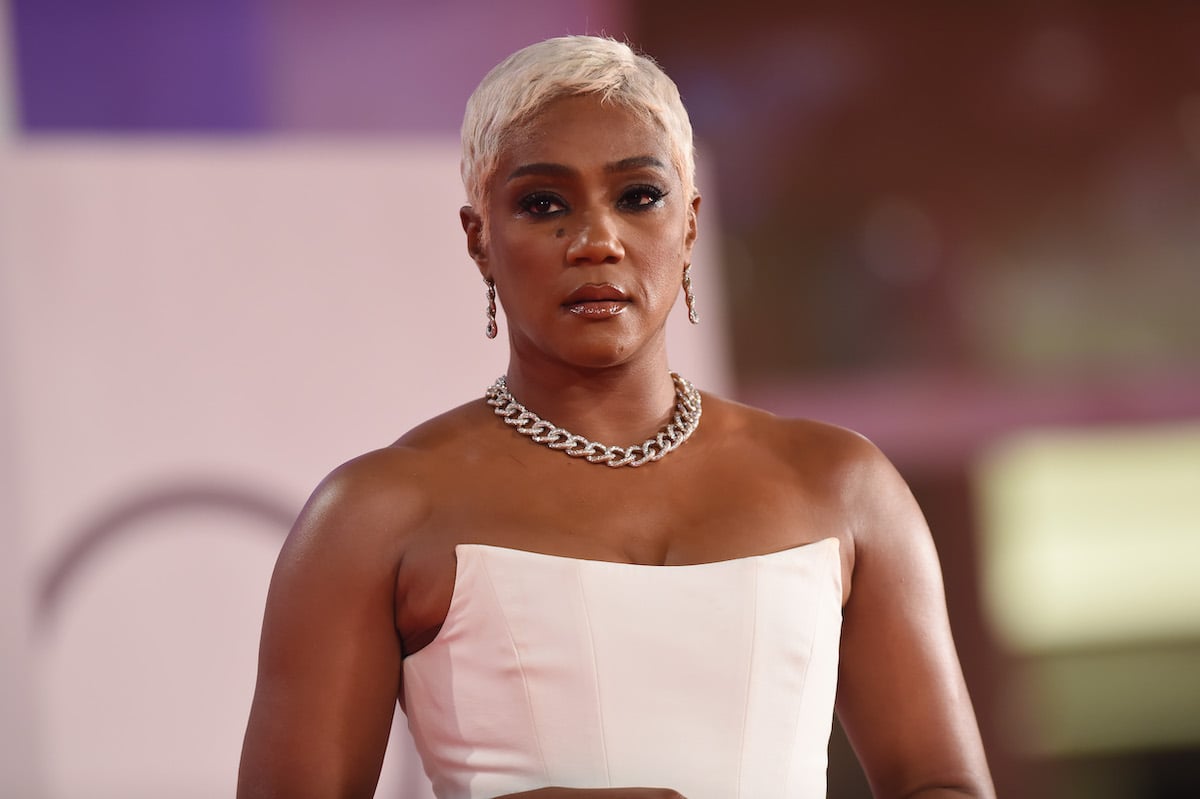 The comedian has experienced several losses before her DUI arrest
Haddish experienced several losses leading up to her DUI arrest. "Now my personal life is in shambles," Haddish said in the ET interview from the day she got arrested. "This year, you know, people are like, 'Happy New Year.' I'm like, no, neutral new year. I'm gonna be neutral in the year."
Besides the death of her mentor and friend Bob Saget, Haddish's dog of 13 years also died, and her year-long relationship with rapper Common ended. 
"I'm very emotional," she shared about her recent losses. "I've been crying a lot 'cause it's, that's my heart. My dog was my heart, and the other people who passed, you know, those, they were my rocks, you know, they had my back. I mean, they taught me a lot, so I lost the physical, I'm sure I got them in the spiritual."