Tiffany Haddish Had Her First Love Scene With Oscar Isaac in 'The Card Counter' and 'Apologized' to Him
Comedian Tiffany Haddish is experiencing lots of firsts. The actor, known for her comedic work, attended the Venice International Film Festival for the first time to promote The Card Counter, her new movie with Oscar Isaac. She also shared she had her first love scene in the film with Isaac and jokingly described the experience as "quick." But before the cameras started rolling, Haddish warned her co-star of her method acting skills.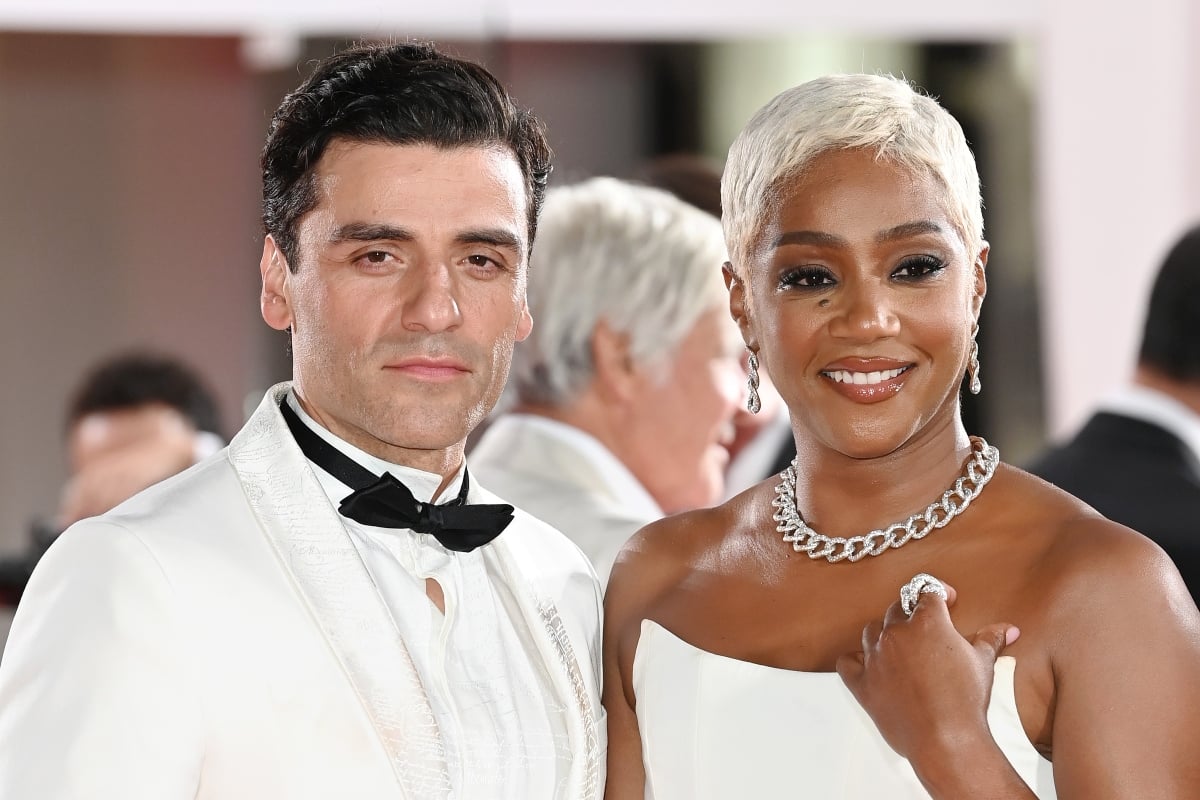 Tiffany Haddish 'apologized' to Oscar Isaac in advance for 'humping'
Tiffany Haddish is used to dishing out laughs in her film roles, and even though she's dipped her toe in dramatic waters, love scenes evaded her. Until The Card Counter. Her character La Linda falls in love with Isaac's Will Tell, and there's a moment when the two have a romantic hook-up.
During an appearance on Jimmy Kimmel Live!, Haddish shared the details of the on-screen encounter. Isaac was a gentleman and promised to protect her, saying, "I want to apologize to you if I make you feel uncomfortable. This very awkward." But Haddish seemed unfazed and apologized back to him.
"I was like, 'Ok, cool. Well, I want to apologize to you if I make you feel uncomfortable because I'm a method actress and I'm gonna be humping you back,'" she said. Haddish said the scene went smoothly and quickly. She also joked about not taking her bra off for the shoot because it was her first time, and that's a rule she has in place in real life. "Just ask Common," she told Kimmel.
'The Card Counter' is a reflective drama
Directed by Paul Schrader, The Card Counter focuses on Will, a gambler with a traumatic past. On its face, the movie is about his skills, but Will is complex. He once tortured prisoners while in the army and carries guilt and self-loathing feelings.
He's a pro when it comes to poker, and he meets La Linda, a sweet bankroll representative. Though she starts out as someone who scouts him, she helps bring out a different side of him emotionally.
The only other main person in Will's orbit is Cirk, his dead army buddy's (Willem Dafoe) son. Cirk has an ax to grind and wants to go on a payback mission. But, Will wants to help him with his debts, and develops a savior mentality to keep him out of trouble.
Haddish said she had to rein it in for the role
In an interview for Italy's Fred Film Radio, Haddish admitted that Schrader told her bring things down a bit for La Linda. That included her physical gestures and speaking voice. "He was on me about pulling it back. You know I've got a big personality, so to tone that down to an extent or push things that way. It was a lot of adjustments that were made," she said.
Fans should prepare to see Haddish in a whole new light in The Card Counter, a film that's already earning praise from critics. The movie is currently in theaters only.  
RELATED: Tiffany Haddish Gushes Over Her Relationship With Common