Tiffany Haddish Says Shaving Her Hair Made Her Feel Alive
Tiffany Haddish became famous after appearing on The Real Husbands of Hollywood in 2013. The now-42-year-old's offbeat comedy resonated well with audiences. She made an even bigger splash in the 2017 film Girls Trip. Haddish has opened up about various occurrences in her life and, in a recent interview, spoke about how shaving her hair made her feel alive.
Tiffany Haddish had a rocky childhood
Haddish was born in 1979 in South Central LA. The star's childhood wasn't all rosy. Her mother suffered a car accident that triggered a schizophrenic episode when the star was nine. As Haddish once recounted, the wreckage was her stepfather's doing as he wanted the whole family to die so that he could cash in on their life insurance policies.
Her mother's ability to care for the children was questioned, and Haddish and her siblings were put into foster care. They were later sent to live with their grandmother. Haddish's social worker insisted that the star attend therapy but Haddish had other plans.
She attended the Laugh Factory Comedy Camp as she'd already discovered her a talent for making people laugh. Comedy seemed to give Haddish reprieve, but the struggle to make it in the entertainment industry was immense.
At some point, the comedian lived out of her car while working for renowned comedian and actor Kevin Hart. Hart noticed Haddish's living situation when they were partnered to work on Comedy Playground. As People reports, he gave her $300 to stay at a hotel and asked her to write down her goals.
Haddish burst into the scene in 2005 with minor roles, including Its Always Sunny in Philadelphia, That's So Raven, and Just Jordan. However, her role in The Real Husbands of Hollywood greased the wheels of her success in the industry.
She started adding roles to her resume with shows such as Legends of Chamberlain Heights, where she lent her voice to play Cindy, and If Loving You Is Wrong. Her performance in the star-studded 2017 movie Girls Trip helped make Haddish a household name. She has since appeared in Night School, Nobody's Fool, and has lent her voice to The Secret Life of Pets 2 and The Lego Movie 2: The Second Part.
Tiffany Haddish felt alive after shaving her hair
Haddish decided to get rid of her hair in 2020 as she documented the process on Instagram Live. The star recently spoke to Byrdie about her decision to get the massive chop saying, "Baby, best feeling I ever felt in my whole entire life. The most sensations I ever felt. The most alive I ever felt."
Haddish told the outlet that she had always been jealous of "every bald-headed man" she met. She said, "When you touch the back of your head, you feel it in the back of your feet." She said the rain felt "like a billion, million kisses from God. And I could feel every raindrop go through my whole body."
It has been about two years since Haddish undertook that major hair decision. The actor switches up her hair but often wears it out in a wavy cropped-cut platinum blonde.
Tiffany Haddish doesn't believe in changing her appearance to appeal to others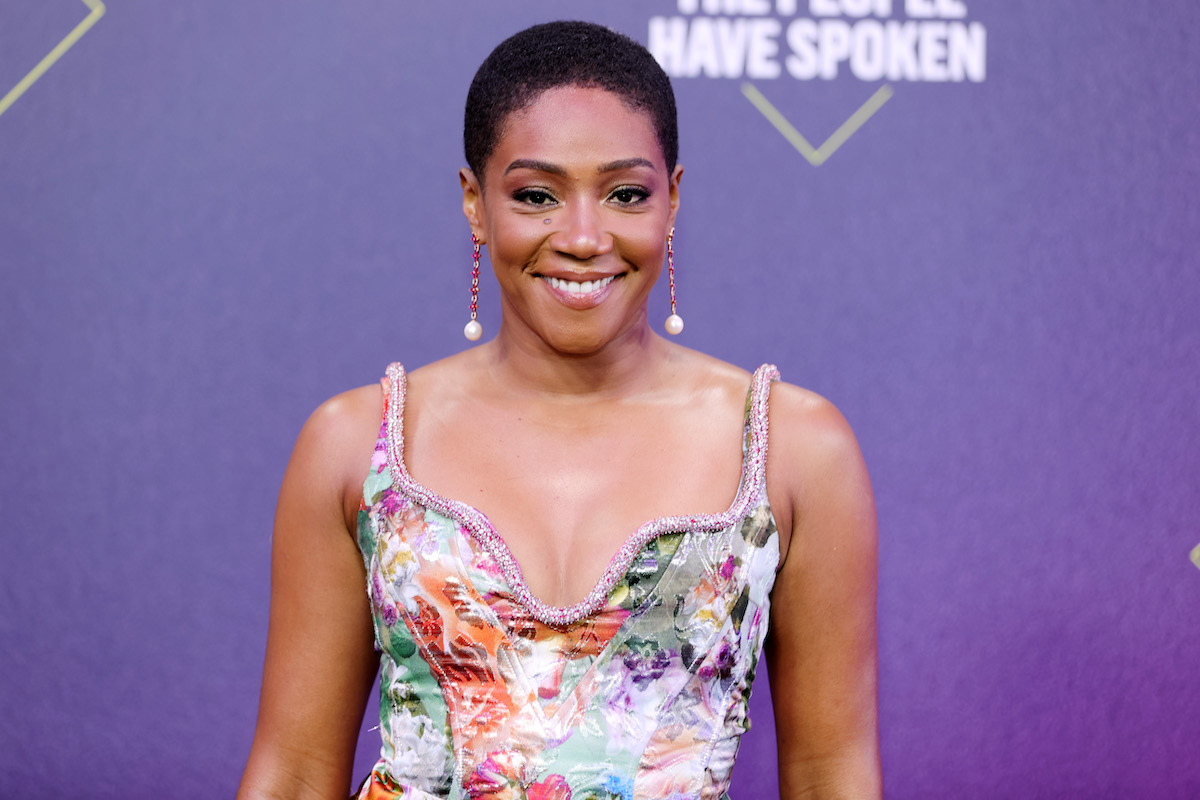 In 2018, Haddish said she once got a perm to look like the other girls in her school. She said, "All the girls in school had perms and stuff, or they already had naturally silky hair, so I thought if I get a perm, then I can get in a swimming pool and my hair will lay straight and then boys will like me."
The star told the outlet that her hair fell out, and that's when she realized she didn't need to alter her appearance to become more appealing. "Just be who you are," Haddish advised.
RELATED: Tiffany Haddish's Worst Date Involved Dinner and Laundry