Tiffany Haddish's Favorite Way to Consume Pickles Involves Candy
Tiffany Haddish has range. She's best known for her comedy, but she's not afraid of a serious role.
Last year she added The Kitchen to her filmography. It wasn't the typical slapstick comedy that Haddish excels in. Mob wives pick up where their incarcerated husbands left off in the 1970s gangster drama. Haddish plays one of the main characters, and although it wasn't a runaway hit, Haddish's performance in The Kitchen did earn some praise from critics. 
It turns out, Haddish has range off-screen too: She'll eat anything. 
Tiffany Haddish has foodie tendencies
A lot of the food Haddish eats is questionable, but she does have high-end tendencies. Her favorite dinner is usually steak or lobster. For lunch, she'll eat red snapper from Mel's Fish Shack. The LA seafood joint is one of her favorite restaurants.  
For a healthy snack, Haddish likes to munch on apricots and almonds. That's definitely her most normal food combination. Some of the other things Haddish loves are hard to imagine, but she swears by her unconventional recipes.
Haddish can afford to eat out for lunch and dinner, even if she's getting steak and lobster. She's worth upwards of $4 million, according to a 2019 estimate. Still, Haddish isn't spending all her extra cash on food. Some of her faves are fruits and vegetables she grows in her own garden.
Tiffany Haddish is an avid gardener
In fact, Haddish's garden is so successful that every morning she's able to drink a glass of juice made from her own fresh produce. Haddish grows kale, strawberries, chard, and celery, among other things. She juices them for breakfast every morning.
Her other morning staple is less fresh. Haddish says she almost always eats leftover chicken for breakfast, usually from the night before. While some stars may stick with just a glass of juice to start the day, Haddish isn't one of them. She's more concerned with staying full than staying thin.
According to Haddish, she has a serious hanger problem. Haddish says: "I turn into a different person when I'm hungry. It's not my fault either, I'm a nice person. But it's the parasites inside of me. When they are hungry and they don't eat, they take over my mind and I'm pretty mean to everybody."
That means that Haddish always eats a big breakfast, and snacks throughout the day to keep the hunger at bay.
Some of her favorite snacks are cringe-worthy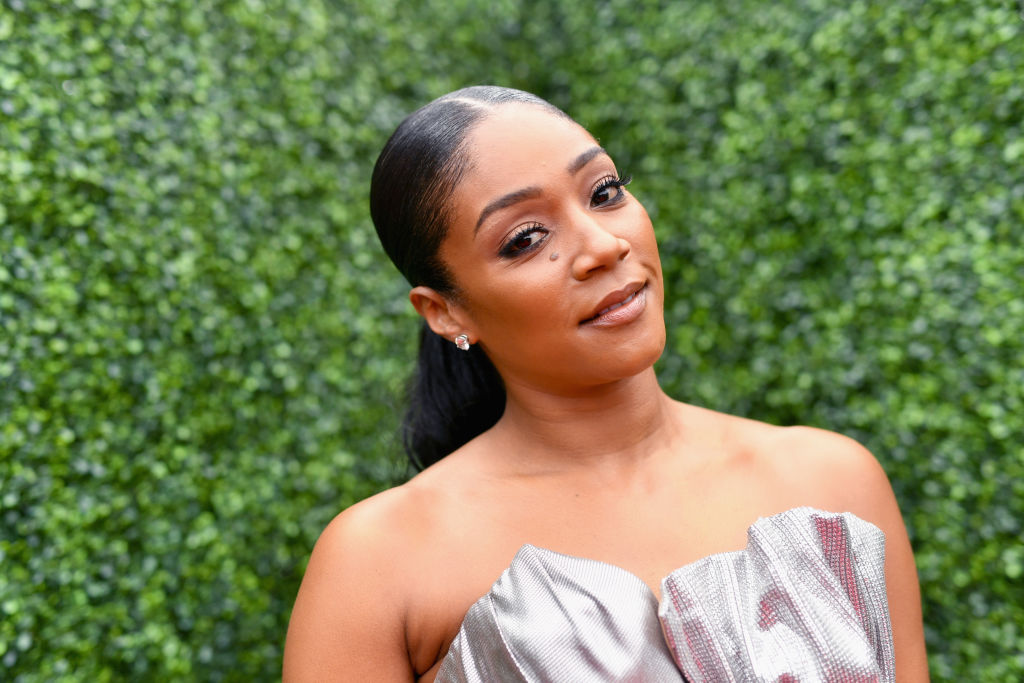 Haddish has snacking down to a science. She loves candy, like red vines and Jolly Ranchers. But she's not afraid to experiment, and she's made a lot of her own snack combinations. Her favorite is a candy stuffed pickle.
Haddish takes the pickle and bites off the top, then stuffs a candy inside and eats the rest. She's tried different candy combinations, and she's a fan of peppermint, Now and Later, or Jolly Ranchers. She claims it's the most delicious thing there is, but not many people would try it to find out. 
The candy stuffed pickle isn't Haddish's only Jolly Rancher recipe. She's tried kale salad with Jolly Rancher juice, and it's become one of her regular dishes. She also likes Doritos, Fritos, jalapenos, chili, and cheese mixed together in a kind of chip-dip combination.
Haddish's food choices are a strange combination of conventional and very, very weird. Just like with her work, there's not much in between with her. She's willing to expand her body of work from comedy to drama, as she did with The Kitchen. But she doesn't do anything halfway.