'Tiger King 2' Trailer Reveals Carole Baskin Husband Don Lewis Got In Deep With Costa Rica Crime
The disappearance of Carole Baskin's husband, Don Lewis, was one of many things that captivated Tiger King viewers. They tuned into a documentary about big cat zoos, and ended up in a true crime series. Joe Maldonado-Passage, aka Joe Exotic, alleges Baskin killed Lewis and fed him to her tigers, but Maldonado-Passage also got convicted of hiring a hitman to kill Baskin. But wait, there's more. Tiger King 2 is coming.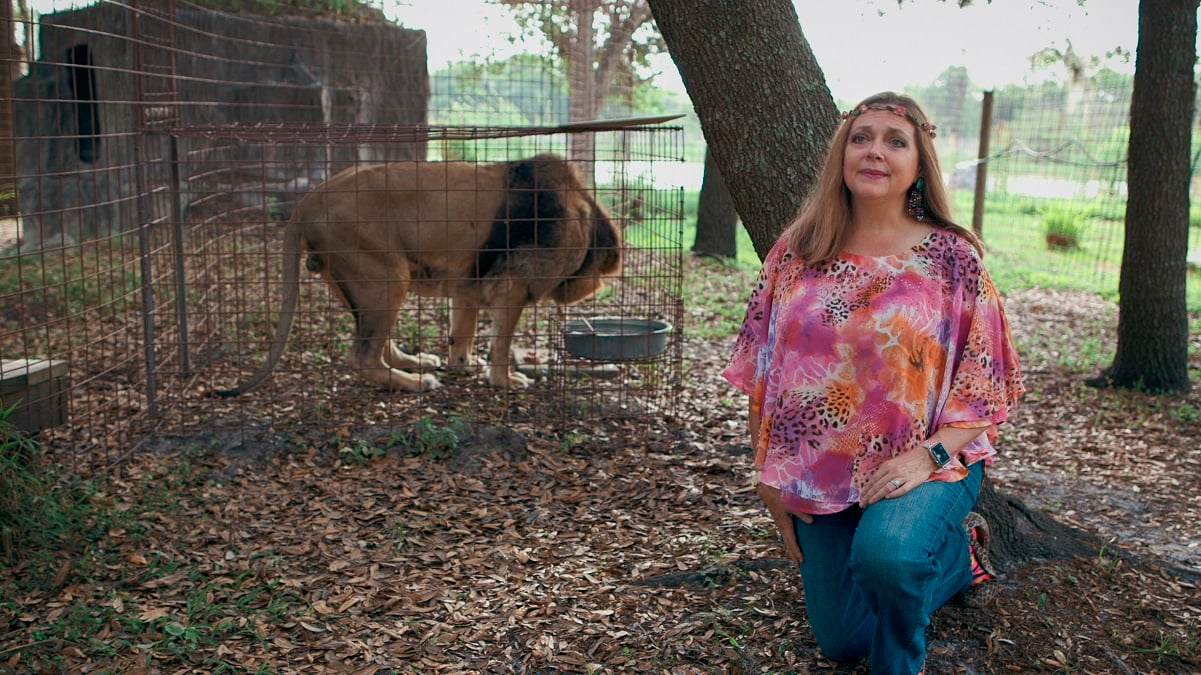 Netflix released the NSFW trailer for Tiger King 2 on Oct. 27. It's just a tease of the new revelations in the show, but it includes some major developments for the Lewis case. Tiger King 2 premieres Nov. 17 on Netflix, and here's what the trailer reveals about the ongoing Lewis case. 
The latest on Carole Baskin's husband Don Lewis in 'Tiger King 2'
The Tiger King 2 trailer features new clips of many of the famous Tiger King players. Baskin, Jeff Lowe, and Tim Stark are there. Maldonado even speaks to the filmmakers by phone from prison. When it comes to Lewis, there are some soundbites without accompanying video.
"What happened to Don Lewis?" a man asks. "Carole knows something."
One speaker addresses Lewis's travels. Apparently he was involved in some business that may have gone south.
RELATED: 'Tiger King': Jeff Lowe Worries Carole Baskin Will Turn Joe Exotic Zoo Into 'The Graceland of Oklahoma'
"He was dealing with some shady characters down in Costa Rica," he says.
Finally, another man hints at the fact that Lewis may have gotten in obver his head.
"Don liked to play with dangerous stuff," the man says. "They'll kill you for that."
This is not the first time Costa Rica has come up in Tiger King. Baskin has previously cited planned trips to Costa Rica with Lewis to defend against allegations that they were having marital troubles.
Carole Baskin's suspicion in the Don Lewis case
Lewis was Baskin's second husband and she his second wife. They met in 1981 and opened the Wildlife on Easy Street sanctuary for bobcats. Lewis disappeared in 1997. Lewis's children from his first marriage allege Baskin fed their father to her tigers. Baskin, in turn, alleged that Lewis staged his own disappearance. 
RELATED: 'Tiger King': Jeff Lowe Thinks Carole Baskin Would Have Lost Her Case If Joe Exotic Had Defended Himself
As the investigation continued, it was uncovered that Lewis had filed a domestic violence injunction against Baskin two months before his disappearance. Lewis's van was found 40 miles from the sanctuary. By 2002, Lewis was declared legally dead. However, the fact that his body was never found has fueled suspicion of Baskin.
Tiger King devoted an entire episode to Baskin's scandal. When Lewis went missing, Maldonado-Passage publicly attacked his rival.
Other developments with Carole Baskin and Don Lewis since 'Tiger King'
Had there been no Tiger King documentary, Lewis may have remained just another cold case. However, the attention of the show lit a fire under law enforcement to continue the investigations. New evidence continued to come to light. In June 2020, the Hillsborough County Sheriff Chad Chronister confirmed that Lewis's will had been forged, as his children also alleged.
The sheriff also opened a tip line to solicit new leads. Chronister has also suggested multiple people murdered Lewis. Lewis's attorney Joseph Fritz suggested he was strangled and dropped from an airplane into the Gulf of Mexico. Baskin herself wrote a blog post addressing some of the rumors that arose since Tiger King aired. She claimed it would have been impossible for her to put Lewis's body through a meat grinder to feed him to the tigers.