'Tiger King': 7 More Facts That Didn't Make the Final Cut (And Yes, It Gets Weird)
If you haven't hopped aboard the Tiger King: Murder, Mayhem, and Madness train yet, there's still time. The bizarre true story of Garold Wayne Zoo owner, Joseph Maldonado-Passage (aka Joe Exotic), his outlandish murder-for-hire-plot against rival, Carole Baskin, and all the "what just happened" moments in between, makes for one addictive series. That said, there are a lot of threads not shown in the seven-part series every Tiger King viewer should know.
'Joe Exotic' was previously a police chief and this is not a drill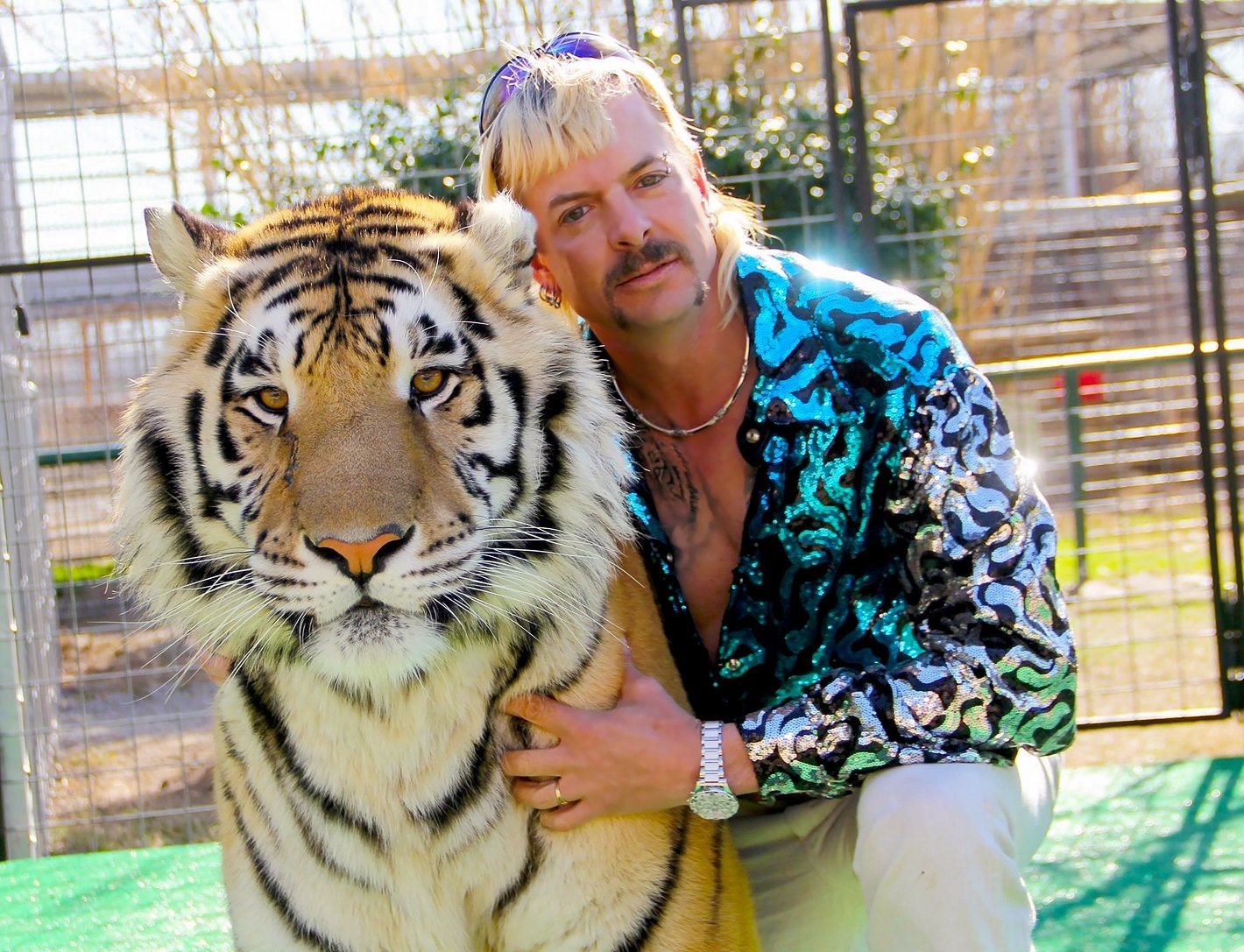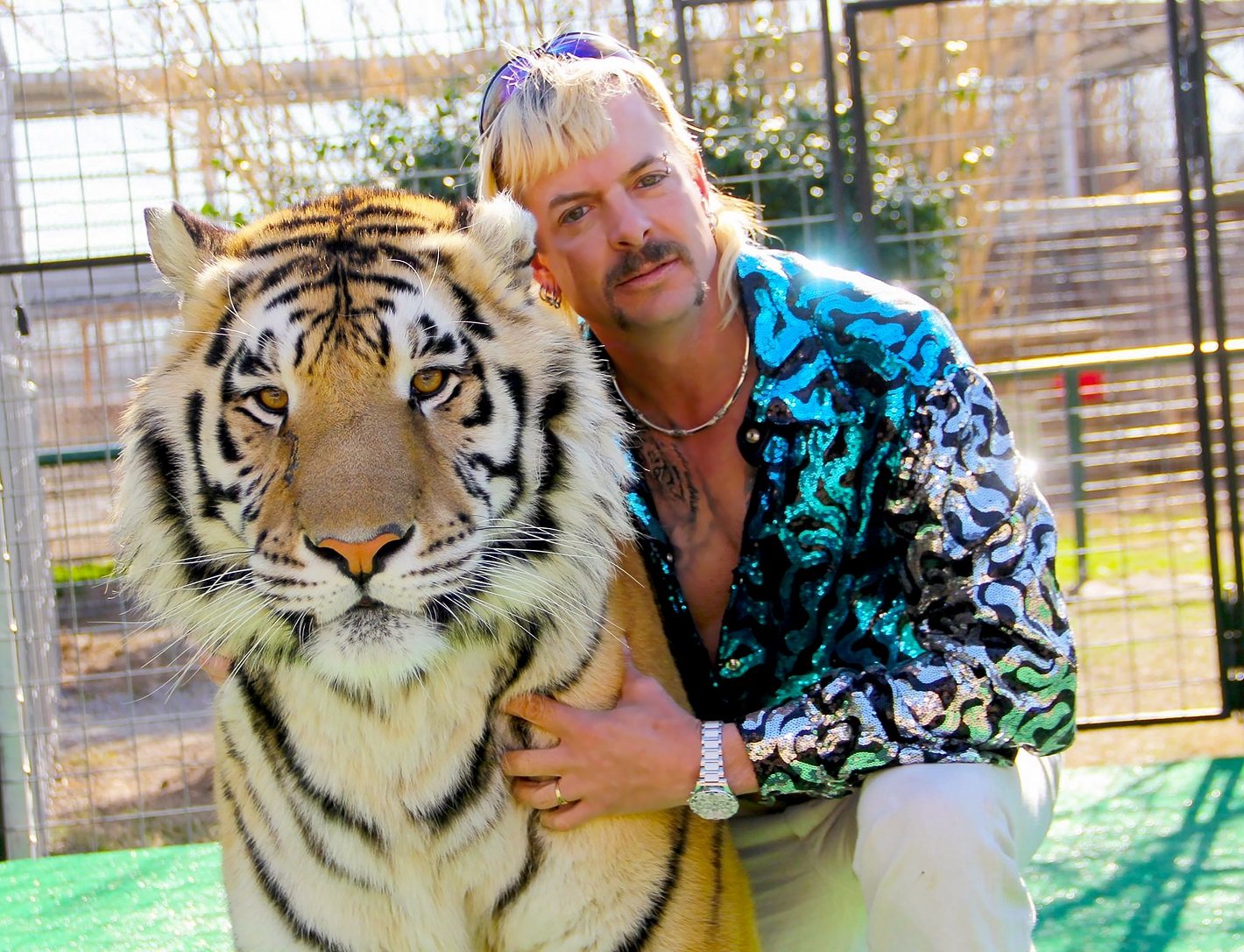 Long before Joseph Maldonado-Passage owned the Gerold Wayne Zoo in Oklahoma and became the leading man of Tiger King, he was a police chief for the small town of Eastvale, Texas — population: 503.
At the time, Maldonado-Passage had a live-in girlfriend, according to NY Mag, but had begun frequenting the gay nightclubs. 1985 marks when he crashed his police cruiser into a bridge, breaking his back. However, as the outlet reports, residents of Eastvale don't remember the accident,
Furthermore, the outlet said his boyfriend at the time thought Maldonado-Passage only suffered a broken shoulder and the "saltwater rehab" he endured was snorkeling.
Maldonado-Passage's ex-husband is serving a life sentence for murder
Before Maldonado-Passage met John Finlay, Travis Maldonado, and Dillon Passage, he was previously married to J.C. Hartpence, whom he met at the gay bar, Copra.
Hartpence helped with Maldonado-Passage's magic acts but the two had a tumultuous relationship. Texas Monthly reported an incent in which Maldonado-Passage "left J.C. a threatening image of a tiger baring his teeth over a piece of meat with the words 'J.C.'s remains' written underneath." 
Also, Hartpence once pointed a gun at Maldonado-Passage. It's a good thing the relationship ended because Hartpence is now serving a sentence for the murder of Curtis Shelton, according to the Witchita Eagle.
Maldonado-Passage claimed to written 'Say Something' but A Great Big World
Along the lines of Maldonado-Passage taking credit for all the music sung in Tiger King, he once told documentarian, Rick Kirkham, he also wrote the hit song, "Say Something."
The song was written and performed by A Great Big World and Christina Aguilera. Both Carole Baskin and Kirkham pointed this out. And by the way — country and western duo Vince Johnson and Danny Clinton are the real voices behind Maldonado-Passage's tunes.
Maldonado-Passage had multiple aliases
As shown in Tiger King, Maldonado-Passage performed magic acts early on. He went under the aliases, Aarron Alex and Cody Ryan. According to Aaron Stone, a former assistant who appeared on the Wondery podcast Joe Exotic: Tiger King, Maldonado-Passage spray-painted a sheep orange with black stripes to look like a tiger for one of his acts.
Joe Kirkham's dog died in a house fire
Tiger King revealed a devastating fire that burned the zoo's reptiles along with footage from Maldonado-Passage's TV studio. Though he accused Inside Edition alum, Kirkham, it couldn't be proven.
Later — and by coincidence — Kirkham's Dallas apartment burned down. His dog died in the fire, and no one was arrested. He now lives in Norway with his wife.
Carole Baskin ran away from home at 15
According to the same NY Mag profile of Tiger King, Carole Baskin ran away from home at just 15 years old with a local roller rink employee. She then hitchhiked from Florida to Maine, married her discount department store boss, and became pregnant with their daughter.
Later, while hitchhiking, Don Lewis picked her up. The rest is history.
Don Lewis allegedly filed a restraining order against Carole
The same year Carole Baskin's previous husband, Don Lewis, went missing, he allegedly filed a petition for a restraining order, as told by NY Mag. The petition was rejected. A few weeks later, Lewis went missing and has not been seen since.
Lewis's van was found at a nearby airport, but no one claims to have seen him, the outlet elaborated. Some think he traveled to Costa Rica, while Lewis's daughters have accused Baskin of killing him and feeling his body to the tigers (hence the memes circulating).
Baskin wasn't a suspect and no evidence has surfaced of a murder. In the time since then, Baskin and Lewis's daughters have battled over Lewis's estate.
Tiger King: Murder, Mayhem, and Madness is available to stream now.