'Tiger King' Star Carole Baskin Claims 'Joe Exotic' Isn't the Only One Who Wants Her Dead
Hey all you cool cats and kittens — Tiger King star Carole Baskin is no stranger to all things "Joe Exotic." Since the 2020 release of the Netflix docuseries, Joseph Maldenado-Passage has continued serving a 22-year sentence for a murder-for-hire plot against Baskin. With recent developments in regards to Maldonado's case, the Big Cat Rescue owner claims she fears for her life.
'Tiger King' star 'Joe Exotic' will be resentenced in murder-for-hire case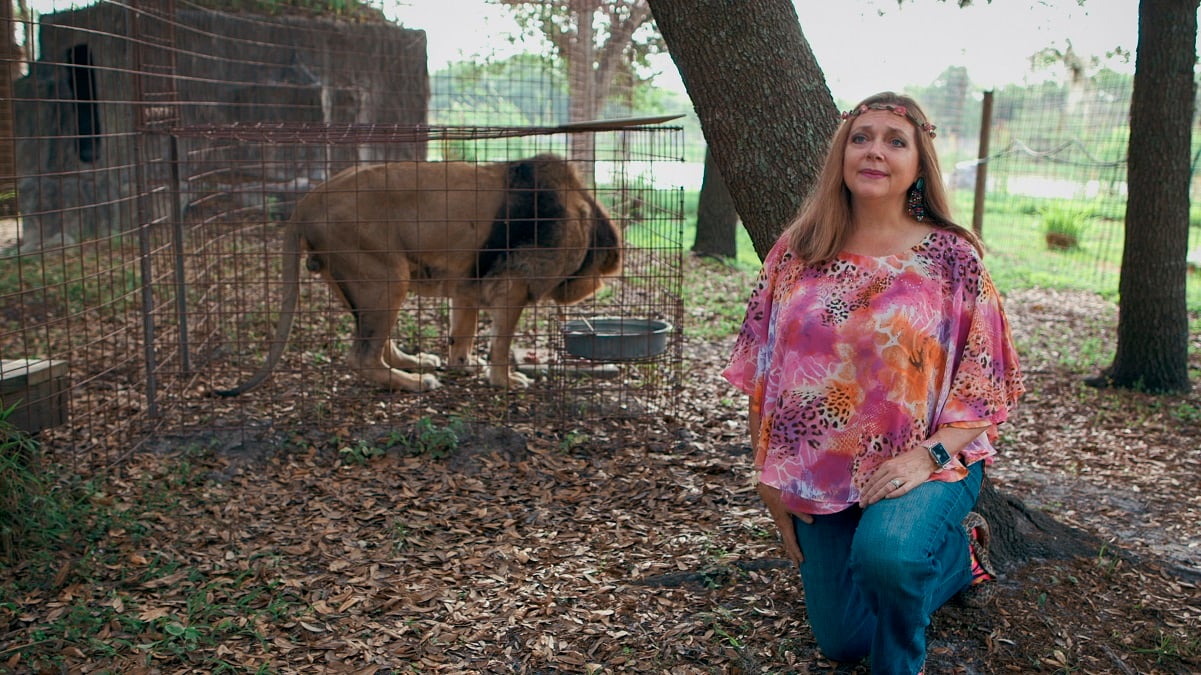 Maldonado-Passage has been in a Texas federal prison since 2020. He was convicted on two charges of hiring two men in two separate instances to murder longtime rival, Baskin. Things recently took a turn when a judge vacated his sentence.
"Joe Exotic" will now be resentenced but will likely still serve 17-21 years. The reason? A time calculation error via a lower court judge. The sentencing issue stems from whether he should've been charged for the counts together or separately. Ultimately, they were charged as separate crimes with separate sentences.
The Tiger King star was also convicted of various wildlife violations, including killing and selling endangered tigers.
"Although the district court apparently thought that the two murder-for-hire plots shared a common criminal objective, it mistakenly (although quite understandably) thought that grouping would not be proper unless they were also part of the same course of conduct. This error in interpreting the guidelines requires reversal," the decision says.
It doesn't matter how long he's behind bars — Baskin feels Maldonado-Passage might try to kill her if released.
Baskin claims she fears for her life in new interview
During an appearance on the The Domenick Nati Show, Baskin said she believes "Joe Exotic" may try to kill her because "he's of the same mind that he was before."
"He wants to be able to exploit and use cubs for his own personal gain, I think, and I'm always going to be a thorn in his side because I'm to going to stop until that kind of egregious practice has ended," she said.
Baskin also alleged that Maldonado-Passage spoke of hiring a hitman when Louie Theroux filmed in 2011 and that she received calls from two different people in 2015 who claimed they were going to kill her. Those cases, she said, were turned over to the police but "nobody ever did anything about it until this situation came up that you guys know about in Tiger King."
As for safety, Baskin revealed she has cameras "everywhere" at the sanctuary and her house, but typically hires a bodyguard whenever she speaks at animal-related events because "he's not the only one of the animal abusers that has threatened to kill me over the years."
The rescue owner said she thinks "the really smart criminals are still on the streets."
She added that she's never had a one-on-one conversation with Maldonado-Passage but set the record straight on whether she wanted to help free him from jail, saying "he's where he belongs." Clearly there's no love between the two, and may never be.
Jeff Lowe says he'd like a joint interview with Baskin for this reason
In an ironic turn of events, Baskin owns Maldonado-Passage's zoo — which was co-owned by Jeff Lowe and wife Lauren. The Greater Wynnewood Exotic Animal Park in Oklahoma then became known as Wynnewood's Tiger King Park. The Lowe's moved their animals to Thackerville, but it's since shut down for private use only. In May 2021, the U.S. Department of Justice announced they seized 68 big cats from the compound.
That said, how does Lowe and Baskin feel about each other now?
In Baskin's interview, she alleged that Lowe helped Maldonado-Passage locate where to kill her and "should be investigated." Lowe caught wind of the comments and posted on the show's Instagram page asking if he and Baskin could do a joint interview. As shown in Instagram Stories, Lowe stated he "knows too many facts she can't lie about."
More than a year after Tiger King's debut, the drama continues and we're here for it.