'Tiger King': Dillon Passage Said Joe Exotic Does Not Have a Son in New Interview
While Joseph Maldonado-Passage (aka Joe Exotic) serves a 22-year prison sentence for allegedly hiring a hitman to kill Big Cat Rescue owner, Carole Baskin, his fourth husband, Dillon Passage, is setting the record straight. Tiger King: Murder, Mayhem, and Madness showed the lives of exotic pet owners and the scandals involved.
In the time since, stars of the Netflix docuseries have spoken out regarding any lingering questions about the content. Such is the case with Passage. In a new interview, Passage said those headlines about Maldonado-Passage having a son aren't true.
Reports previously emerged that 'Joe Exotic' has a son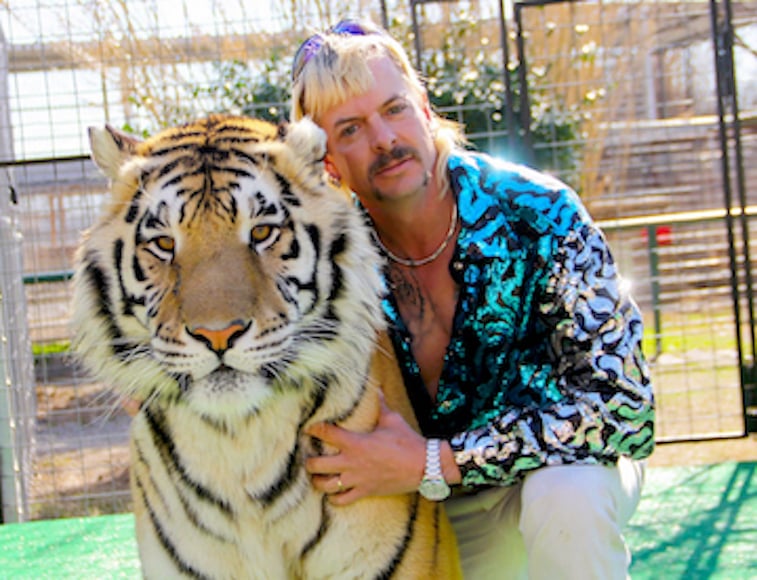 In recent weeks since Tiger King's release, Maldonado-Passage has made headlines for various reasons unrelated to the charges that landed him in prison.
According to the New York Post, former ExoticTV producer and Inside Edition alum, Rick Kirkham, said Maldonado-Passage fathered a son with a woman named Kim long before the "Tiger King's" fame.
Maldonado-Passage worked as a small-town police chief in Texas during this time and later had a falling out with Chappell. Kirkham suggested Maldonado-Passage regretted having a child, which could be why the former relationship with Chappell's mother is not mentioned int he docuseries.
Kirkham confirmed the son, Brandon Chappell, worked alongside his father at The Greater Wynnewood Exotic Animal Park in Oklahoma. He's apparently shown briefly in an episode of Tiger King. However, their relationship was never addressed or discussed until now.
Passage said 'Joe Exotic' doesn't have a son
Kirkham isn't the only one who mentioned Maldonado-Passage's parenting status. In another interview, Maldonado-Passage's niece, Chealsi Putman, corroborated the claim.
"Joe was in and out of Brandon's life when he was growing up, at one point just a few years ago Brandon and his then-wife both worked at the zoo with Joe," Putman told DailyMailTV. "Joe would go around telling everyone this was his son, he made no secret about it. Brandon was even in a few scenes in the Netflix show."
However, "Joe Exotic's" current husband denies those claims. In an interview on Channel Q's The Morning Beat, Passage cleared the air.
"Joe does not have any kids. I recently heard the same rumor, and I was like, 'Are you trying to tell me that I'm a step-dad to a 38-year-old and I have grandkids?' Joe used to be with this girl, her name was Kim. But when him and Kim split up, Joe's brother actually got with Kim and they had a son and that is Brandon Chappell," Passage said.
Chappell has not commented on any of the claims.
Passage stands by his husband's side
Son or not, Passage is standing by his man. Still, that doesn't mean all bets are off if another relationship stumbled upon him.
"I am not on any dating apps and I don't plan to be either, but Joe and I have had the conversation that if I decide to move on and find somebody he is going to be super supportive of that….," he said in the same interview. "And even if I do decide to find somebody I am still going to talk to Joe as much as I do usually." 
He added that he wants to be known for more than his and Maldonado-Passage's Tiger King status.
"Don't get me wrong when I say this, I absolutely love Joe, but for the rest of my life, I don't want to be known as Joe Exotic's husband. I want to be known as Dillon Passage, I want to make a name for myself," he said.
"My heart lies with music… music festivals and the EDM world are a big part of my life, so if I can do anything with that it would be awesome, but I also love animals just as much. There may be things in the future in the EDM world and the animal world, so stay tuned for that!" 
Tiger King: Murder, Mayhem, and Madness is available on Netflix now.