'Tiger King': Dillon Passage Says He Was 'in a Bad Place' When He Met Joe Exotic
As portrayed in Tiger King: Murder, Mayhem, and Madness, Joseph Maldonado-Passage (aka Joe Exotic), net his fourth husband, Dillon Passage in 2017 on a dating app. Now, even with Maldonado-Passage serving a 22-year sentence, his husband is standing by his side. Here's how [Dillon] Passage explained the early days of their relationship, and how they got where they are now.
Dillon Passage is 'Joe Exotic's' fourth husband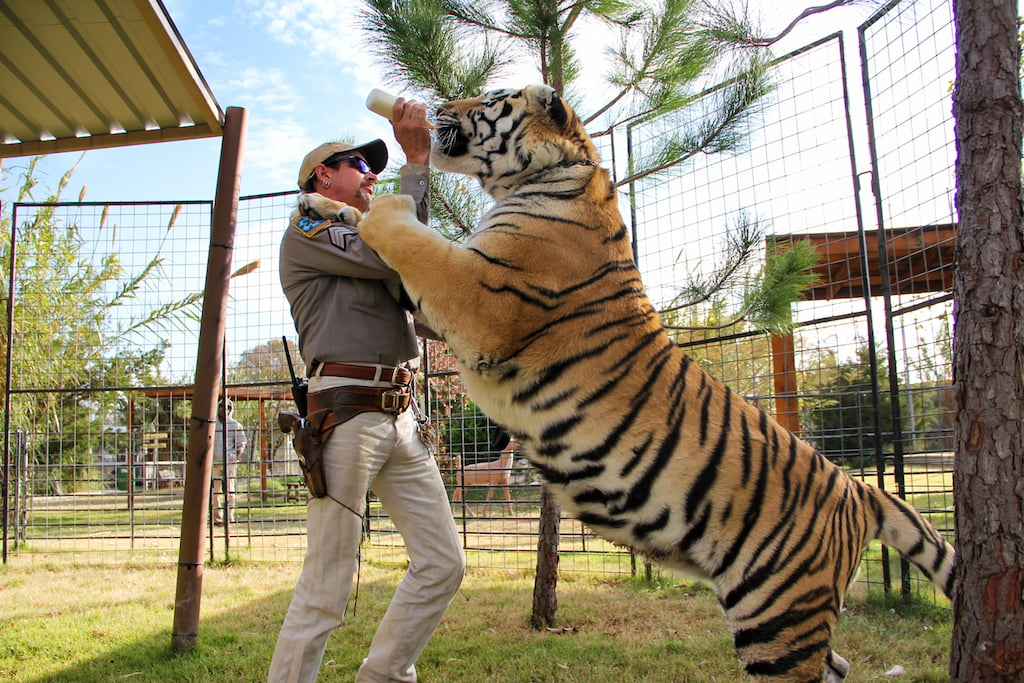 Netflix covered some of Maldonado-Passage's relationships in Tiger King. However, some also went unmentioned. It's impossible to cover everything in seven hours, especially when it comes to love.
It's been rumored by various sources that Maldonado-Passage had a son, Brandon Chappell, with a former girlfriend. But, Passage recently said Chappell is Maldonado-Passage's nephew. Chappell hasn't addressed either just yet.
Before Passage became "Mr. Tiger King" No. 4, Maldonado-Passage was involved with Brian Rhyne. The two lived together as husbands before Rhyne died from complications due to HIV.
Their story is briefly covered in Tiger King to set up Maldonado-Passage's three-way marriage to John Finlay and Travis Maldonado. While Finlay eventually left for a relationship with a woman — whom he is now married to and has a child with — Maldonado's accidental suicide is one of the most shocking parts of Tiger King.
However, amid Maldonado-Passage's grieving, he met and fell in love with Dillon Passage.
Passage didn't know anything about 'Joe Exotic' when they met
Even though the "Tiger King" and Passage married within two months of meeting, Passage told People he'd never heard the tales about the former zookeeper.
"I never figured I'd marry Joe Exotic," he said. "I had no idea who he was. I never Googled him or anything."
Still, Passage admitted he was the shy one, but it was that "Joe Exotic" charm that won him over with a karaoke rendition of "This Old Town."
"After Joe sang, I loosened up a little bit and I was having a really good time," he said.
Due to the unexpected and heartbreaking death of [Travis] Maldonado, it was Maldonado-Passage that laid it all on the line before he and [Dillon] wed.
"Joe had a long conversation with me whenever he proposed. He was like, 'I need somebody who's going to be here for me. You may not be in love with me right now, but you will be,' " Passage said.
"I was in a bad place in my life and Joe really was helping me out and getting me healthy. And it was good to have somebody who I felt could take my loneliness away and bring me out of my depression and be there for me no matter what. And Joe made me feel like that."
'Joe Exotic' took Travis Maldonado's death 'very hard', according to Passage
Maldonado's death, which was an accidental shooting, isn't shown directly in Tiger King, but it's the reaction of former campaign manager, Joshua Dial, along with the sound of the gun going off that's hard to watch.
"Joe took Travis' death very, very hard," Passage said. "Whenever he met me, he said that he felt like he had a reason to keep going. Everyone around the park was like, 'You're making him super happy. He needs you.' "
Passage decided to take the chance and stick around for his partner. However, he wasn't always "in love" with him. He now admits he's "100 percent" in love with him now.
"It was like a companionship at first and then I just really saw his true colors and the kind person he was," he said. "Animals have always been a big deal in my life. When I was little, I'd always bring home any animal I could find. And I could see Joe's heart that he was very in love and committed to his animals."
While Maldonado-Passage serves a 22-year sentence for multiple animal abuse allegations and an alleged murder-for-hire plot against Big Cat Rescue owner, Carole Baskin, Passage said he stands beside his man.
Tiger King: Murder, Mayhem, and Madness is available on Netflix now.
How to get help: In the U.S., call the National Suicide Prevention Lifeline at 1-800-273-8255. Or text HOME to 741-741 to connect with a trained crisis counselor at the free Crisis Text Line.