'Tiger King' Episode 8: Joel McHale Hosting Netflix After Show Special
A new episode of Tiger King: Murder, Mayhem and Madness has been commissioned by Netflix. Joel McHale will be host The Tiger King and I, an after-show special on the digital platform. Following the success of the documentary series, fans have been asking what the stars have been up to since filming ended. The streamer will make the eight installment available starting on April 12.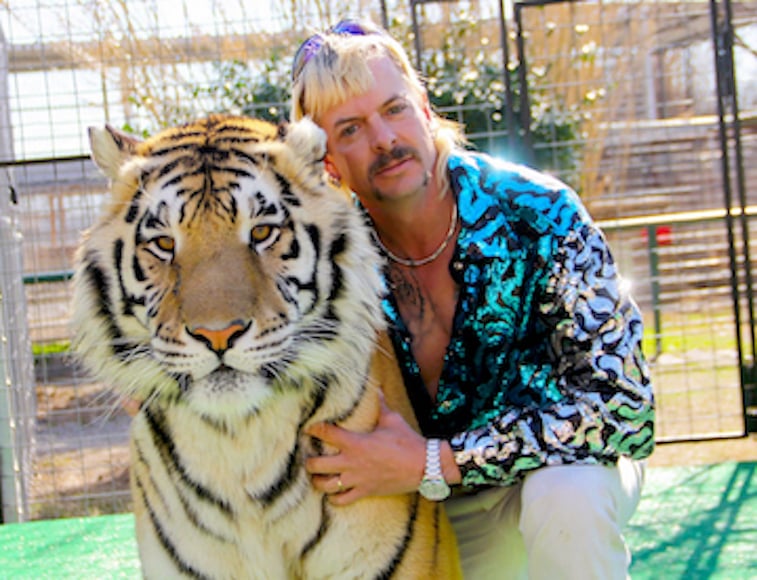 McHale teased the special on Twitter with animal print gear on and Netflix tattooed on his abdominal area.
"There's a documentary series on Netflix called Tiger King," McHale said in the teaser. "I highly recommend watching all 7 episodes. On April 12th, Netflix will release an 8th installment called: The Tiger King and I. It's an after-show hosted by me."
"I talk to a lot of people involved in the project — Jeff and Lauren Lowe, Saff, Erik Cowie, John Finlay, John Reinke, and Rick Kirkham — to see what's happened in their lives since the release of the series. It's eye-opening and hopefully funny," he added.
What is 'Tiger King?'
Tiger King was a breakout hit with audiences worldwide. The streaming service launched all seven episodes of the doc and it instantly became a hot topic on social media. It wasn't long before fans were making memes and TikToks imitating the real-life characters.
"Among the eccentrics and cult personalities in the stranger-than-fiction world of big cat owners, few stand out more than Joe Exotic, a mulleted, gun-toting polygamist and country-western singer who presides over an Oklahoma roadside zoo," is how Netflix describes the series. "Charismatic but misguided, Joe and an unbelievable cast of characters including drug kingpins, conmen, and cult leaders all share a passion for big cats, and the status and attention their dangerous menageries garner."
The doc was to follow Joe Exotic and all the big cat owners but things "take a dark turn" when he gets involved in taking down Carole Baskin, an animal activist and owner of a big cat sanctuary, that threatens to put them out of business, stoking a rivalry that eventually leads to Joe's arrest for a murder-for-hire plot, and reveals a twisted tale where the only thing more dangerous than a big cat is its owner.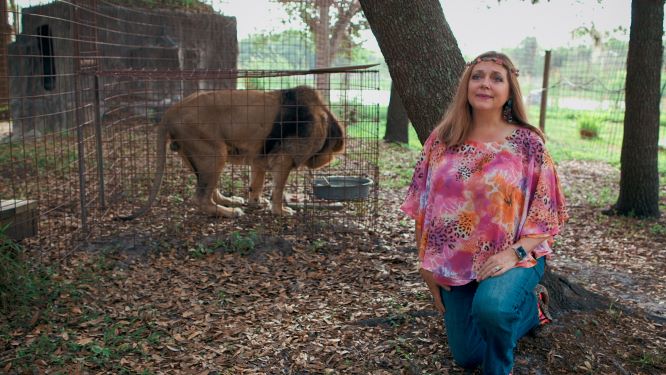 Joe Exotic wants a pardon
Exotic is now behind bars but following the success of the doc, he is asking for a pardon from the president and made his plea on Facebook.
"This lawsuit has been filed in the name of Justice, The Trump Administration must be made aware of the Overreach, perjury, abuse of power and the failure to uphold the Oath of their position which is truth and Justice for all," the polygamist stated on his Facebook page.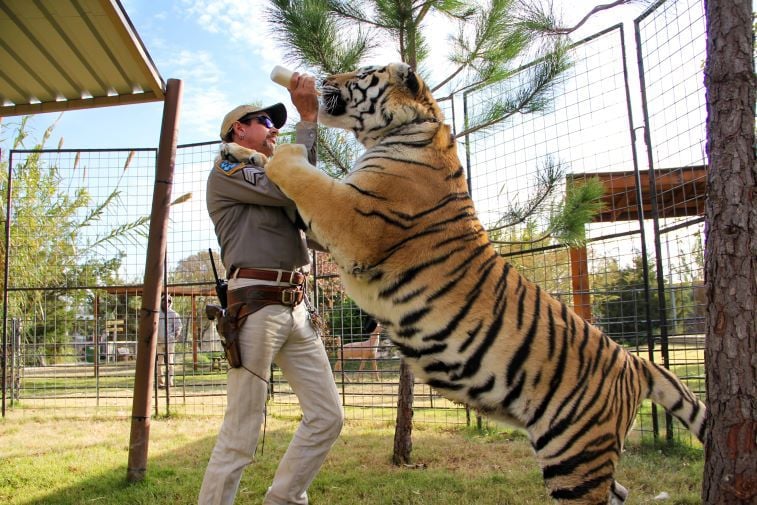 "The Agencies and its counterparts have abused the system for a private agenda. The Director Dan Ashe used his Government position to create an illegal monopoly with the AZA and shut down hard-working American businesses for self-gain," Exotic continued. "I have been illegally charged with these crimes and the Trump Administration, the United States Department of Interior along with the Federal Wildlife Service must be held accountable for what they have done to me, my parents and my family, along with my animals. Thank you and please share."
All of the Tiger King episodes are now available to stream on Netflix.