'Tiger King': Ex-Boyfriend Jay Baykal Filed For a Protection Order Against Carole Baskin After Don Lewis Went Missing
Tiger King: Murder, Mayhem, and Madness is getting another episode. This means more information on the show's stars is rolling out in rapid time. One of the biggest stories in Tiger King is that of Carole Baskin's missing husband, Don Lewis. However, Baskin dated another man, Jay Baykal, before she met her current husband, Howard. As it turns out, Baykal's experience with Baskin wasn't a good one. Here's what we know.
Don Lewis's disappearance was a big part of 'Tiger King'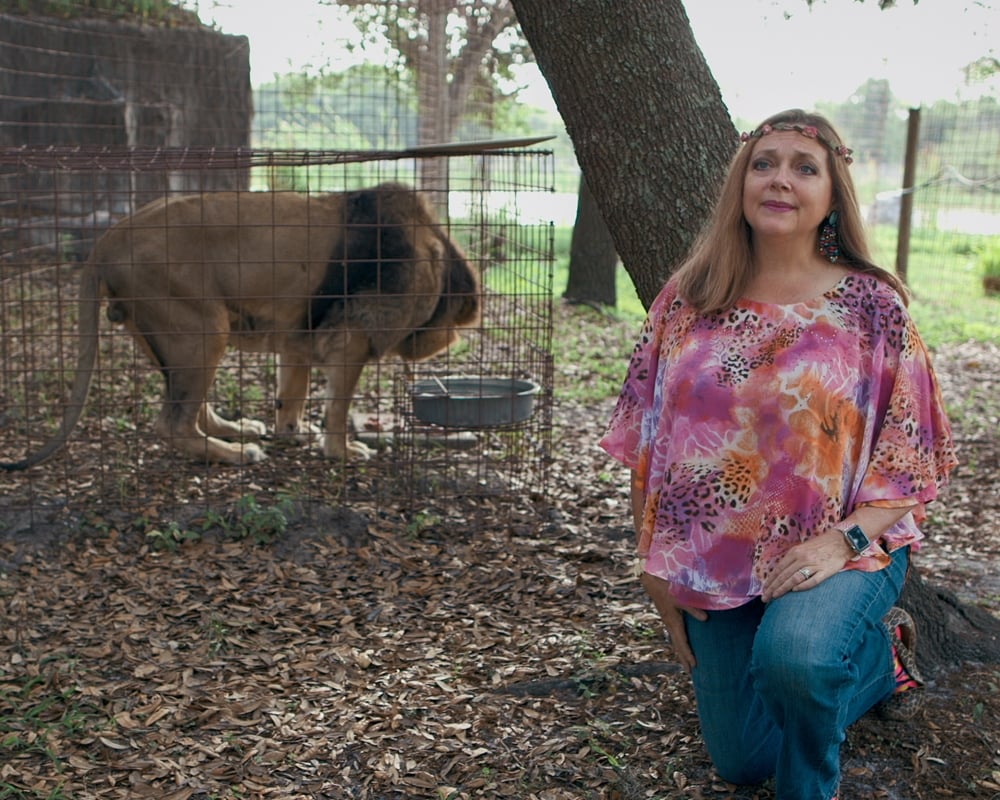 By now, viewers of Tiger King know all about animal rights activist Carole Baskin's second husband Don Lewis. In case you haven't caught up to the hit Netflix docuseries yet, we'll recap.
Baskin's second husband (Lewis) mysteriously vanished in 1997 without a trace. Investigators found no evidence of foul play and Baskin was never a suspect. The case fueled Joseph Maldonado-Passage's (aka Joe Exotic) hatred, leading to his eventual 22-year sentence in prison.
Still, it hasn't stopped fans from developing their own theories about Baskin's alleged involvement — especially since she declared him legally dead five years after he disappeared. Some think she fed him to her big cats.
Investigators have asked for new leads in the case and Baskin is not currently a suspect. The story has inspired a new crime documentary spin-off that will delve deeper into Lewis's case and, hopefully, find some sort of answer as to what happened to him. Baskin refuted much of Tiger King, saying the series is "sensationalized" and filled with "unsavory lies."
With that said, Baskin met her current husband, Howard, shortly after Lewis was declared dead. But, she dated a man named Jay Baykal while Lewis was still considered a missing person.
Who is Jay Baykal?
Baskin's relationship with Baykal is mostly under wraps. A quick Google search shows a man by this name still resides in Florida, but there's no photographic evidence that links Baykal and Baskin together. There is, however, court documents.
Baykal filed an order of protection in 2002. There was no factual evidence of violence or threats. The order was denied.
The only real proof of their relationship came via author and podcaster, Robert Moor, who tweeted a slew of behind-the-scenes facts about Tiger King not shown in the seven-part docuseries.
Here's what Baykal said in his protection order against Baskin
In the tweet, he posted screenshots of the protection order Baykal filed against Baskin. After he asked Carole what would happen if Lewis someday reappeared, she allegedly said, "dead bodies can't talk."
He also said Lewis's daughter warned him that Baskin was dangerous and to "watch his back." The documents stated Baskin carried two loaded guns and that if bones were found on her property, she was "in deep sh*t."
Baskin has not addressed these claims but again, she maintains her innocence regarding the disappearance of Lewis.
"Don was not easy to live with and like most couples, we had our moments. But I never threatened him and I certainly had nothing to do with his disappearance," she posted on her website.
"When he disappeared, I did everything I could to assist the police. I encouraged them to check out the rumors from Costa Rica, and separately I hired a private investigator."
Only time will tell how this mystery shakes out.
Tiger King: Murder, Mayhem, and Madness are available on Netflix.