'Tiger King': Fan Reactions to Britney Spears and Doc Antle Together are Wild — Calling her the 'Tiger Queen'
'Tiger King' Doc Antle shared the stage with Britney Spears at the 2001 MTV Video Music Awards and fans cannot stop talking about it.
With Netflix's release of Tiger King: Murder, Mayhem, and Madness came a massive amount of memes, articles, and revelations about the people on the show. The latest is that one of the big cat owners, Bhagavan Doc Antle worked for Britney Spears at the 2001 Video Music Awards. The fan reaction to this news is epic. Let's take a look at what they said.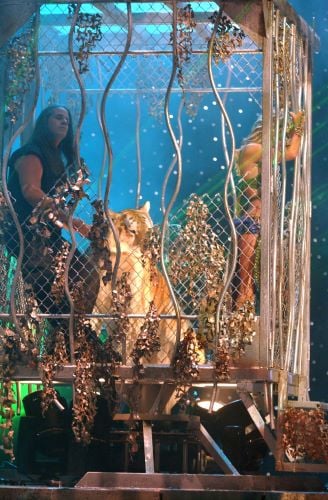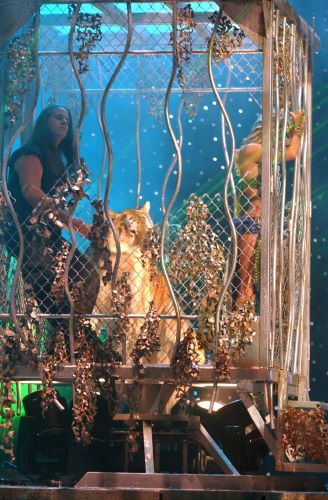 Who is Doc Antle in Netflix's 'Tiger King: Murder Mayhem, and Madness'?
The Netflix docuseries, Tiger King, dropped on March 20, 2020, and has only been gaining in popularity. On March 29, 2020, Netflix announced it was the number one most-watched series. Tiger King is a true-crime documentary that follows three very unique big cat owners over many years. 
Joe Maldonado-Passage — Joe Exotic — bred lions, tigers, and ligers at his roadside zoo, the Greater Wynnewood Exotic Animal Park. Through the course of the series, viewers find out about an ongoing feud between Exotic and a Big Cat conservationist, Carole Baskin. 
Doc Antle is a smaller part of the series, but through the show, we find out that he is an animal trainer who founded a 50-acre animal preserve in Myrtle Beach, South Carolina. He trains animals for Hollywood films at his Institute of Greatly Endangered and Rare Species (T. I. G. E. R. S.). 
A few testimonials in Tiger King allege that Antle was endangering animals and cultivating a sexist cult-like social structure at his parks by hiring very young women. They also suggested that he has multiple wives. Antle gave interviews since the show claiming that these theories are not valid.
Doc Antle shared the stage with Britney Spears at the 2001 'MTV Video Music Awards'
During the MTV VMAs in 2001, Antle was the animal handler for Spears when she performed "I'm a Slave 4 U." He is prominently featured throughout the video behind Spears as she dances and sings across the stage. 
The video resurfaced on March 29, 2020, when fans noticed it was Antle in the background. The performance opens with Spears coming out of a cage with Antle and a tiger before she dances across the stage, holding a live python. 
Antle also worked on films where his animals starred in movies such as Ace Ventura, Dr. Doolittle, The Jungle Book, and Mighty Joe Young. 
Fan reactions to Doc Antle and Britney Spears are epic
"I bet he asked Britney if she wanted a job at his zoo after the show," tweeted one fan.
Fans went wild after the photos surfaced on social media over the weekend. Many thought it was a conspiracy theory at first. 
"The tiger QUEEN," tweeted actor Nick Adams.
Others think it makes Spears more of an icon.
"Britney with Doc Antle and Carole Baskin — her way of being involved in every pop culture trend — amazing," tweeted one Britney Spears fan. 
Although Spears does not make an appearance in the Tiger King series, the photos add yet another layer of crazy to the Netflix docuseries. Spears declined to comment at this time. 
Read more: 'Tiger King': All the Reasons Why You Have to Watch the Netflix Docuseries with Joe Exotic