'Tiger King' Fans Are Planning the Most Epic Halloween Costumes
The Netflix docuseries Tiger King: Murder, Mayhem, and Madness dropped on March 20, 2020, and fans are already planning their Halloween costumes around the show. Some fans believe that Joe Exotic will be the number one Halloween costume of 2020.
Others think Carole Baskin might win out, or one of the other many ideas from the series. Either way, the comments fans are tweeting about their potential costumes are epic, and it's only March.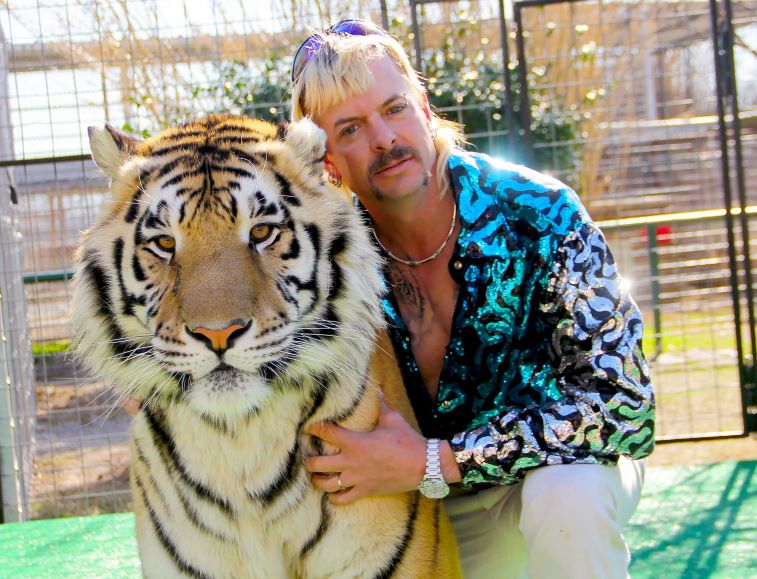 'Tiger King': What is the Netflix docuseries about, and why are so many people watching it?
Tiger King: Murder, Mayhem, and Madness is a true-crime documentary series that revolves around three owners of large exotic animals in the United States. The documentary follows Joseph Maldonado-Passage as he spirals out of control as 'Joe Exotic.' Fans can't stop watching because they have no idea what he is going to do next.
"It's so beautiful, man," alternative country singer B.J. Barham said about the series. "It's like a train wreck you can't look away from. You know you shouldn't like it or approve of it or even want to see it, but you can't stop watching it."
The series also features Baskin, the owner of The Big Cat Rescue. She is in a constant battle trying to have Exotic's zoo shut down. Then he goes after her, claiming she killed her husband and fed him to the tigers (which is entirely possible).
There are various other characters and plotlines, all woven together into one big messy yet compelling show. On March 29, 2020, it ranked number one on Netflix's most-watched list.
Fans love the couple's options for 'Tiger King' Halloween costumes
Several possible Tiger King costumes are super easy and cheap to throw together. Exotic has such a unique look that anyone would recognize the outfit with a bleach-blonde mullet, shiny leopard print shirt, a goatee, and a cowboy hat.
"Unless Netflix decides to rock our world with another riveting docuseries in the coming months, I'm gonna go out on a limb and say Joe Exotic will be the No. 1 Halloween Costume this year," tweeted one fan.
Fans also note that portraying Exotic and Baskin together would be hysterical since they are incredible rivals. Baskin's outfit is easy as well, with her leopard print outfits and long blonde hair with a flower.
Viewers take the 'Tiger King' costumes to the next level
Fans find that it might be even more fun to grab two friends or family members and portray Exotic when he married his two husbands — Travis Maldonado and John Finlay. Bright pink button-down shirts with white boutonnieres and some facial hair would quickly complete the outfits.
The most hysterical option that fans are looking at includes Baskin and her current husband, Don Lewis. Viewers want to dress as Baskin and have their significant other wear a leash like a tiger — as Baskin did with her husband.
Baskin and Lewis also donned matching tiger costumes in another photoshoot. Both are viable and ridiculous costume options.
No matter which options you and your friends choose, you won't disappoint. With a second season already on the table, the hype shows no signs of dying down anytime soon. Tiger King is streaming on Netflix.