'Tiger King': Here's What Happened After Cameras Stopped Rolling
'Tiger King' is the smash hit you never knew you needed. What happened to everyone once the cameras stopped rolling? Here's what we know.
The hit Netflix show, Tiger King: Murder, Mayhem, and Madness, has been trending since its March release date. The seven-part docuseries focuses on an "out-there" zookeeper and the world of exotic cats. It's a bizarre tale of love, loss, betrayal, and — of course — tigers. Those who've watched all seven episodes may wonder, what happened after Tiger King? The story is far from over. Here's an update on a few of the show's most talked-about players.
'Joe Exotic' is in prison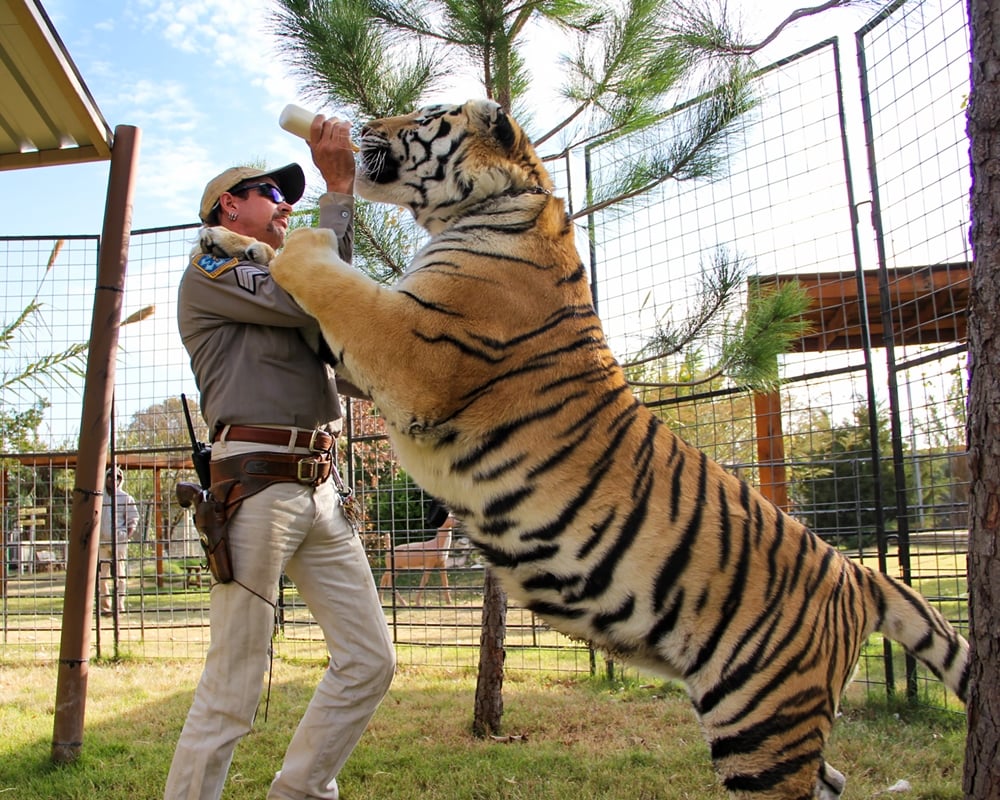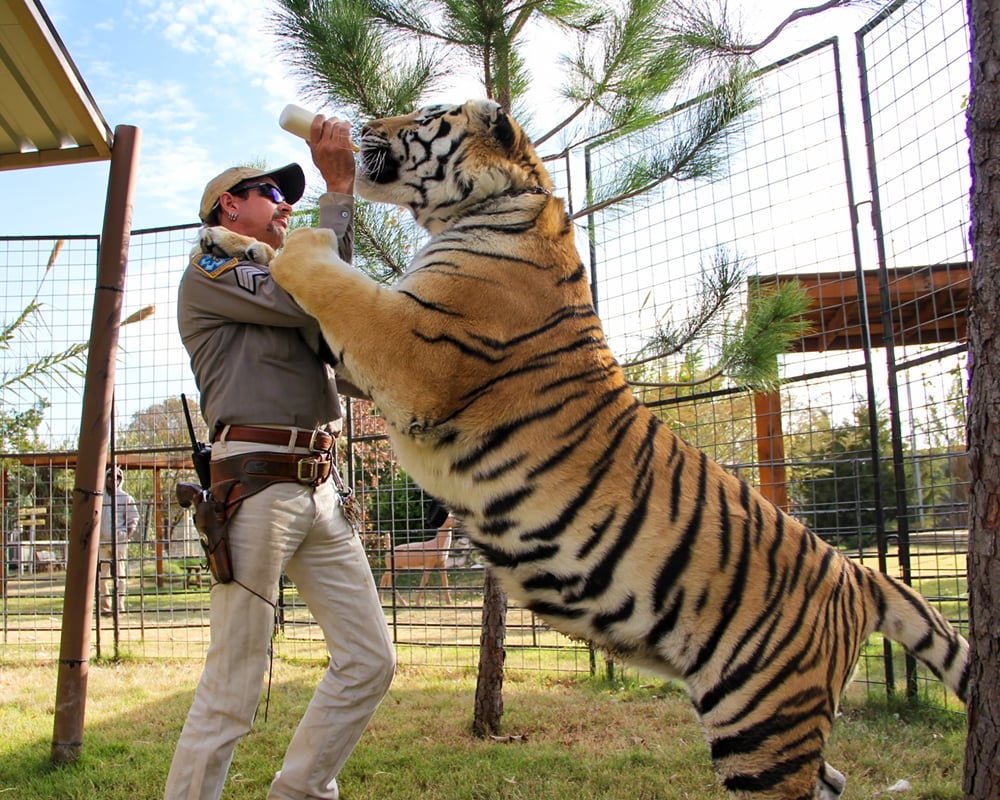 The end of Tiger King came with more questions than answers. Such is the case as for what became of the main "characters" of the series. The final episode reveals that Oklahoma zookeeper, Joseph Maldonado-Passage (aka Joe Exotic) received a 22-year prison sentence. His conviction stems from an alleged murder-for-hire plot against Big Cat Rescue owner, Carole Baskin.
Maldonado-Passage — who's on his fourth marriage to Dillon Passage — recently said he is ashamed of his behavior. However, it didn't stop him from seeking a $94 million lawsuit for "civil damages" and a presidential pardon from the president.
"Joe Exotic" has received online support. Celebrities like Cardi B. offered to start a GoFundMe page on his behalf. We'll keep you posted on the results of his case, in which he'd decided to represent himself.
Carole and Howard Baskin refute all claims about Carole's missing husband
While memes run rampant over Carole Baskin's alleged involvement with the disappearance of her second husband, Don Lewis, Carole and her third husband, Howard, aren't too keen on their docuseries portrayal.
Carole refuted claims against her innocence on her website blog.
"When the directors of the Netflix documentary Tiger King came to us five years ago they said they wanted to make the big cat version of Blackfish, that would expose the misery caused by the rampant breeding of big cat cubs for cub petting exploitation and the awful life the cats lead in roadside zoos and back yards if they survive," she wrote.
"There are not words for how disappointing it is to see that the series not only does not do any of that but has had the sole goal of being as salacious and sensational as possible to draw viewers."
She added: "As part of that, it has a segment devoted to suggesting, with lies and innuendos from people who are not credible, that I had a role in the disappearance of my husband Don in 1997."
Howard also took to social media to post his thoughts about Tiger King and his wife's character.
"In 15 years of living together, we have never had an argument," he said. "We have never even had a harsh word where the other had to come back later and say, 'I'm sorry I said that.'"
The two continue running Big Cat Rescue, where, surely attendance will surge once mandatory stay-at-home laws are lifted.
John Finley is a happily married father
Despite being Maldonado-Passage's second husband — along with the late Travis Maldonado in a three-way ceremony — Finley later explained he is straight. By the end of the series, viewers learn Finlay left Maldonado-Passage. He then developed a relationship with a zoo employee with whom he had a child and married.
Finlay has a new set of teeth, a job as a welder, and he started a Facebook page titled, "The Truth About John Finley" to clear up any lingering rumors.
Bhagavan "Doc" Antle still operates his facility
Like Maldonado-Passage, Doc Antle's character has been scrutinized to death over alleged animal abuse revealed in the series. Antle runs The Institute for Greatly Endangered and Rare Species (T.I.G.E.R.), which some have called "cult-like" due to the way his facility is run and the number of women at Antle's side.
Antle is not happy with the way the show portrayed him, or the sanctuary. He recently posted to his Instagram page to clarify that Tiger King is, a "quasi fictional drama, more focused on shock value and titillation than fact."
Despite a 2019 raid and other allegations within the docuseries, Antle also clarified in an interview with Oxygen, that he is not married to any of the women who work for him, and has not been married since the death of his wife over 20 years ago.
He still lives at his Myrtle Beach residence and the facility remains open with their website stating they are, "not planning to cancel any tours" at this time.
Rick Kirkham moved to another country
Former Inside Edition journalist, Rick Kirkham, may have thought "Joe Exotic" would be his final success story. Instead, he became "Joe Exotic's prime suspect in the zoo's mysterious arson fire that killed the facility's reptiles.
Kirkham then lost everything — including his dog — in a Texas housefire after filming finished. Coincidence?
These days, Kirkham lives in Norway with his wife and stays out of the spotlight and away from zoos.
Jeff and Lauren Lowe run the Greater Wynnewood Zoo
Jeff Lowe concedes that Maldonado-Passage gave him the right to pay the bills and dissolve the corporation. He and Lauren took over.
"They touched on about 10% of the story and, you know, the portrayal of us stealing the zoo from Joe was very unfair because we came here to help him, we got it back on its feet," Jeff said.
"We left to move away because we didn't want to be in a zoo in Oklahoma, so the notion that we tried to steal the zoo from him is just ridiculous."
With the series over, many wonder what became of the G.W. Zoo after Jeff and Lauren Lowe took over. They're said to be making plans to re-brand and re-open in summer 2020, despite money issues.
"The attention that thing has brought will fill the bank account back up for a while, but it's always depleted in the downtime. When people don't come to the zoo in the winter and we're spending $5,000 or $6,000 a week on food and $2,500 on veterinary care, we struggle," Jeff said on Lights Out with David Spade.
However, the couple made it clear that the former owner, Maldonado-Passage, won't be part of the new creation.
"His name will not be mentioned," Lauren told KOCO News. "He will have nothing to do with the new facility. Going to let this place in Wynnewood, Oklahoma, die with him."
As for what became of the zoo's exploited tigers (whose cubs were taken at birth for alleged pay-to-play schemes), Retro 102.5 said The Wild Animal Sanctuary in Colorado intervened, along with PETA, to rescue 39 tigers and 3 bears.