'Tiger King': How Did Carole and Howard Baskin Meet and Where Is Howard Now?
Hey, all you cool cats and kittens — Netflix's mega-hit, Tiger King: Murder, Mayhem, and Madness, made animal rights activist, Carole Baskin, a household name. As the target of Oklahoma zookeeper, Joseph Maldonado Passage (aka Joe Exotic), Baskin inspired fan memes to get us all through the coronavirus (COVID-19) pandemic (thank you). This includes that of Carole's current husband, Howard. If you're wondering how the two met and where the heck Mr. Carole is now, we've got you covered.
Who is Howard Baskin, outside of Carole?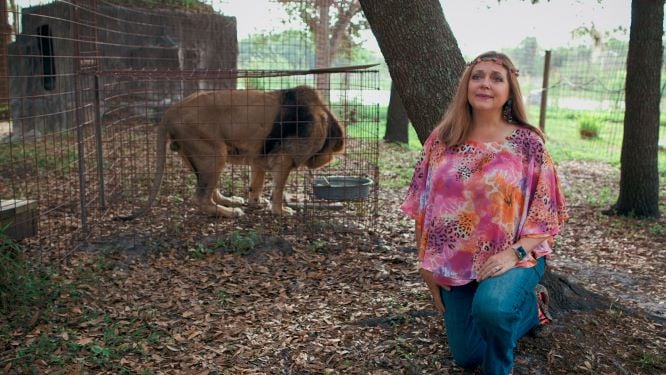 Poughkeepsie, New York native, Howard Baskin, maintains a fairly private life outside of what's revealed in the seven-part docuseries, Tiger King. Professionally, Howard attended Union College in New York where he studied law.
Post Union, Howard went to Miami School of Law. He followed this with Harvard Business School — yes, Harvard — where he graduated with an MBA. Howard previously worked at Citicorp as the Director of Strategic Planning for the Commercial Real-Estate Division until 1991.
Howard worked at three other companies, co-founding one of them. He's now a retired consultant with a history in finance and strategic planning. It sounds a little suspicious considering Carole's missing first husband, Don Lewis, has yet to turn up since last seen in 1997.
How did Howard and Carole Baskin meet?
In 2002, five years after Lewis went missing — and around the time Carole declared him legally dead — she met Howard at the launch party, "No More Homeless Pets."
In 2003, Howard assisted Carole in re-branding [what is now] her wildlife sanctuary, Big Cat Rescue. They married in 2004. While on a honeymoon, the two devised a 25-year plan to "stop the abuse of big cats in the country," Carole revealed in multiple interviews. As far as how involved Howard wanted to be, he told his side via their website.
"I kind of married into this transition, although it was, of course, my choice, not a requirement…I fell in love with her," he said. One thing that drew me to her was her passion for the mission and the excitement of working for a cause, not just living."
Howard ran the financial and legal parts of the business. Carole raised money and publicity. Maldonado-Passage made his hatred of Big Cat Rescue, Carole (and Howard), known through his online videos. Tiger King revealed a lot of their feud, but it seems to go far beyond what's been shown.
Where is Howard Baskin now?
That feud between Howard's beloved and Maldonado-Passage led to a lawsuit against "Joe Exotic" for trademark infringement. The $1 million lawsuit went a little sideways when Carole and Don won, further perpetuating Maldonado-Passage's hatred of Carole.
This allegedly led to a murder-for-hire plot to kill Carole — as described in the Tiger King. Maldonado-Passage was arrested in Sept. 2018 and sentenced in Jan. 2020 for two counts of murder-for-hire and 17 counts of animal abuse. He's currently serving 22 years in prison.
All the publicity surrounding Carole, her missing first husband, and that Maldonado-Passage beef opened up more questions about her character. While police have re-opened the Lewis case, and are asking for any leads, Howard lives in Tampa, Florida with Carole.
He remains the secretary, treasurer, and advisory board chairman at Big Cat Rescue, according to The Cinamaholic. They work at Big Cat Rescue together, trying to get the Big Cat Safety Act passed. The bill would help prevent big cat abuse.
Tiger King: Murder, Mayhem, and Madness is available on Netflix now.