'Tiger King': How the Filmmakers Acquired Their Footage
If you've ever wondered what went into the making of Netflix's Tiger King, you're not alone. The sometimes grueling process took over five years and hundreds of hours of footage. Here's a brief look at how filmmakers shot the seven-part docuseries, and how it became the Tiger King you know and love today.
Here's how filmmakers acquired their footage, according to Robert Moor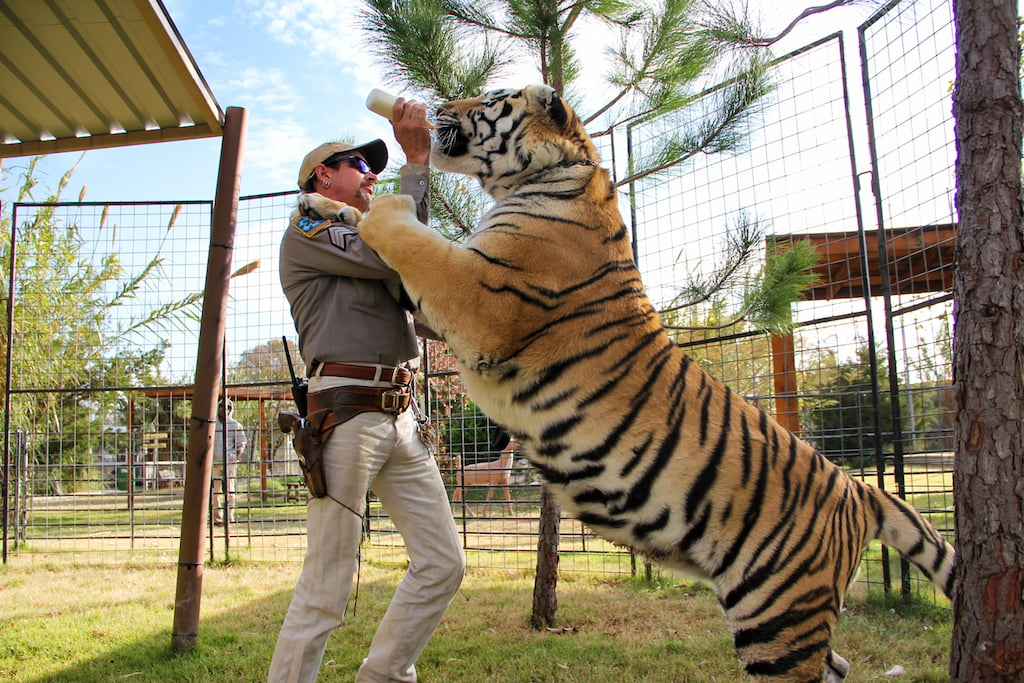 In 2014, filmmakers, Eric Goode and Rebecca Chaiklin, began filming random footage that would, in 2019, become the Tiger King available on Netflix. The process of getting what could tell interesting stories is a little more complicated.
Journalist and podcaster, Robert Moor showed up in 2015. Here's how he remembered things happening:
"[Goode] filmed off and on, as I did, you know, he was there all the time, of course. And then the later the real key was later after Joe went to jail, Eric ended up buying, this in the court transcript, this is public knowledge, he ended up buying Joe's hard drives from him, not just the rights to all of his footage, but also his actual physical computer hard drives," Moor told Mark Carmen on The Mark Podcast.
He continued: "So he had access to everything Joe ever filmed, including text messages, and I think even email, stuff like that. So they really then got it all. So when you watch that documentary, it's so rich with scenes you're like, 'Oh my god, how did they get all these things'? That's why most of that was stuff that Joe filmed and that Eric then bought off of him."
Filmmakers explained when the premise shifted
Chaiklin said the initial premise of the documentary was to showcase how there are more animals in captivity than in the wild.
"We started going around to places in Florida, where every few houses somebody has some crazy exotic animal in certain areas in their backyard. It was really stunning to me how pervasive this was," she previously told Indie Wire. "We thought it would be much more issue-oriented and we had no idea that it would take the twists and turns that it would end up taking."
She further explained that the original idea morphed as time went on, with the more footage they obtained. It quickly went from exploring the animal side of things to the "day-to-day operations of the parks and people involved. Meeting "Joe Exotic" made that exploration a little easier.
"It was also recognizing just how colorful this subculture is, whether it's people that own tigers or reptiles, or Monkey Moms or whatever exotic pet subculture you're talking about. They're almost unbelievable," Goode said.
The pivotal moment came when Chaiklin and Goode stumbled onto the man with the snow leopard in the back of his van, as shown in Tiger King.
Chaiklin said they all wanted to be on camera
It's apparent when watching Tiger King that many of those involved enjoy the spotlight — particularly "Joe Exotic."
"There was this plethora of footage, and it was just the gift that kept on giving for us," Chaiklin said. "Honestly, there was so much archival that we probably, to this day, have not watched every second of it because it was so overwhelming."
Goode and Chaiklin split up to film separately to make the most of the events as they happened.
"It has been really, really beyond consuming because it was unfolding, and we were on an intense deadline, and it was seven films, not one film. When something changes in Episode 7, you have to then begin moving things around, shuffling things backwards," she said. "Once you start moving material into it, that can derail your whole arc. We were filming up until we locked picture and even beyond."
The filmmakers employed a seven-person team of editors to create the story arcs in Tiger King.
"Managing it was huge. We had a story that was unfolding every day, practically. If somebody was in the field, all the footage was coming in from shooting 18 hours a day. Then having to make decisions and get it into the edit, it was kind of wild," Chaiklin said.
She added that they never wanted to overstay their welcome which is why they stopped at seven episodes. However, they had plenty more footage to keep going.
"We do have footage that we shot since we locked, and maybe it'd be interesting to put that out there in some way," Goode said.
"You could keep going. I just think my intellectual curiosity has kind of ended. Most of these people now are not going to continue to give us access. I think it's very clear that this is not a story that we can continue to chronicle with our main characters."
Considering the massive success of the docuseries, we think Tiger King fans would take any extra footage available. But, all good things come to an end sooner or later.
Tiger King: Murder, Mayhem, and Madness is available on Netflix now.